Lovevery Investigator Play Kit for Months 31, 32, and 33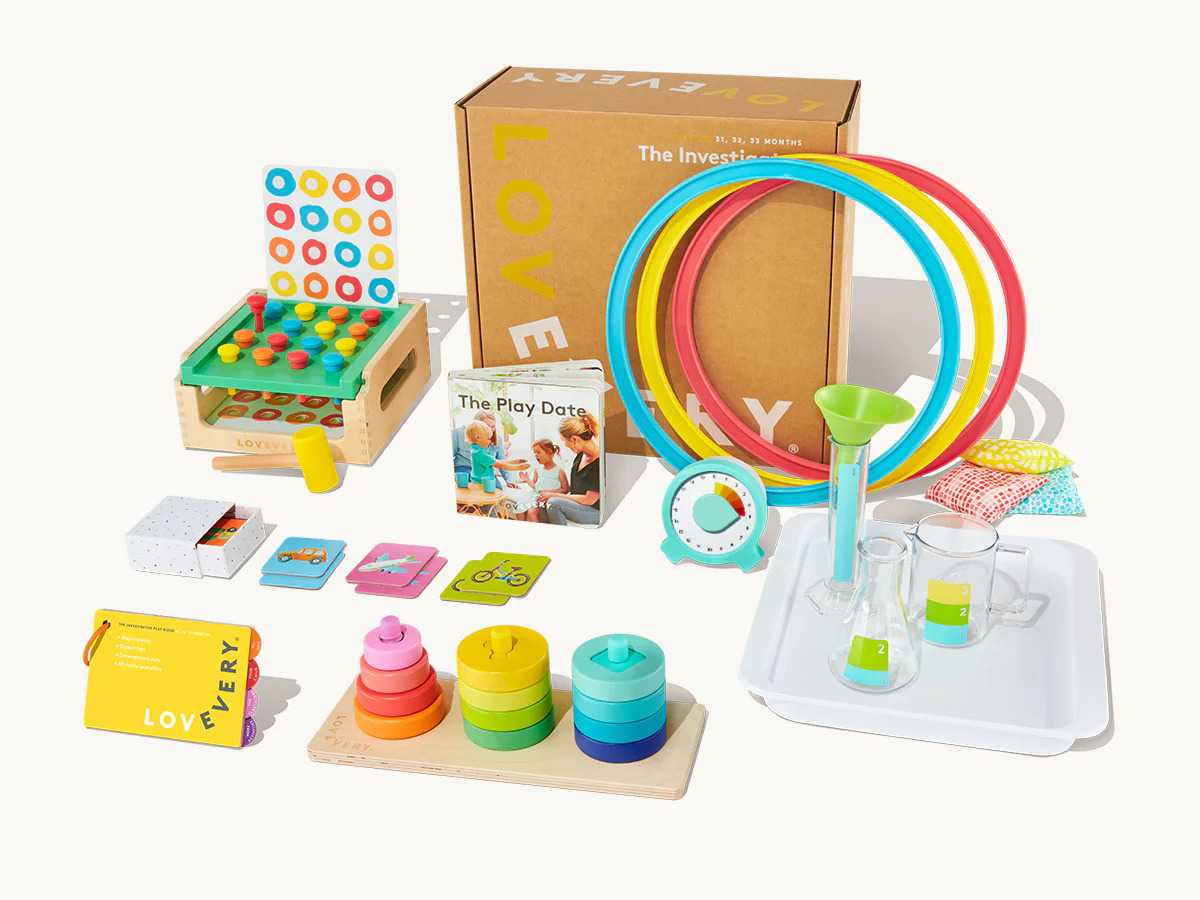 As your little one approaches three years, you may be thinking about getting a play kit that is not only fun but also educational. The Lovevery Investigator Play Kit is one of the many subscription boxes with toys and other play essentials that encourage independent, open-ended play while catering to your child's developmental needs. Read on to find out more about the Lovevery Investigator Play Kit and gauge whether it is the right fit for your toddler.
About the Lovevery Investigator Play Kit
The Lovevery Investigator Play Kit is part of the toddler play kit from Lovevery. The toys and materials target kids aged 31 months to 33 months. The play kit has toys and activities that aim to enhance the developmental milestones for 2-year-olds. While every child is unique in their growth, below are some of the developmental milestones that the Investigator Play Kit aims to improve:
Your child will also learn about liquid conservation and improve their language, concentration, and memory skills.
What You'll Find in the Box
The Lovevery Investigator Play Kit includes the following items in the box for your 2-year-old to play, learn, and have fun while meeting developmental milestones.
1. Twist and Pivot Pattern Puzzle
The Twist and Pivot Pattern Puzzle consists of a twist on a peg puzzle, with each being a different fine motor challenge. The first challenge requires you to twist every circle on, while the middle one includes two pivot turns with two small circles. Note that the two pivot turns are different. The last challenge has four square pivots along a moving rod.
2. Match and Tap Hammer Box
This Match and Tap Hammer box is an excellent way to enhance your child's hand-eye coordination and fine motor skills. It contains differently patterned sheets. Your child has to match and hammer the pegs into the appropriate circles. After completion, your child can advance to recreating the patterns in the box by utilizing the slot available to put the patterned shapes facing upwards.
Kids who find it hard to remake the shapes in the box can an hold the green tray when hammering, which perfectly mimics actual hammering and is more realistic.
3. Liquid Lab
The best way to introduce your child to STEM concepts is through the Lovevery Liquid Lab. It includes a funnel and three beakers that allow your child to conduct all manner of experiments. From mixing vinegar and baking soda to creating a fizzy reaction to learning secondary colors by coloring the water, there are lots of fun activities to do with the Liquid Lab.
Of the three beakers, one has the number 1 written on it, the second has sectioned points for 1 and 2, and the third has segments for 1, 2, and 3. One beaker has the number 1, another has a sectioned point for 1 and 2, and the third has sections for 1, 2, and 3. Once your child is older, you can use the Liquid Lab to teach them about the concept of volume.
4. Countdown Color Timer
The countdown color timer provides an excellent way for your toddler to visually time things and queue whatever activity comes next. The timer is color-coded to make it more visually striking and appealing for toddlers. The first five minutes have different colors per minute, while the next five have a larger chunk of color. There's also another bigger mass of color for ten minutes.
Unlike the sand timers that may not accurately depict time if you fail to watch it perfectly, the Countdown Color Timer works perfectly. You know that time is up when you hear the timer make a ding sound.
5. Vehicle Matching Card Sets
As part of the Lovevery Investigator Play Kit, You get a box with six sets of vehicle-matching cards to help your toddler learn concentration and build memory. The cards feature clay vehicles instead of pictures of actual vehicles. It can be underwhelming if you already played numerous matching games with your toddler, but you can easily DIY it.
6. Jump-In Eco Hoops and Organic Cotton Bean Bags
Three rings and bean bags are available in red, yellow, and blue. While they make for an excellent gross motor activity, they also come in handy during pretend play. Throw the bean bags into the rings or let your child jump into the colored rings. You can also use the rings as hula hoops by demonstrating with your arms since the kids may be too young to use them on their waists.
7. The "Play Date" Board Book
The Play Date board book is a valuable addition to your subscription, especially if you have a child who gets nervous and shy about play dates. It helps your child know how to share and play with friends. If your little one has trouble socializing, this book is a gem that will boost their confidence and help make play dates more interactive and fun.
You will also find a play guide with ideas for parents on how to play with your child and use the toys for optimal benefits. The guide also explains the significance of every toy and how it contributes to your child's development.
How Much Does the Lovevery Investigator Play Kit Cost?
You can expect to pay $120 for the Investigator Play Kit. This gives you access to Montessori-inspired activities and toys to last you and your little one for three months, after which you can get the next age-appropriate play kit as they are delivered quarterly.
The good thing is that if you make an upfront payment for your subscription, you get to enjoy a 10% discount on your Lovevery kits can get a 10% discount on Lovevery play kits if you pay for a subscription upfront. This way, you can reduce your costs to $36 per month.
Is It Worth the Hype?
The best way to know whether it is the right fit for your child is to try it out. However, most parents find it costly, and you can get Amazon dupes for most toys. You may also find that some toys are not be a hit with your toddler. However, other than the cost and lack of interest in some toys, the overall benefits of the Lovevery Investigator kit outweigh the cons when it comes to helping your child with skills based on their developmental stage.