Feetfinder Reviews: Is Feetfinder Legit or a Scam?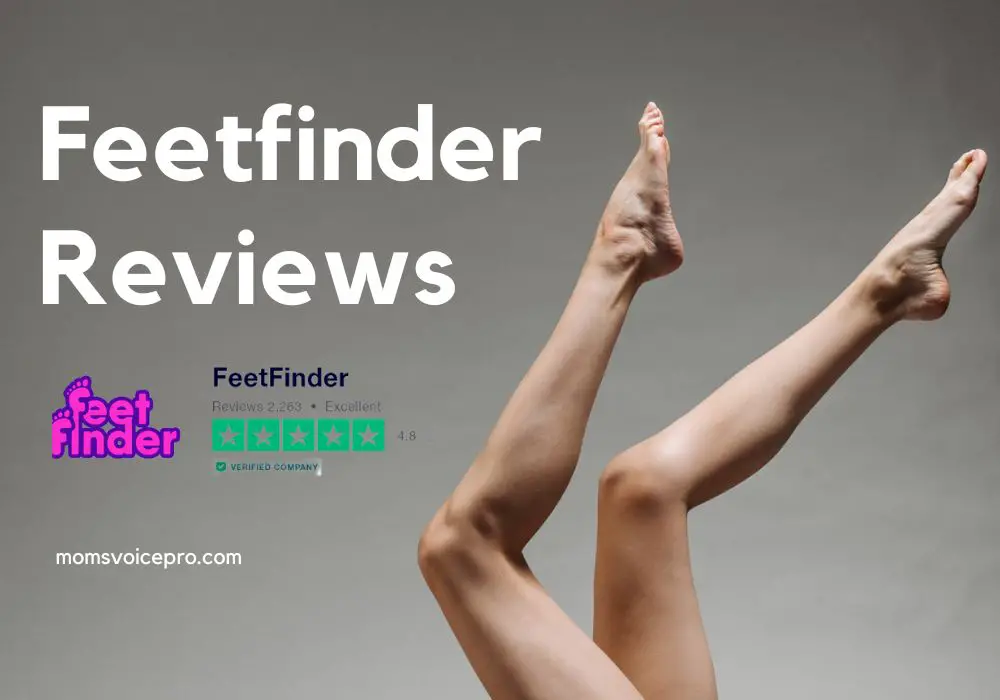 These days, there are a lot of foot fetish fans, making it easier for you to make money off your feet pics. If you are interested in selling your feet pictures online, you may want to know whether it is legal and which platform is best for this kind of business.
The internet offers a list of websites to sell and buy feet pic. But do you know there are a few legit platforms where you can make money by selling your feet pictures? One of the popular sites for selling and buying pictures of your feet is Feetfinder.
While Feetfinder is arguably the best feet-selling website, it is necessary to learn how it works and how much you can make selling your feet pics inside this platform. You should also find out if the Feetfinder is legit or a scam.
What is Feetfinder?
Feetfinder is a marketplace for selling and buying feet pictures and videos. This site is designed to list the pics and clips in various categories such as heels, soles, hairy feet, nail polish, long toes, dirty feet, and much more. As of this writing, Feetfinder has over 250k active users who post and purchase content on daily basis, making it a perfect place to make extra money in your spare time.

The coolest thing about Feetfinder is that its founder (Patrick Nielson) is passionate about helping people make money online via selling feet pictures. If you live in the USA, UK, or Canada, you could sell your feet pictures so long as you are over 18 years old with a government-issued ID.
Feetfinder Company Information
How to Become a Seller on Feetfinder
If you are 18+ years old, you can register as a content creator and start selling your feet pictures. Here's how to get started with Feetfinder:
Create an account: This is the first step to becoming a Feetfinder seller. Once you click the sign-up button, you'll be required to enter registration details like username, email, country, and birthday.
Verification details. What comes after account details is verifying yourself. You need to upload front ID and a selfie holding the ID. By uploading the verification details, the company is 100% sure you are not underage, you don't act as a woman or man, and you are not a bot.
Create albums: Once you get approved, you need to pay the subscription fee to start uploading and selling your pics. The amount of fee depends on the selected duration and type of the account. For example, new sellers pay a monthly fee of $14.99 for a premium accord.
While age is the primary requirement for sellers, Feetfinder doesn't accept content creators living outside the USA, UK, and Canada.
Feetfinder Reviews Vs Complaints
When you browse the internet, you'll notice that Feetfinder has a good reputation. It has a rating of 4.8 and over 1400 user reviews on Trustpilot. In addition to these reviews, sellers and buyers have left tons of positive feedback on Feetfinder Reviews page, which boosts its trust score.
Some of the things users like about this pic selling website are:
While Feetfinder has received lots of praise from its users, some still feel that this platform isn't worth their time. If you look at Trustpilot Feetfinder reviews, you'll find a small percentage of members who are unhappy with their services. Some complaints people are talking about include:
If you are interested in joining Feetfinder, these few complaints should not discourage you. As a matter of fact, Feetfinder reviews show its advantages outweigh the downsides.
Is Feetfinder Legit or a Scam
Feetfinder is 100% legit. Based on the Trustpilot reviews and their website testimonials, it's crystal clear that Feetfinder is a legit website. The company has been paying its content creators on time, and no serious claims of scamming have been raised about it since its launch.
How Safe is Feetfinder?
One of the common FAQs is about the safety and security of Feetfinder. And the short answer is: Feetfinder is a safe and secure website for selling and buying feet pictures. They have achieved top security by using an intensive verification process for all the accounts.

Other safety measures employed by Feetfinder include SiteLock for preventing bot traffic and secure payment. With these security measures, you are sure your data is in the hands of the right individuals.
How Much Can You Make on Feetfinder?
The amount of money you can make depends on factors such as the number of followers, subscription fees, and the quality of the pictures. If you can hire a professional photographer to take your photos, you can price them higher.
As a first-time seller, you might not have many followers, so making a lot of money can be a little bit difficult. You can consider lowering the price of your videos and pictures to attract more buyers and followers. For example, you can charge a maximum of $5 for photos and $2 for videos to build an audience.
Those with huge fans can sell their feet pics anywhere between $20 and $30 per download. However, you can charge this amount if your images and videos are of high quality and edited to match your buyers' needs.
On average, a feet pic cost $22 while a video cost $18. If you have many followers and often upload new pics or videos (probably on a daily basis), you are likely to earn up to $2000 per month. But remember to keep your prices low and market your profile on popular social media networks like Facebook, Instagram, and Pinterest.
Tips to Increase Your Feetfinder Monthly Earnings
The aim of feet pic sellers is to make extra money on the side. But do you know you can turn feet picture selling a full-time income generation business? You can make this happen by making extra effort to offer exactly what your buyers want. If you want to earn more money selling feet pics and videos, follow these helpful tips:
Use multiple platforms: You don't have to rely on one website to sell your feet pics. There are plenty of options out there like Instafeet, Onlyfans, and much more. Joining multiple platforms means more buyers and more money.
Put social media forward: Social media networks offer a great environment to share your business with the rest of the world. You will likely get new buyers if you promote your profile on social media platforms.
Set reasonable price: If you want to make more money selling pictures of your feet, don't charge high prices. Instead, focus on attracting more buyers who are willing to purchase more products frequently.
Take quality pics: Quality runs the show in the world of feet pics. Pictures with high resolutions are more likely to be downloaded than dull ones. Invest in a good camera or smartphone if you want to shoot quality images.
Experiment: You can take feet pictures for different categories to see which ones your buyers prefer. For example, feet pictures with socks, polished nails, dirty feet, pedicures, and much more. With different pictures of your feet, you'll know which ones are in demand, making it easy for you to plan for future shots.
What Are the Pros and Cons of Feetfinder?
Do you want to learn the advantages and disadvantages of Feetfinder? When you read Feetfinder reviews, you'll find that this platform has more advantages than downsides. The table below summarizes Feetfinder's pros and cons:
| | |
| --- | --- |
| Pros of Feetfinder | Cons of Feetfinder |
| No hidden fees | Only accept sellers living in the USA, UK, and Canada |
| 14-day trial for new sellers | 20% commission + month subscription fee |
| Complete control of your account | No Feetfinder App on Google Play and Apple store |
| 100% trust score | Sharing a copy of a government-issued ID is scary |
| Safe and secure for users | No free subscription plan for sellers |
| Awesome customer support | |
| Pay sellers on time | |
| No scammers | |
| User-friendly website | |
Feetfinder Subscription Plans
While Feetfinder doesn't display their subscription plan on their website, you can find details about their fees when you click the sign-up button for sellers. Before registering as a new seller, you get to know how much you should pay to start selling your feet picture on this platform. You can find their subscription fees on the FAQs page as well.
There are so many reliable sources that have published information about their subscription pricing. As of writing this Feetfinder review, there's only one subscription option: the premium option. With this option, sellers need to pay $3.99/mo or $14.99/yr before starting to upload their feet content.
Unlike other feet pic selling websites, Feetfinder doesn't have a free version for sellers. They claim that charging this money is to filter those individuals who are serious about selling feet content from the jokers. They use this money to manage the websites, upgrade, and advertise their business.
Alternatives to Feetfinder

FunwithFeet is an alternative to Feetfinder. The platform is the fastest growing feet pic selling platform and has amazing reviews.
The platform has grown substantially since its launch. FunwithFeet allows sellers to have a safe and secure way to make money from selling feet pics. With low fees and an easy sign up process, many people are now earning thousands of dollars by selling on FunwithFeet.
Feetfinder Reviews: The Bottom Line
When buying feet pictures, you know exactly what you want. You have your own preference and taste. But when it comes to selling pictures of your feet inside the Feetfinder, there are a few things you should look at before getting started. After all, the goal is to make extra money, but if you aren't careful, you may end up paying a subscription fee and earn zero dollars.
If you've read Feetfinder reviews online, you can agree that there's no answer for how much money you can make selling feet content on Feetfinder. You may find some reviews talking about $1000/mo, $2000/mo, or $5000/mo. But they don't tell us the take-home pay after deducting the subscription fee and the 20% commission.
People who are serious about selling feet pictures online can consider Feetfinder, but they have to put extra effort to get something out of their biz. You need to do a lot of promotion on social media. You need to set a lower price. And you need to take quality feet content and post it daily.
As a beginner, making thousands of dollars can be a little bit difficult, but if you build your audience, you can start selling hundreds of feet pics per month. The trick is to start with low prices and increase once you get established.