Pregnancy Belly Painting Ideas for New Moms
Expecting your first child is an exciting and thrilling experience. Whether you are doing it for a baby bump photo shoot or a baby shower, pregnancy belly painting is best done during the last trimester when the belly is at its largest. If you are looking for pregnancy belly painting ideas to help you get the perfect designs for your session, here are some of the unique ideas you should consider.
Is Pregnancy Belly Painting Safe?
Pregnancy is a delicate affair. As you contemplate making it the best and most memorable experience, it is crucial to consider your safety and that of your unborn baby. This is because, for most moms, belly painting is a calming experience that allows them to have a special moment with their unborn babies and appreciate the beauty of motherhood.
Luckily, pregnancy belly painting is safe when you use the right paint and go about it cautiously. Avoid getting into dangerous positions during the activity that may endanger your baby. Also, choose a belly painter who prioritizes your comfort and uses non-toxic paint specifically made for the skin.
To make the experience even more comfortable and rewarding, ensure you get plenty of rest before going for your pregnancy belly painting session. Since the activity can take several hours to complete, especially if you are doing a custom painting, take a day that you are free to avoid interfering with your schedule.
While belly painting is usually done while you sit on a chair, it helps to take frequent breaks to avoid stiffness and discomfort from sitting down too long. You can also do it while lying down or standing. Remember to drink plenty of water for hydration.
What Paint To Use for Your Pregnancy Belly Painting
The quality of the end product, your safety, and your child's safety will depend on the paint you use. If you work with a professional body painter, they will recommend safe, non-toxic paint tailored to your situation.
However, if you are painting without professional help, you must shop for the paint yourself. In this case, avoid acrylic paints as they contain harmful chemicals like biocides that are harmful to expectant mothers. Instead, opt for water-based paint made for pregnancy belly painting.
You can find vegan, paraben-free paints to use that are FDA-approved. Lastly, look out for those with zero or low VOCs (volatile oil compounds) and ensure you have enough ventilation during the activity, as they may still have solvents. Your belly paint should come off easily when you wash it with soap and water. Be sure to inform your painter about any allergies you might have to avoid medical emergencies.
Pregnancy Belly Painting Ideas
When choosing pregnant belly painting designs, you can go as far as your imagination takes you. There are no limits to what you can paint as long as they mean something to you. Below are a few ideas you can explore for a start.
1. Cartoons
Cartoons are fun and childlike. If you have a favorite cartoon character, you can paint it on your belly to add a bit of fun and cheekiness to your belly painting. You can also pick generic cartoon characters such as a teddy bear, Minnie Mouse, or cuddly creatures.
2. Personalized Patterns
Pregnancy and motherhood is a highly personal affair. Nobody has to understand the thought process behind your design. With this in mind, you can paint your belly with sentimental patterns that hold special meaning to mean something special to you.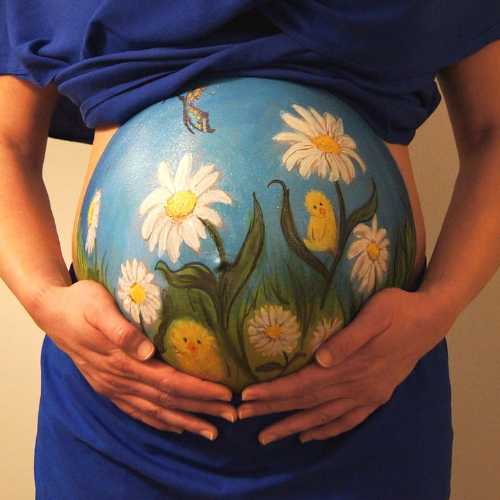 3. Abstract Art
You don't have to paint an actual item on your belly. Alternatively, you let the painter use your belly as a canvas for an abstract painting. Allow them to express their creativity and imagination and wait for a surprise on the results.
4. Galaxy Theme
A galaxy theme includes painting your belly with stars, swirling galaxies, and planets. Your galaxy theme can be as simple or intricate as you wish. You will look back at the images and feel a sense of pride in bringing new life into the universe.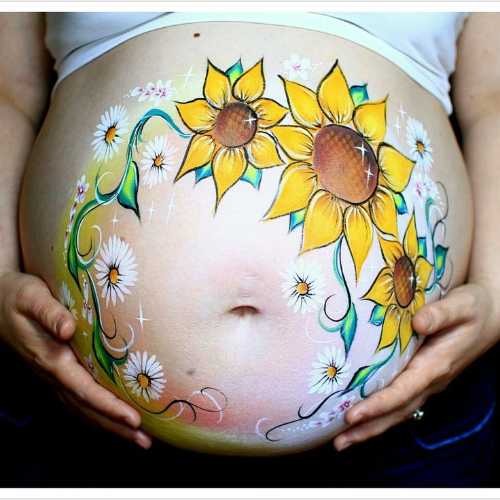 5. Flowers
Flowers are beautiful and delicate, just like your oncoming newborn. Create a floral painting on your belly to represent the joy of motherhood your unborn child will bring. You can draw a single bouquet or have different types of your favorite flowers. Add a touch of butterflies to complete the look.
6. Fantasy
Go the fantasy way, and let a magical scene come alive on your baby bump. One such way to do this is to create a painting with unicorns, goddesses, and other mythical creatures, preferably that symbolize fertility and a new life. Not only is it unique, but also enchanting.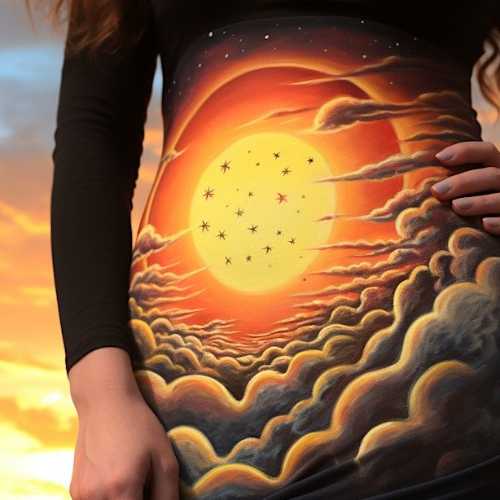 7. Natural Elements
Natural elements fit right into a pregnancy belly painting since pregnancy and motherhood are nature's way of ensuring continuity. An excellent idea is to paint a sunrise to represent the oncoming baby, and you can have it with a background of hills or a water body. The rainbow is also an excellent idea for a pregnant belly painting.
You can also incorporate baby animals as part of your natural-elements theme. Cute and cuddly ones like pandas and kittens are excellent. If you are bold enough, you can choose a baby elephant since elephants are a matriarchal species and will uniquely represent motherhood.
And the bottom line is…
Motherhood is a wonderful experience, and the above pregnant belly painting ideas can help you make it more memorable and unique for you. Remember, you don't need a template for your belly painting designs. Let your creativity guide you, and go with whatever idea you fancy!