10 Best Spectra Pumping Bras Designed for Comfort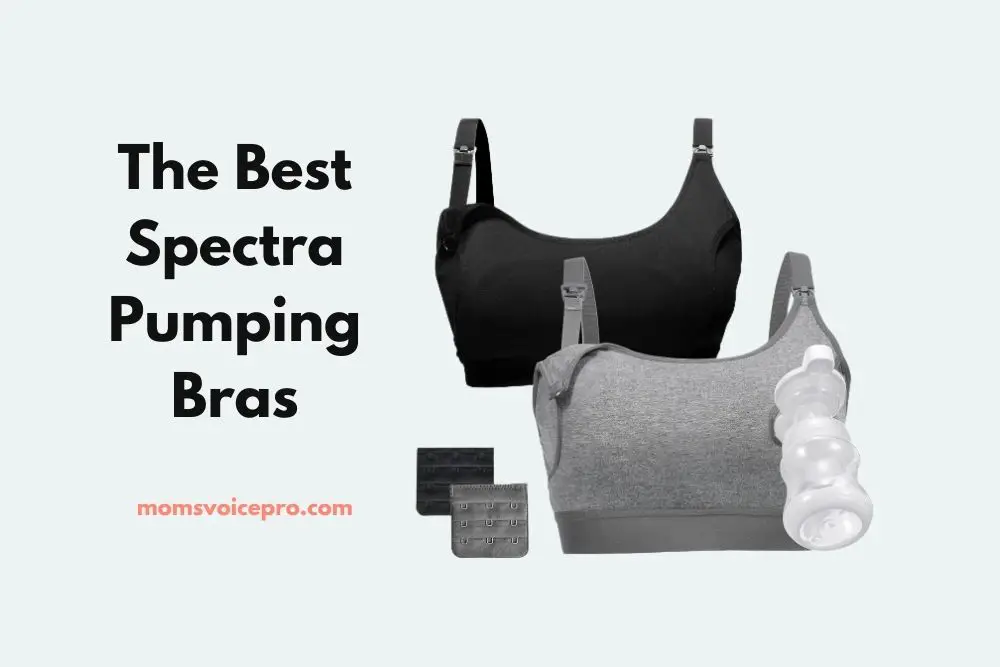 This article may contain links from Amazon and our partners. We may receive a small commission if you make a purchase through a link at no cost to you. Please read our disclosure policy.
If you have a Spectra pump, getting a Spectra pumping bra will make pumping your baby's milk easier, faster, and more effective. Pumping bras support and hold your breasts when breastfeeding, nursing, or pumping milk for your little one. They allow you to multitask while attending to your child's feeding needs and mostly have side slits for easier pumping.
The Best Pumping Bra for Spectra
Unlike normal bras, Spectra pumping bras are known for their customizability, comfort, and convenience. You can easily unclip the bras, attach your pumping bottle, or detach them whenever needed. They are also designed to prevent leakage. Here are the top 10 Spectra pumping bras that give you the comfort you deserve without sacrificing convenience or functionality.
1. Simple Wishes Signature Hands-Free Pumping Bra
The Simple Wishes Signature Hands-Free Pumping bra provides support and comfort and fits a wide range of sizes. It is adjustable and comes with a front zipper and removable straps, which makes it more versatile. You can wear it in bandeau style (without the straps).
2. Medela Easy Expression Bustier
Medela has its breast pumps and pumping bras. However, the Medela Easy Expression Bustier is also compatible with Spectra breast pumps and offers the convenience and comfort most moms seek. The bustier has a front zipper, making it easy to wear and take off.
Besides the comfort it provides, the Medela Easy Expression bustier fits snugly, which helps keep the bottles and breast shields in place. However, check the sizes before buying to ensure you get the right one. This Medela Easy Expression pumping consists of spandex and nylon, making it soft on the skin.
3. Kindred Bravely Sublime Hands-Free Pumping Bra
Kindred Bravely Sublime pumping bra offers comfortable support without straining your shoulders or back. You can find the bra in sizes up to 3x Busty (or 48H in traditional bra sizing), making it ideal if you have large breasts. It also comes in up to 6 colors. The bra features a dual-clip design to facilitate nursing and pumping, while the hook eye closure and adjustable straps make it easy to find a proper fit.
It also comes with a removable padding, which allows you to wear under thin tops and provides additional support. This Spectra pumping bra is made of high-quality spandex and nylon materials that stretch to accommodate your changing breast size postpartum. It doesn't include wires that can dig into your skin or press your ducts. However, you can't wash it in the machine as it requires hand washing.
4. PumpEase Hands-Free Pumping Bra
The PumpEase Hands-Free Pumping Bra is the best option for new moms due to its convenience and comfort. This Spectra pumping bra is durable and cozy and comes in a strapless design with moisture-wicking abilities to prevent leakage.
The bra is strapless, has a front hook closure, and is easy to assemble. In case of breast changes, this Spectra pumping bra maintains its fit, so there's no need to worry. Besides Spectra, you can use it with other traditional and electric pumping bottles. You can also machine-wash the fabric, which adds to your convenience.
5. BRAVADO! DESIGNS Hands-Free Pumping Bra
The BRAVADO Designs Hands-Free Pumping Bra allows you to quickly and easily insert your bottle when pumping and promotes maximum suction. It also maintains your bottle's uprightness, preventing milk from spilling and messing up your clothes. The bra's standard flanges mean you can use it with most breast pumps, while hook and eye closure allows easy access.
6. Momcozy Seamless Hands-Free Pumping Bra
When it comes to providing support and comfort and allowing you to multitask, The Momcozy Seamless Pumping Bra doesn't disappoint. It is made of spandex and nylon and includes nursing pads to protect you from milk leakage. The bra has an adjustable shoulder strap, which secures the bottles as you pump and an anti-slippery design so you can pump effectively while going about your day.
7. PumpStrap Pumping and Nursing Bra
PumpStrap Pumping and Nursing Bra is a 2-in-one solution to your nursing and pumping needs. It is a strapless bra that you wear in bandeau styles, although it also comes with a removable halter strap, which provides added support when pumping. The Spectra pumping bra is highly secure, thanks to the adjustable closure.
The bra's strong fit makes it leakage-proof, so you don't soil your clothes when pumping. It also exerts gentle pressure on your breasts to help increase your milk output. You can find the bra in sizes A and vibrant and neutral colors. What's more, it works well with most single and double electric breast pumps. 
8. The Bodily Do Anything Bra
The Bodily Do Anything Bra consists of polyamide and elastane materials, which gives it a silky and comfortable feel. The fit is true to size, and the easy-to-close clips allow easy access and pumping. You can adjust the bra's strap on the front to accommodate your changing breast size, or transform the bra into a racerback for added support.
9. The Rumina Racerback Hands-Free Pump & Nursing Bra
If you are a working mother who spends her day juggling between home and work, the Rumina Racerback Hands-Free Pump & Nursing Bra is designed specifically for you. The material combines spandex and cotton to keep you cozy and comfortable throughout. The bra has a stretchable fit, which makes pumping easier, faster, and more secure.
10. The Dairy Fairy Arden Pumping and Nursing Bra
The Dairy Fairy Arden Pumping and Nursing Bra is the best spectra-pumping bra for comfort and disproportionate breasts. The bra consists of layers of double nylon Lycra on the interior, which gives it an unmatched fit, quick drying abilities, and stretchy support. The outer layer is made of cotton Lycra for a comfortable and luxurious feel.
It is suitable for pumping and nursing, has no wires, and you can adjust the fit for each cup separately depending on breast fullness using the crossover panels. Therefore, you don't have to worry if your left and right boob sizes do not match. It also has a 4″ adjustable hook-and-eye closure and detachable straps you can crisscross for added support. The bra comes in sizes XS-2XL and you can choose from the Original (with Blush, Sand, and Sand contrasting trim) and Naked (Cream and Black) versions.
Spectra Pumping Bras: Conclusion
Besides compatibility with your breast pump, ensure the bra you get fits, is stable, and has suction control. With the above Spectra pumping bras, you can be at peace and enjoy a hassle-free and comfortable pumping session.