Social Rebel Reviews: Is Social Rebel Legit or A Scam?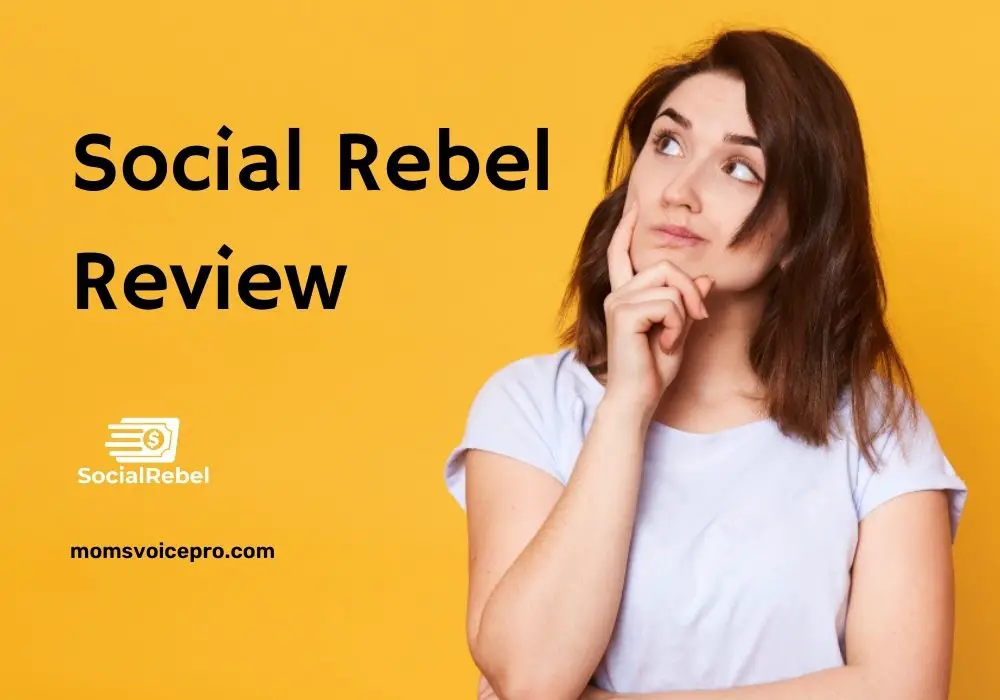 The internet offers numerous opportunities to those looking to make extra money in their spare time. For example, you can earn a few dollars by completing simple assignments like taking surveys, testing apps, and more.
If you want to make money with this side hustle, Social Rebel claims to help you make it happen. Going by various social rebel reviews, the website offers simple tasks that require little skill if you have the time, which means easy money.
Social Rebel claims to offer a $50 sign-up bonus to its new users. Besides this bonus, it also claims to pay $2 for referral clicks and $20 for everyone who joins this platform using your affiliate link. Better still, you can complete the gigs on any device and at any location from which you can access the internet.
Whatever Social Rebel promises to offer its users raises eyebrows for many people across the globe. One big question many ask is whether Social Rebel is legitimate. This post will look closely at Social Rebel reviews, the platform's legitimacy, and how it scams its users.
Social Rebel is a GPT platform that allows users to get paid for completing numerous assignments such as survey-taking, app testing, and referral programs. The coolest thing about this platform is that you don't need to be an expert at something to complete the tasks.
Since its inception in 2018, Social Rebel claims to help brands improve their marketing strategies by providing them with peoples' opinions gathered through surveys.
Social Rebel Company Information
| | |
| --- | --- |
| Website | https://socialrebel.app/ |
| Location | Unknown |
| Phone | Unknown |
| Email address | Unknown |
| Social media | Unknown |
| Founder | Ralph R. Lawson and Chad Evans |
| Industry | Influencer Earning Network |
| Trust score | Poor |
How Does Social Rebel Work?
To get started, you need to follow these steps:
Step I: Registration of an Account
The first step to becoming a user is to sign up for a free account at the Social Rebel website, Socialrebel.co. You'll submit your details, such as an email and a username, during the registration process.
Step II: Completing Assignments
Once you get accepted, you'll have access to the following assignments:
1. Referral Program
You can access your referral link by navigating to the website's dashboard. With the link, you can invite others to sign up through this affiliate link just as you would when creating a downline in affiliate marketing.
Every time someone clicks on your affiliate link, you earn $2 and $20 for every sign-up completed through your link. Based on social rebel reviews available in the public domain, the referral program is the primary source of the ever-growing membership.
2. Paid Surveys
The website has an Offer Center that lists the available surveys you can undertake. Unlike other survey sites that offer just a handful of surveys for which members have to compete, Social Rebel has plenty of surveys and updates the list daily.
You can participate in the surveys depending on age, geographical location, and gender. Sometimes, you must provide your full name, birth date, gender, mobile number, and address to access the survey.
3. Apps Installation
You earn money by clicking on offers to install apps on your iOS or Android mobile phone. The installed apps require you to register accounts with them where you upload your details.
4. Social Media Posts
A Social Pay tab on the website's sidebar gives you access to a caption you copy and post on your social media platforms. To qualify for payment, you should share the post link to your social media networks like Facebook, Twitter, Instagram, TikTok, Snapchat, and YouTube.
Step III: Receive Your Funds
Social Rebel claims it pays its users through PayPal, Bitcoin, Venmo, and Cash App. It doesn't have a minimum payout, meaning you can cash out your money anytime. Once you complete the tasks, the money accumulates on your Social Rebel account. But the truth is that all the funds on your account are fake, and you can't withdraw them.
Social Rebel Reviews Vs. Complaints
While the site does not pay, there's nothing to lose by becoming its user since registration is free. Other than that, Social Rebel appears to draw no positive review as it turns out that the claims and details on the website are a sham to dupe you into surrendering personal data for sale to third-party vendors.
The website has a testimonials page that displays proof of payment. However, hundreds of independent reviewers on Reddit and Trustpilot reveal that Social Rebel does not pay. Some users complain that they have received emails prompting them to withdraw their cash, but the company never approved their payout requests.
Is Social Rebel Legit or a Scam?
Unfortunately, every Social Rebel app review confirms that Social Rebel is a scam. Looking at all the goodies promised by Social Rebel, the app ought to have created several online millionaires by now through superb payouts. The business model shows no means of sustaining the huge payouts in the long term.
Other than failure to pay, Social Rebel reviews raise more concerns about its legitimacy. The website's name changed to socialrebel.app from socialrebel.co, probably to create the impression that it's a different company from the previously tainted one.
The website lacks certificates of approval from a regulatory authority. It also appears cloned from other fake sites, and the information about the founders is unavailable for authentication. Surprisingly, their profile pictures turned out to be stock photos.
Social Rebel website then serves as a front for data mining activities. Users must supply their data as already seen to access various tasks and earn after installing apps. However, even after doing so and completing their assigned assignments, they never manage to withdraw any money from it, regardless of the website showing proof of payment.
Contrary to its claim of no minimum payout, the website does have a limit on withdrawals. All this puts to rest the main issue: is social Rebel legit?
The Best Alternative for Social Review
The outlook from this social rebel app review proves the app would disappoint you if you were looking for quick riches or a consistent income. The gigs are a waste of your time and effort. There are legit alternatives to Social Rebel, such as Wealthy Affiliate, a platform that teaches you how to create an online business and earn from it.
Wealth Affiliate provides a platform on which you can launch a business based on the niche that is a passion to you. You earn a passive income from it. Success in digital companies requires time and effort to acquire skills and grow your business.
Many Social Rebel reviews reveal that any website offering autopilot and exaggerated profits will often become a scam. Offer value through products or services to your customers directly or as an affiliate to succeed in your venture.
If you are interested in online tasks such as surveys, playing online games, or clicking ads, there are legit sites such as TimeBucks, SurveyTime, and YSense. These sites are not get-rich-quick schemes, and you can earn about $10 per day depending on your efforts and commitment.
However, they offer what you seek: a consistent and stable income. Before signing up for any website claiming to help you make money online, read reviews about its legitimacy. By doing so, you are very likely to avoid falling victim to online scams and cybercrimes.
Social Rebel Reviews: Final Thoughts
In simple terms, Social Rebel is a big scam. If you don't believe in many Social Rebel reviews published online by different people, you can try working with them without using your genuine email and personal data when registering. Exposing your details to a data harvesting scam site puts you at risk of hackers and other cybercriminals. It appears that it is best to avoid Social Rebel.
We hope you enjoyed this Social Rebel review. Please check out our Feetfinder Review for more helpful insights!