11 Newborn Family Photos Ideas for 2023 and Beyond
Newborn family photos are a great way to preserve the memories of motherhood from the earliest time possible. You can take at-home photos with the help of a professional photographer or head to the studio, depending on your preference. Regardless of your choice, here are some timeless newborn family photos ideas for 2023 and beyond.
The Best Newborn Family Photos Ideas
1. Newborn Family Photos with Parents Only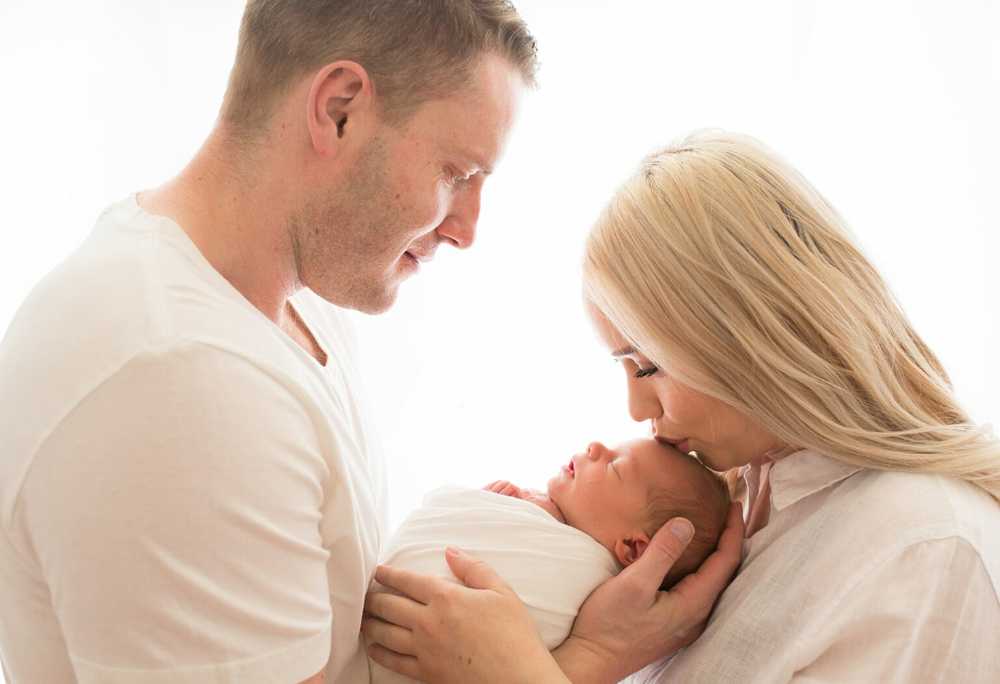 Image Source: Captured Joy Photography
When it comes to taking a newborn family photo with parents only, there are a lot of ideas to choose from. You can snuggle the baby between mother and father and take a picture. The baby can be wrapped or unwrapped. Other options include the mom holding the baby while the dad wraps his hands around the mom. You can also take a shot of the baby and two sets of arms for a more intriguing image.
2. Newborn Photo with Mom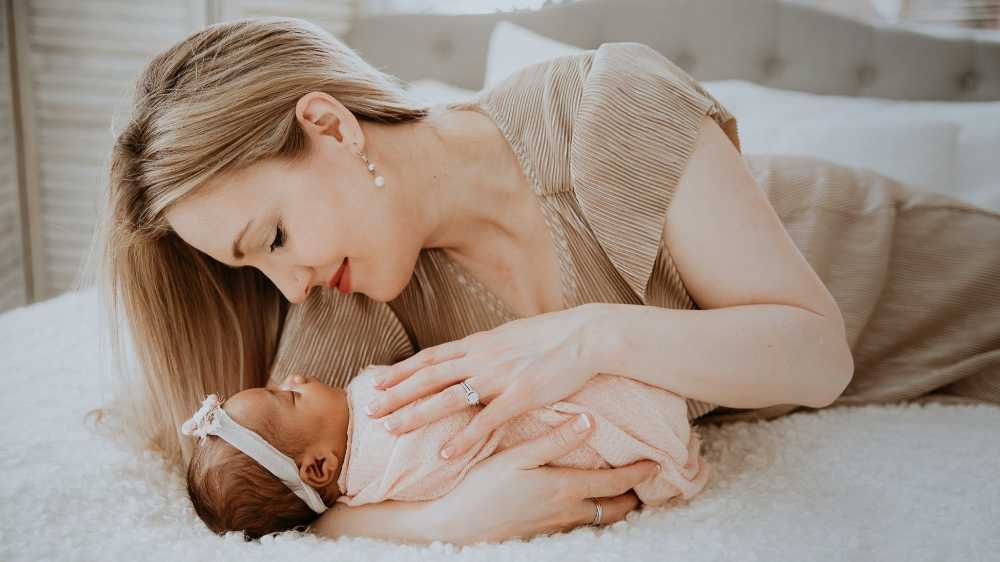 Image Source: AMG Fotos
While most new moms have a newborn family photo session as the least of their worries, children grow so fast, and it would be best to keep memories of when they were younger. You can opt for the classic mom-and-child cuddle or head outdoors for a photo with a nature backdrop. Alternatively, you can capture a moment of intimate gaze between mother and child or the mother watching over the sleeping newborn.
3. Newborn Photo with Dad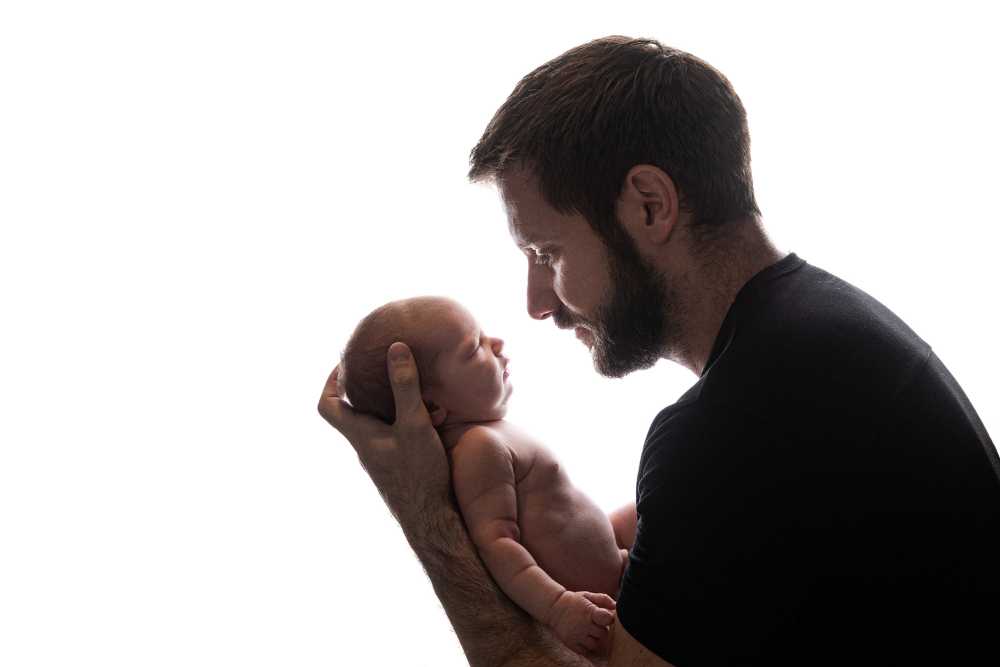 Most newborn family photos featuring dads and their babies involve the dad taking their shirt off. However, if the dad isn't comfortable taking the shirt off, you can keep it simple with a plain white t-shirt. You can dress the baby in a jumpsuit and have the dad cradle them for a photoshoot. Be careful not to try complex poses if it is an at-home shoot without a professional photographer, as you may put your little one in danger.
4. Newborn and Younger Sibling Photos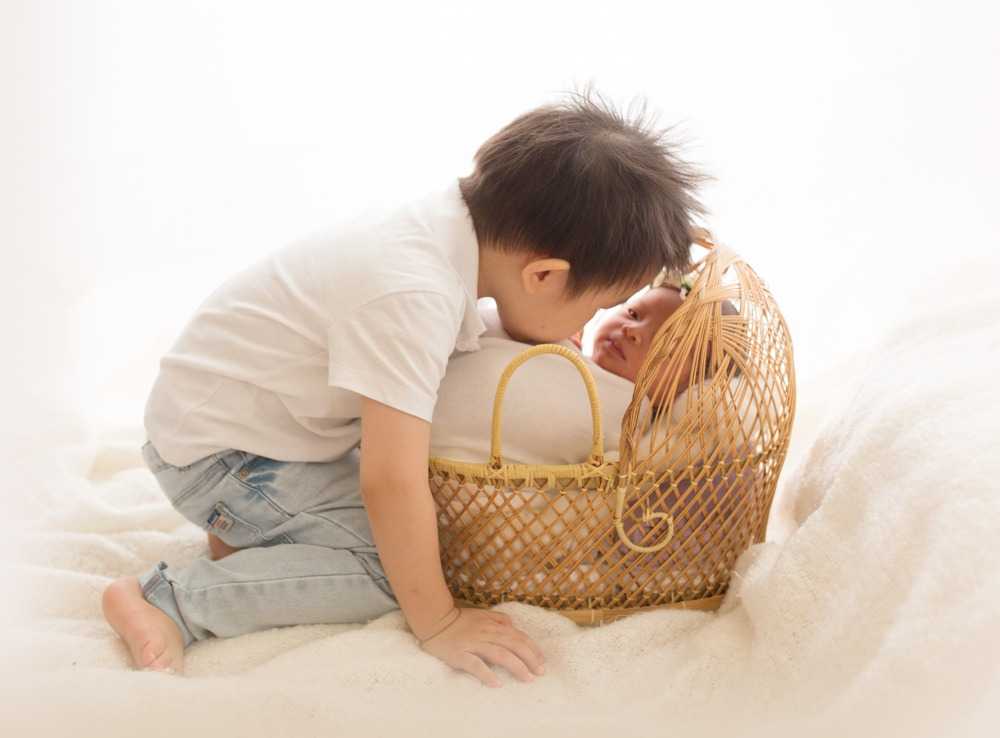 Image Source: Captured Joy Photography
There's no doubt that younger siblings can be problematic when it comes to staying still and posing to welcome the newborn into the family. However, taking a picture with younger siblings is not impossible. Have the younger ones interact with the newborn posing in a prop or lying on a beanbag.
The siblings can kiss, smell the baby's head or hold their hands. They can also watch over them in a crib. When taking these shots, it is advisable to have an adult around for supervisory purposes to ensure the baby's safety.
5. Newborn Photo with Multiple Siblings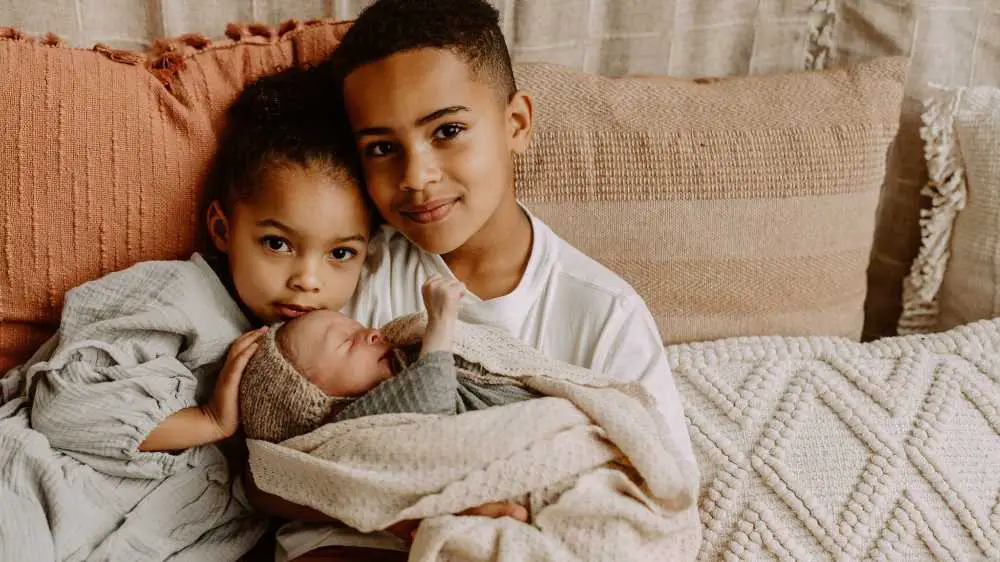 Image Source: AMG Fotos
Taking a newborn family photo with multiple siblings needs the older sibling to guide the younger ones for a well-put-together picture. As such, try posing the older sibling first, and the younger ones will gladly follow their example. The older child can hold the baby while they pose next to them, or they can place the baby in the middle.
6. Newborn with grandparent's portraits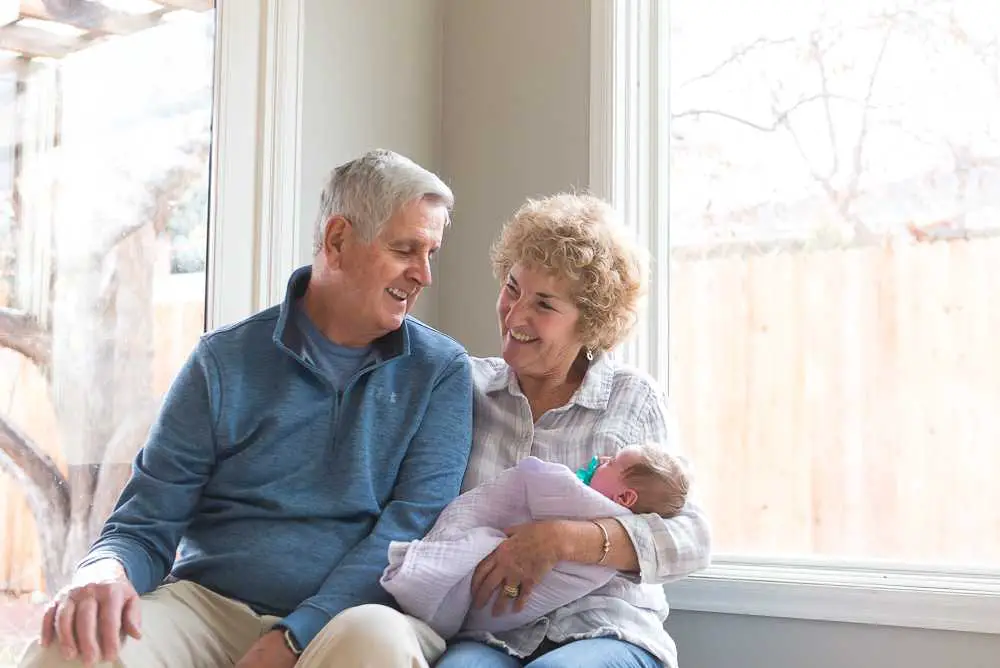 Image Source: Molly Garg Photography
For cases where the newborn's grandparents are not around, you can still include them in the newborn family photo in their absence. Get the grandparents' portraits and place them in the background of the baby's picture, or have the baby hold them if possible. It's advisable to position your newborn where they can interact with the grandparents' portraits.
7. Newborn and grandma photos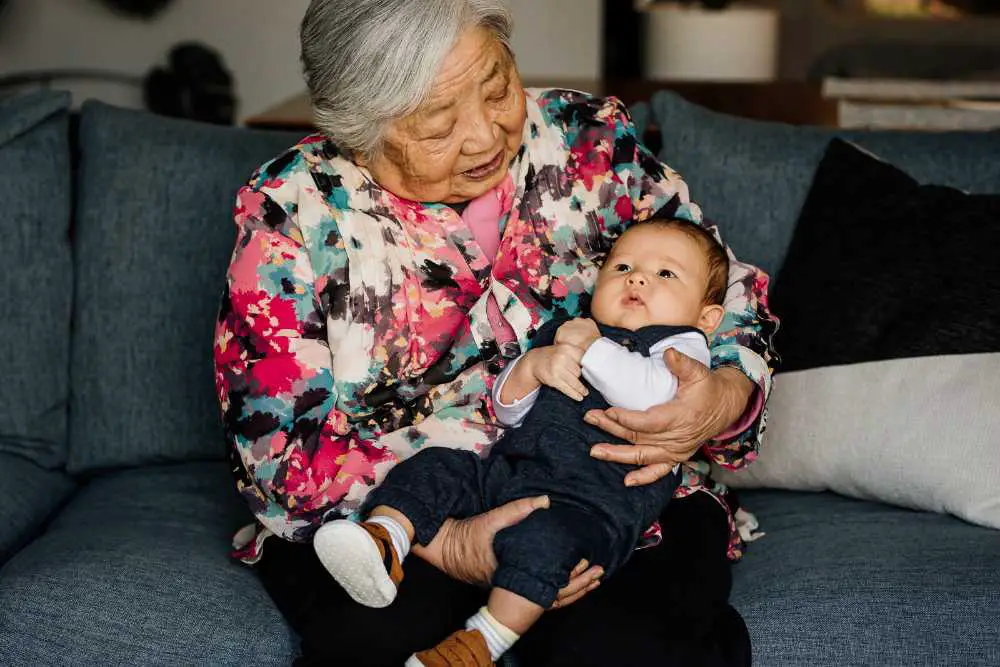 Image Source: Sara Pietras Photography
A newborn photo of a baby and grandma can feature a tender kiss on the child's forehead or cheek, a generational hug of grandma and baby, or the grandma playing with her grandchild. Other ideas include grandma cuddling the newborn, photographing a shared moment of joy, or grandma singing the baby a lullaby.
8. Newborn Photo with Grandpa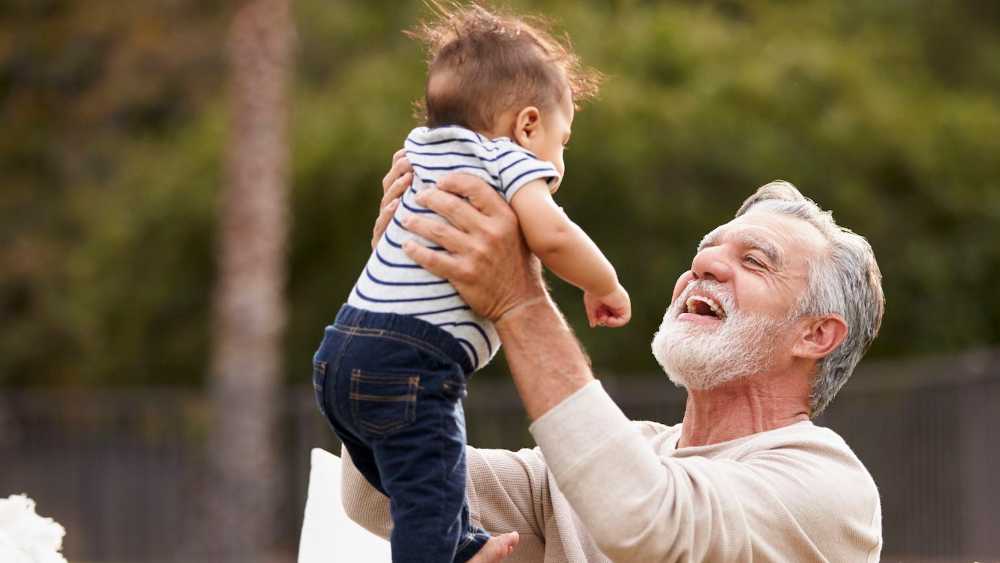 Image Source: Tricia McCormack Photography
The best way to showcase the continuity of a generation is by getting the newborn to take a picture with Grandpa. If you are lucky to have the baby's grandparents alive, you can have your baby take photos in their arms.
You can also have the grandpa cradle the baby's feet or hands, a nap photo of grandpa and grandchild, or back-to-back picture of the baby and grandpa. A storytime photo of the grandchild and grandpa is also an excellent option.
9. Newborn and the whole family
Image Source: Captured Joy Photography
The classic newborn family photo shouldn't end without an entire family picture. A family photo with all members is a memorable way to welcome the newborn into the family. You can take the family picture on a reflective surface, choose a theme for the whole family, such as the beach or outdoors, or opt for silhouettes.
10. Newborn with dog photo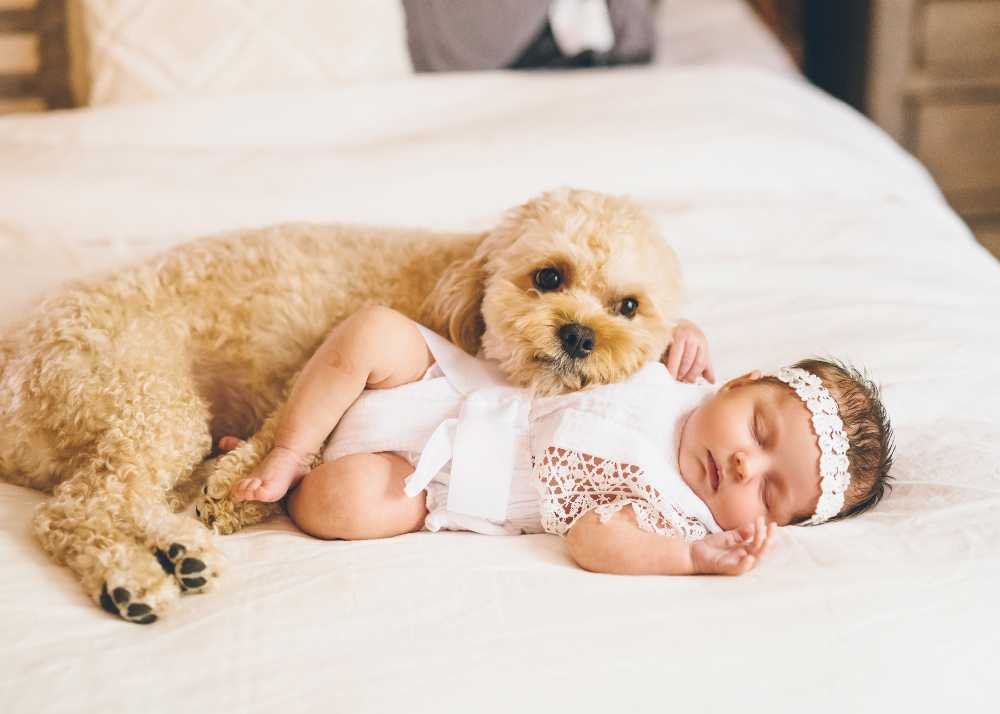 Image Source: Bojana Korach Photography
If you have a pet, there's no harm in including it in your newborn family photo. Shoot a picture of your little one with one or more dogs if possible. You can position them side by side, have the dog lying on your baby, or watch over them.
Remember, you are working with an unpredictable animal; you may have to take multiple pictures to get the perfect shot. Energetic dogs that are all over the place may not be ideal. You can, however, take your dog for a walk before the photoshoot or introduce it later once it has wandered around and is calmer. Prioritize safety when working with animals and kids, as some dogs can be overprotective.
11. Newborn alone photo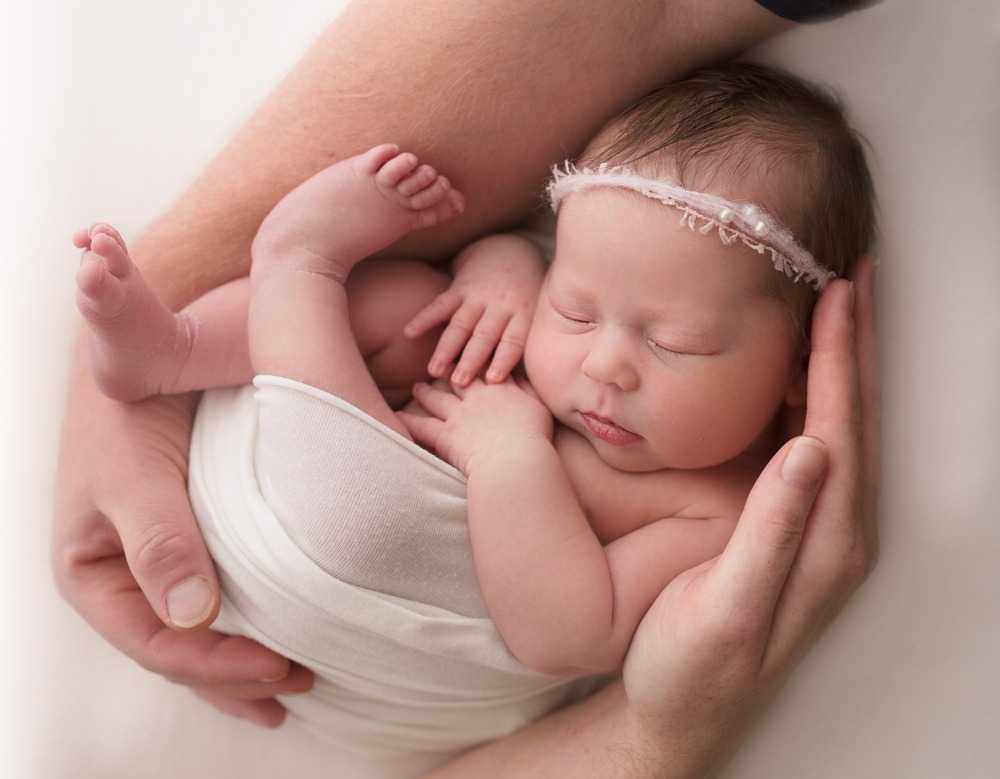 Image Source: Captured Joy Photography
A newborn family photo is incomplete without a solo picture of the star of the day. Your newborn can take an alone photo in different setups, such as your baby in a basket, a baby bathtime picture, or your little one on a blanket or swaddled on the bed. A popular one is your baby in a monochromatic background, such as being wrapped in a blue fabric with a blue background. You can also bring toys in the picture and photograph your little one interacting with them.
Newborn Family Photos FAQ
What clothes to wear for a family photo?
When dressing for a family photo, the main goal is to be comfortable no matter what you decide to wear. However, aim to coordinate your outfits instead of matching, and go for neutral colors that go well together. Fitted clothes are always better than loose-fitting ones, and don't be afraid to go for jeans, even rugged ones.
For the kids, do your best to hide the diapers. If you have a specific theme, you can tailor your outfits to match the occasion's theme. Get a blanket or swaddle for your little one if you can't find fitting clothes since most tend to be larger.
What should I dress my siblings in for newborn family photos?
Dress your siblings in polo shirts, long-sleeved or short-sleeved shirts, and khaki pants or jeans. The girls can wear a dress or a simple shirt and skirt. It is best to avoid clothes with large logos or writings on them so you don't cause a distraction. Keep the accessories at a minimum, although simple jewelry is fine.
What colors are best for a newborn family photo shoot?
The best color palettes for newborn family photos include:
Although you should avoid dark colors, it may work for the mom, especially if you are trying to hide baby fat. However, light colors like white are equally great.
With the above newborn family photo ideas, you can keep the memories for years and look back to how far you and your little one has come.