A List of Newborn Essentials That Every New Mom Really Needs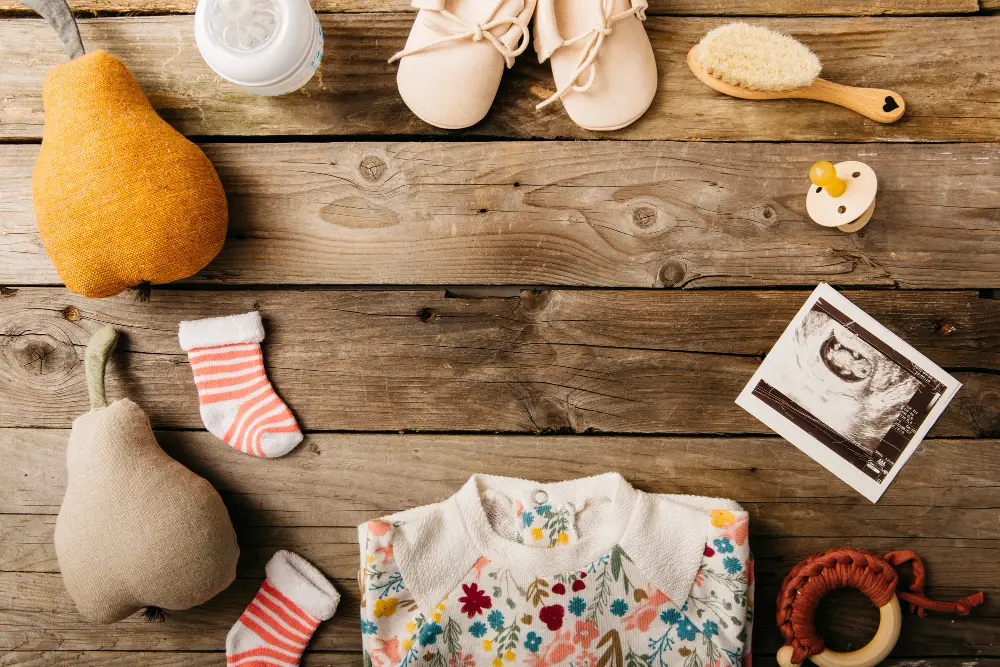 This article may contain links from Amazon and our partners. We may receive a small commission if you make a purchase through a link at no cost to you. Please read our disclosure policy.
The arrival of a newborn is a special moment in every new mom's life. However, you might find yourself confused and anxious about getting the newborn essential items in order. Since there are so many items labeled 'newborn essentials' on the store shelves, it's doesn't mean you actually need them.
The truth is, there are a few baby products that you absolutely need for your unborn baby. In this post, we want to make your life less stressful when preparing your newborn essential list. No matter how tight your budget is, we are here to give you a list of specific products that your baby really needs in their first weeks at home.
Newborn Essential List: Getting Started as a New Mom
1. Diapers
Diapers are a necessity for babies, and we all know that! But many people don't think about the different brand options when choosing a diaper for their newborn. Baby diapers are available in both reusable and disposable options.
Disposable diapers are the most popular choice for new parents. They are easy to use and do not require as much work as reusable diapers. All you have to do with disposable diapers is change them when they are dirty.
While disposable diapers are the obvious choice for many parents, there's a heated debate about their environmental impact. Studies show that a baby typically uses a minimum of 5,000 disposable diapers before starting potty training. In 2018, the US generated 4.1 tons of diapers, according to EPA report. These stats are truly terrifying!
You don't have to worry about washing or prepping reusable diapers before using them on your baby. On the other hand, reusable diapers are beneficial since you don't have to spend more money on new ones.
2. Newborn Clothing
It's critical to have a variety of clothes on hand for your baby. Babies go through many sizes and stages during their first months of life. In the first month or two, you are going to want to stick with newborn-sized clothing.
They will start out at about 4 pounds, and at the end of the first month, they may be up to a pound. Newborn outfits fit the tiny babies with little room for wiggling. You will want to keep a variety of different types of clothes on hand for the baby.
A good mixture would be 5-6 onesies, 5-6 sleepers, and 4-5 receiving blankets. You can also purchase outfits made to fit babies after they have grown. It will allow you to buy one item that to can be worn for multiple uses.
3. Baby Bath Tub
Every newborn needs a baby bathtub. It is vital that babies get bathed as regularly as possible to help prevent infant skin diseases and infections. Babies should get a bath at least once a week for the first month of life, then every other day.
You should also purchase a baby wash/shampoo and baby soap. Babies have sensitive skin, so you must use products that are hypoallergenic and made for babies.
4. Baby Feeding Essentials
The most important item on this list is baby formula. Newborns need to eat every 1-3 hours, so having a supply of ready-made bottles is crucial. You can start out with powder formula, and after the first month, you can switch to liquid formula.
You'll also want to make sure you have enough bottles for feeding time. You will need 2-3 bottles for night feedings (if you are breastfeeding) and at least six bottles for daily feedings.
5. Entertainment
Don't forget to include entertainment items in your newborn essential list. Babies are constantly on the move, and they are not able to entertain themselves. You must provide some distraction for them. You can do this by keeping several toys and other items on hand, such as mobiles or crib toys.
When looking for baby toys, make sure you buy ones that are non-toxic and safe for newborns. Don't forget to include toys that you can use during playtime as well. You will want to have a selection of board books on hand.
6. Baby Bedding
For a first-time mum, you must have a variety of blankets on hand for your baby. Babies can be sensitive to the cold, so you must have several blankets available for swaddling. Blankets also provide comfort for babies and will help to soothe them when they get upset.
Blankets can also be a lifesaver during your baby's first bath. You can use a blanket to dry the baby and keep them warm after a bath.
7. Baby swing
Every baby needs a place to rest. A good way to help your baby relax is by placing him in a baby swing. It is a great place to put your baby for quiet time, nap time, and playtime. A baby swing helps engages the baby as you handle other home duties.
You will want to pick up a swing with a variety of different settings, such as music, vibration, and mobile. If you are looking for an entertainment center that your baby can use with a swing, you can purchase a space saver swing. These swings get placed onto the entertainment center, so they do not take up much space.
8. Baby Stroller
A baby stroller is a necessity for families with new babies. They are an easy way to take your baby out and about with you. You will want to purchase a stroller that is sturdy and easy to maneuver. There are many brands of strollers on the market, so make sure the one you pick will meet your needs.
9. Car Seat
A car seat is the most important safety device you will need for your baby. You can purchase a car seat that is either rear-facing or front-facing. Some parents choose convertible car seats that can work with their children until they reach age 5.
Find a car seat that fits properly in your car and meets all required safety standards for infants. Make sure it has a 5-point harness, and you will want to research any reviews that parents have written about that car seat.
10. Burp cloths
Babies need burping after every feeding. You will want to have at least 4-6 burp cloths on hand for this purpose. Burp cloths are also helpful during feeding time if your baby spits up or drools. These clothes get soiled often, and therefore they should get replaced often.
If you can't wash them right away, keep them in a plastic bag before placing them in the laundry. When shopping for burp, look for ones that are easy to clean and use.
Conclusion
These items will help to keep your baby clean, comfortable, and entertained. You also do not want your baby running around without anything to wear. Ensure you have every item for convenience as you enjoy your motherhood. What do you think about our newborn essential list? Are there some important items we haven't included in this guide? Please send your recommendations through hello@momsvoicepro.com.
Sources: EPA, Facts and Figures about Materials, Waste and Recycling, Jan 2019, NHS UK, Caring for a Newborn: What You'll Need for Your Baby, Jun 2021, Family Health Service, Checklist of Preparing for Your Newborn, Dec 2016, and Medline Plus, What to Bring to Your Labor and Delivery, Mar 2020.