17 Best Montessori Shelves for Displaying Toys and Books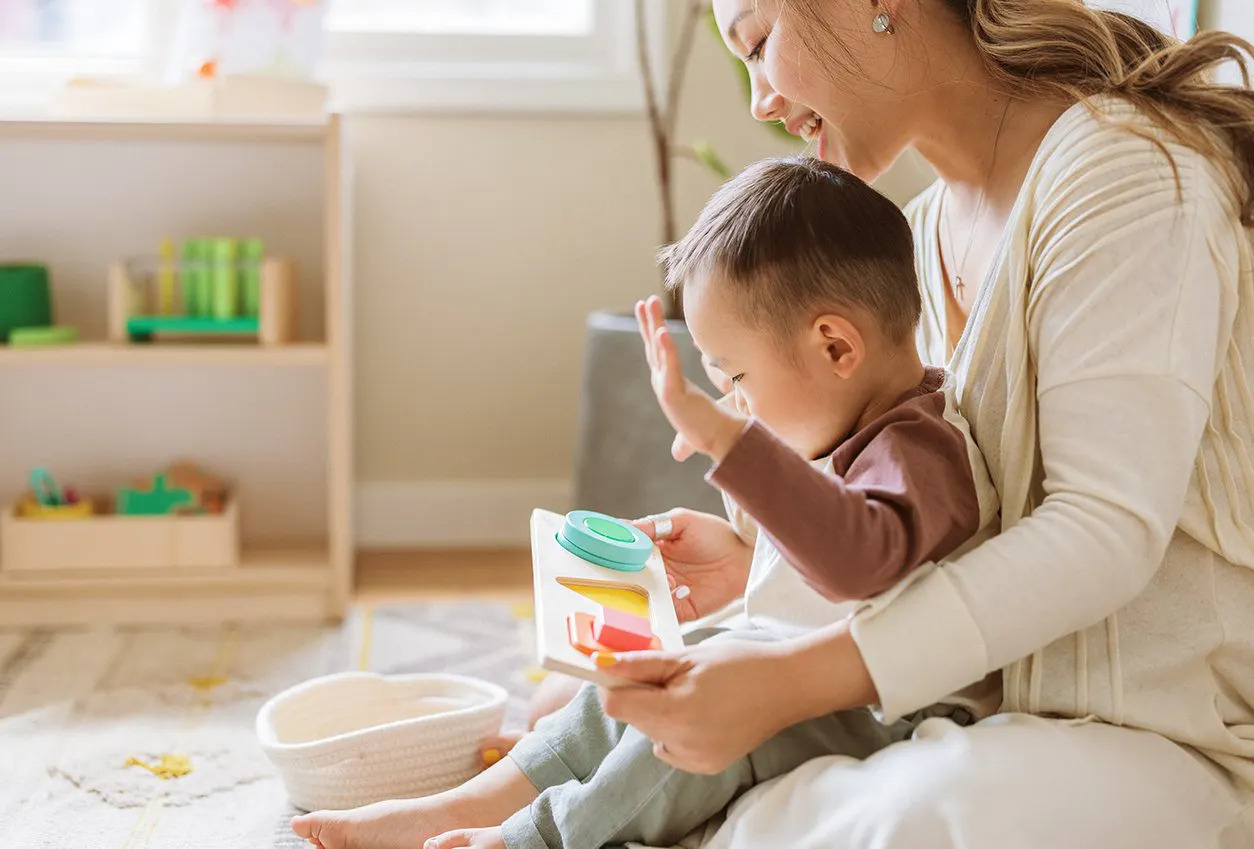 This article may contain links from Amazon and our partners. We may receive a small commission if you make a purchase through a link at no cost to you. Please read our disclosure policy.
Setting up a Montessori-inspired learning and playing space in your home is one way to encourage independent play and make cleaning easier. It also prevents toy and book overload and allows your child easy access to toys and books without adult assistance. Once done, they can easily put them back. If you're looking for the best Montessori shelves for your child's books and toys, look no further. Here are some of the best Montessori shelves to keep your child's toys and books.
Best Montessori Shelves for Toys and Books
1. Lovevery Playshelf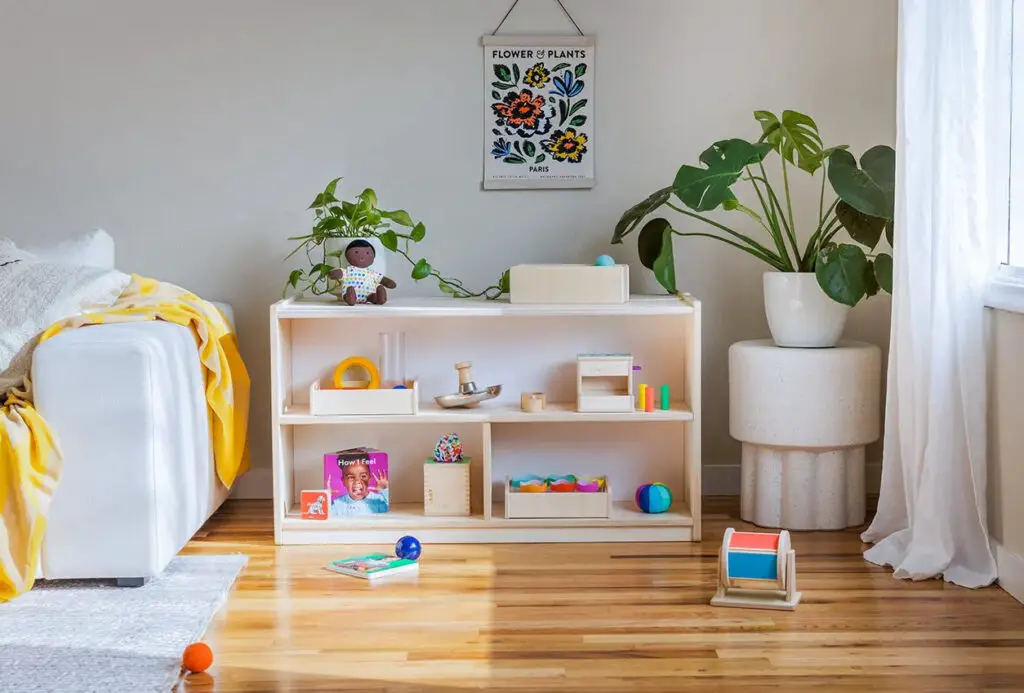 The Lovevery Playshelf is a 2 in 1 shelf that can accommodate up to 5 toys at once. It consists of 100% birchwood and has hidden storage at the back. This allows you to display your child's necessary playthings and keep the rest out of sight to reduce clutter and maximize concentration. It also comes with two wooden trays and two bins for toys with small parts.
The shelf also features soft-close technology, meaning the edges are smooth to protect your little one's fingers. It is suitable for kids from infancy to early elementary and has a toe kick at the bottom to prevent your child's toys from going under the shelf or their fingers from getting wedged. You also get a 2-year limited warranty with your purchase.
2. Sprout Birch Montessori Shelf
Sprout is popular for its eco-friendly and minimalistic designs. It offers a wide range of Montessori shelves in different sizes and depths to fit a variety of spaces. Their Birch Montessori shelves are available in 12 styles, and you can choose from closed-back or open-back options.
They also come in different sizes, and you can choose between 11.5-14.5 inches in depth, 30-48 inches in length, and 13-60 inches in height. You can choose between 1-4 shelves, and larger shelves feature a toe kick while the infant options sit on the ground. The company offers a 5-year warranty for your peace of mind.
3. Babai Bookcase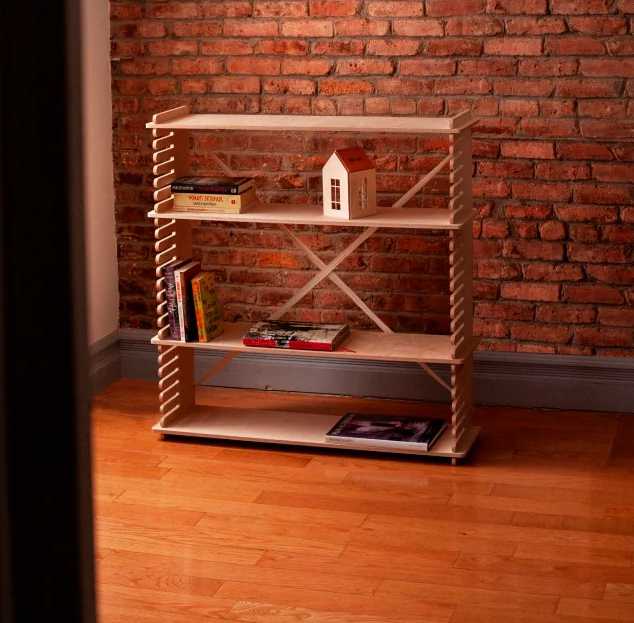 The Babai bookcase is meant for displaying books but works well for your child's toys. The bookcase is versatile; you can place it in your little one's nursery or your older child's teenage room. The Babai bookcase is made of birch plywood, so you can be sure it is sturdy and durable.
It has an open back, two crisscrossing cotton ropes, and three removable shelves when you need a bigger space. It is ideal for kids aged three years and above and measures 41.7×11.4×41.7.
4. ECR4Kids 5-Compartment Storage Cabinet
ECR4Kids is almost similar to the Lovevery version in cubby sizes. It features a mix of long and short cube sizes to accommodate toys and books in various sizes. However, unlike the Lovevery shelf, it doesn't feature hidden storage. The shelf is made from birch, has a solid build, and is long-lasting. It is an excellent choice if you are on a budget, as it is affordable.
The 5-compartment storage cabinet measures 24 inches in height and has three small components and two big ones. The edges of the cabinet are rounded to protect your child's fingers. They also have a natural finish and are Greenguard Gid certified.
5. Luce Shelf
The Luce Shelf from Sprout Kids comes in various sizes and heights, so you can choose one to suit your child's needs. For example, the infant shelf has 2-inch legs, which are shorter to facilitate easy access by younger kids. What's more, you can choose to buy a pre-done shelf or create a customized version.
The design allows you to add on the shelve to accommodate more kids or changing needs as you can adjust the leg height, shelf height and length, and even the number of shelves. You also get a wall anchoring kit with your Luce shelf.
6. Austin Yan Floating Bookshelves
The Austin Yan Floating Bookshelves are available as two shelves, which You mount on the wall, which makes it ideal if you have limited space. The shelves measure 32 inches wide, 4 inches deep, and 3.5 inches high and offer adequate space for your child's toys, books, and other supplies. They also provide the flexibility to mount them according to your child's height.
The floating shelves come with a wooden piece that prevents your child's things from falling without obstructing their view. They are made of pinewood, easy to assemble and mount, and come with mounting materials upon purchase.
7. ECR4Kids Book Display           
The ECR4Kids Book Display provides a practical way to display your child's books. While it may not fit a lot of books, it is an excellent choice for rotating them and enhancing concentration in your child. Rotating the books also makes it exciting as your child gets to choose a new one each time, which fights monotony. It is an ideal display for tall books, as shorter books may not be as visible.
8. Little Colorado Two-Tier Montessori Toy Shelf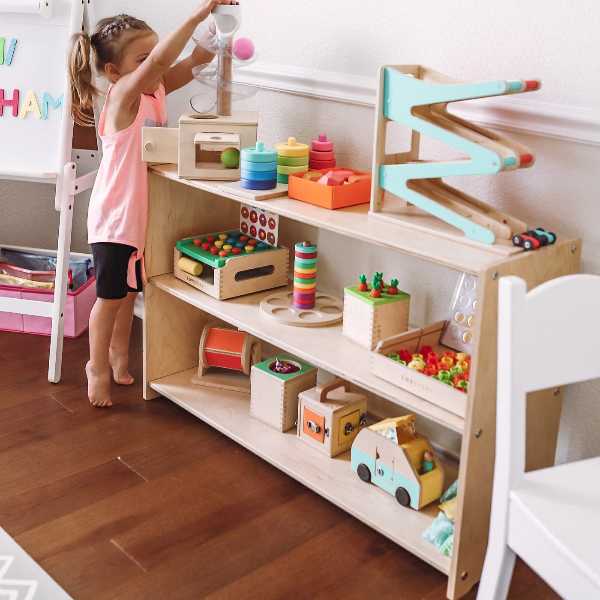 This toy shelf is ideal for toddlers and babies. It doesn't feature cubbies, which makes it easy for toys and books to fit. The shelf consists of Birch plywood and weighs 31 pounds, meaning it is highly stable and durable.
With the high-quality material, you can be sure it will serve you for years. It comes with two shelves; the lower one is ideal for crawling babies, and the second tier is for toddlers who can walk confidently. The finishing uses non-toxic, water-based paints, making it safe for your little ones.
9. Woodjoy Collection Montessori Mini Toy Shelf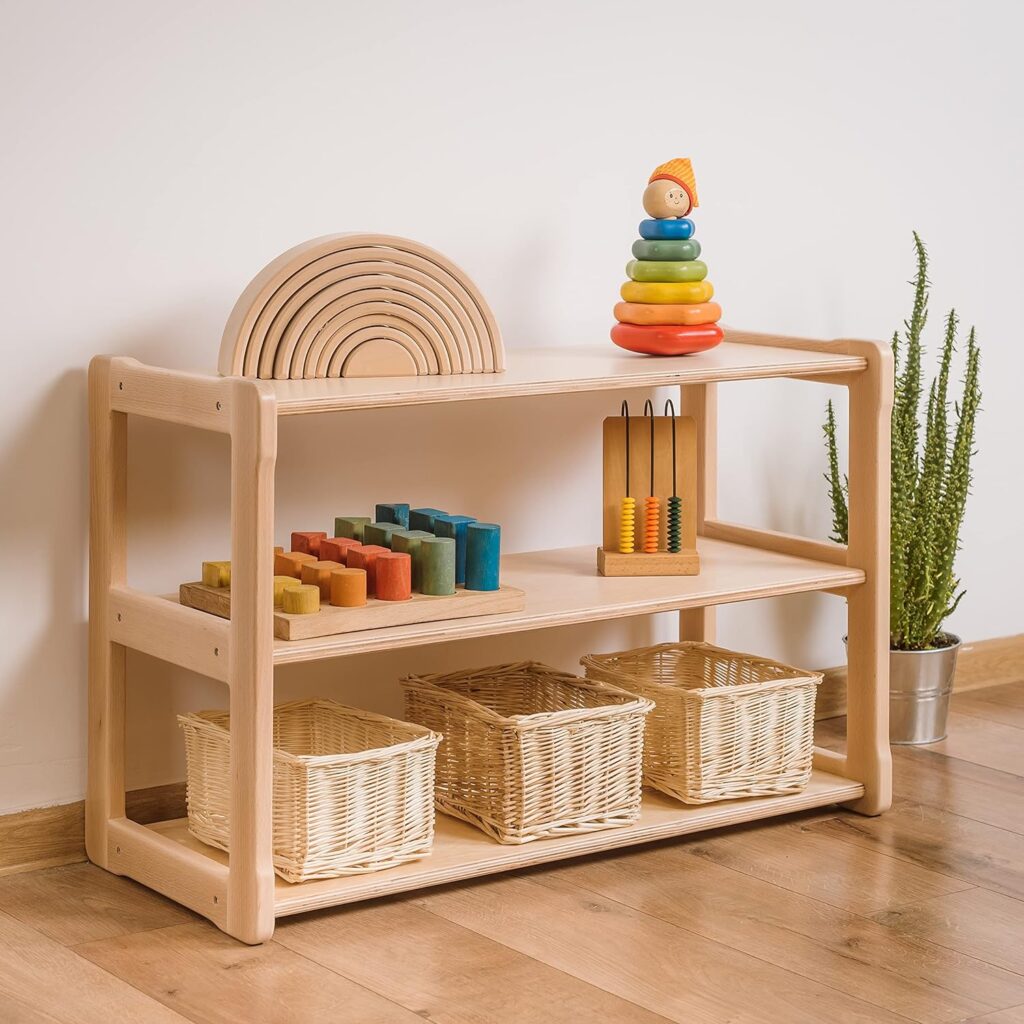 The Montessori Mini Toy Shelf from the Woodjoy Collection is made from birch plywood and comes with three shelves. You can use the shelves directly for your child's supplies or use them for baskets. The shelves sit almost on the ground, which makes them suitable for infants.
It also has an open design, meaning you can push it against the wall or use it as a room divider. The design is deep and long, which works for bigger toys. The Montessori shelf is available in up to 10 colors, including grey, blue, white, and pink.
10. EdQ 2-Shelf Open Storage 24" – White
If you don't fancy the natural-wood look, this white EDQ wooden toy shelf is a great option for your Montessori-inspired display and storage. The shelf has a toe kick at the bottom, which prevents toys and kids from getting under. It sits low to the ground so infants as young as 4 and 5 months can independently access their supplies, and its timeless design gives it longevity.
While smaller than most shelves, it works for smaller supplies and spaces. What's more, it comes with three storage bins made of fabric and a 5-year warranty as a quality guarantee.  
11. KidKraft Reading Nook
The KidKraft Reading Nook provides storage for your child's toys and books and a seating area for your child. It has the perfect cubes for your books, although you can use it for toys that fit into the cubbies. The reading nook can accommodate up to 110 pounds. Since it is made of MDF, you can get it way cheaper than most shelves. However, the materials may not withstand excessive roughness, such as jumping.
12. Humble Crew Kids Book Rack
This bookshelf is lightweight, so you can move it around easily, and has opaque fabric sleeves that provide adequate space for your child's books. It also has a child-friendly height for easy accessibility, is affordable, and the fabric sleeves offer plenty of space with child-height accessibility.
The fabrics come in different colors, making it aesthetically pleasing for kids. Although the books may not be easily visible, the shelf still aligns with the Montessori approach of increasing concentration, independence, and order. The small size also makes it a deal if you have limited space.
13. IKEA Kallax Shelf Unit
The affordable IKEA Kallax Shelf Unit is made of particle board with 4 or 8 compartments. It can work as a great Montessori toy shelf when horizontal on the floor. The cubes come in multiple colors and can accommodate different toys, storage bins, and baskets. The many compartments mean you can keep one activity or game in one compartment if you have multiple activities.
There are various sizes available, from 2×2 to 5×5 cube configurations. It is highly customizable, and you can pair it with fabric bins to organize toys and books.
14. Jonti-Craft Wood Shelving Unit
The Jonti-Craft Wood 4-Shelf Unit is an excellent choice if you want a Montessori shelf for an older child. It features two adjustable shelves, which you can use for your child's materials, and provides ample space for elementary-level activities. Although it is designed with a classroom style, it can also fit your home space. What's more, your child can access their books, toys, and materials from both sides if you place them against the wall.
15. WoodenBalance Bookshelf + Toyshelf
The WoodenBalance Bookshelf+ Toy Shelf is made from plywood and has a sturdy and smooth construction. Unlike most shelves that use canvas or cloth, this one uses wooden dividers.
If you want a visual storage solution, you won't go wrong with the WoodenBalance bookshelf + toy shelf. It provides an excellent display of books since it leaves 90% of the covers visible. While it may seem small, the measurements can work for younger and older children.
16. Minimo Modern Kids Bookcase
The Minimo Modern Kids Bookcase is excellent as a books and toys display. It is constructed using wood veneer and solid wood (birch and maple). The bookcase is hand-sanded and has undergone screening for toxic chemicals that affect indoor air quality. You get a 5-year warranty on the wood components as proof of its durability and quality.
17. Badger Combo Bin Storage Unit with Three Baskets
The Badger Combo Bin Storage Unit with Three Baskets is an all-in-one solution for displaying and storing your child's toys and books. The unit has two large open shelves, three removable baskets, and three cubby bins.
It is made from engineered wood, while the baskets consist of non-woven fabric with cardboard for internal support. The baskets are available in two different sizes and feature handles for easy opening and closing. You can also remove the baskets to remain with three open shelves.
Best Montessori Shelves: Conclusion
When choosing the best Montessori shelf for displaying toys and books, always consider your child's specific needs, how much space you have, and your budget. Also, choose safe and durable materials with low maintenance to ensure you get a long-lasting product that won't harm your health or your child.