Lovevery the Charmer Play Kit Review for 3-4 Months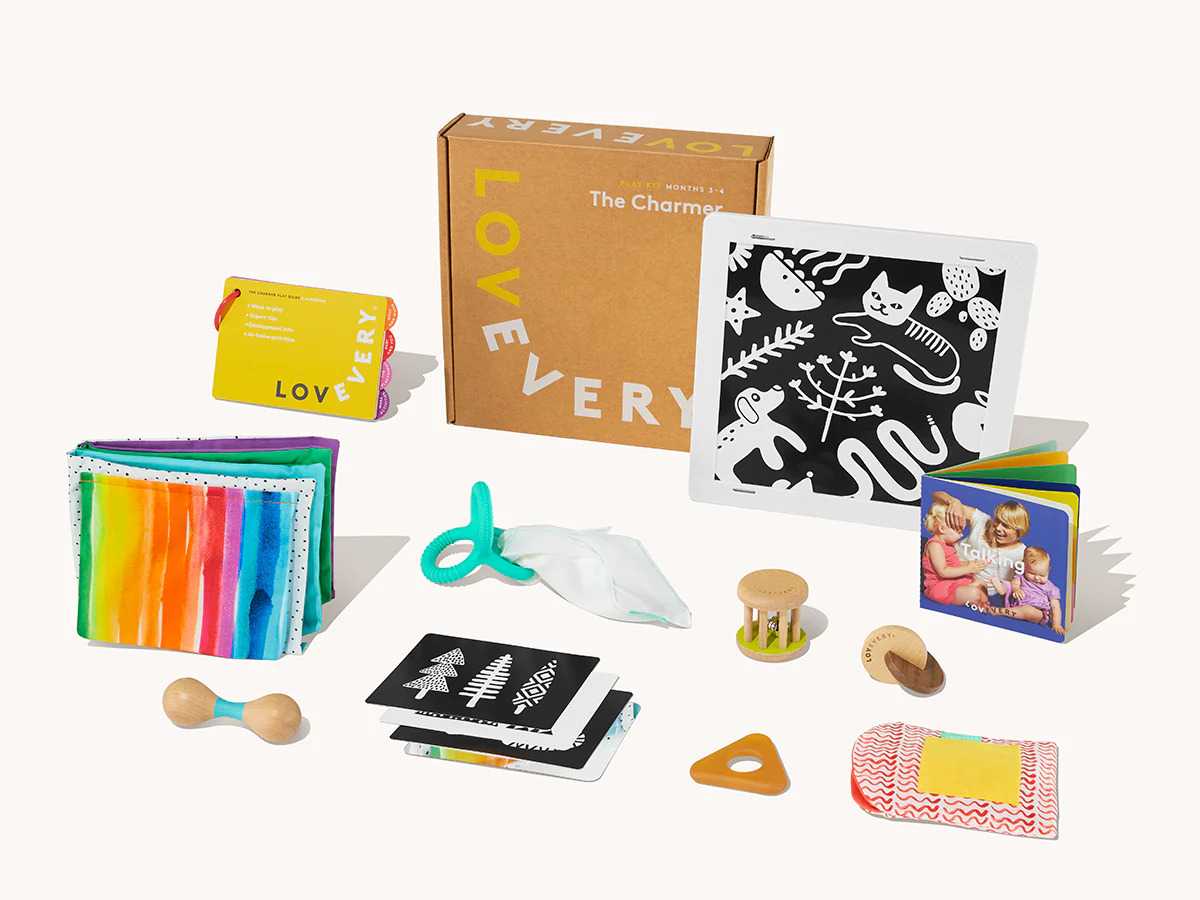 Being a parent means always looking for new ways to help your child grow and develop holistically. This includes introducing your child to resources that help them acquire crucial skills and meet developmental milestones.
One way to support your child's growth is by making their playtime a fun and meaningful activity with the help of carefully curated toys designed to meet them at their growth stage. This is where the Lovevery Charmer Play Kit comes in.
In this article, we explore what the Lovevery Charmer Play Kit is, who it is for, and what you can expect when you sign up for this Montessori-inspired subscription play kit from Lovevery.
About The Lovevery Charmer Play Kit
The Lovevery Charmer Play Kit is designed for kids between 3 and 4 months and ships every two months. It focuses on helping your child explore using their hands, mouth, eyes, and ears as they grow and learn to recognize faces and sounds. Below are the developmental needs the Charmer Play Kit aims to meet.
Unboxing the Lovevery Charmer Play Kit
The Lovevery Charmer Play Kit includes a wide range of toys and materials thoughtfully designed and tailored to the developmental needs of your 3-4-month-old child. Here's what you'll find when you open the box.
1. Wooden Rattle
Both ends of the Lovevery wooden rattle have small beads that make sounds when your baby shakes it. The rattle is simple, made from wood and soy ink, and requires no batteries.
2. Rolling Bell
You can use the rolling bell as a rattle, explore new textures and introduce the concept of cause and effect.
3. Silicone Triple Teether & Organic Teething Cloth
The silicone triple teether and organic teething cloth in a bamboo and cotton combination provide unique textures to aid your child's speech, sensory, and motor development.
4. Rubber Triangle Teether
The rubber triangle teether allows them to feel things in the sides of their mouths. It prepares your little one for speech and new textures for when they start talking and eating.
5. Mirror Card
The mirror flashcard in the Lovevery play kit is designed to fit into a slot in the soft book.
6. Soft Book
The pages in the soft book include sleeves where you can keep the mirror cards and the black & white cards. It also has a pocket for hiding things, crinkly triangle "flaps" with a bell and squeaker, and a page containing fabric strips of different textures.
7. Talking Book
The Talking Book is a conversation starter that exposes your child to language.
8. Black& White Card Sets
3 to 4-month-old babies find contrasting images fascinating, and the black and white card sets serve just that purpose. They come in baby-proof material, so your little one can't tear them or suffer paper cuts.
9. Crinkle Bag
The crinkle bag has two compartments and measures the size of is an adult's hand. Your child can use the bag to make sounds or play hide-and-seek with toys and other small items. It is an excellent tool for teaching about cause and effect.
10. Framed Mirror
The framed mirror has two sides; a black and white patterned back and a mirror to the front. Have your baby look in the mirror, look at objects from the mirror and even make faces. It is excellent for helping your child recognize things, cognitive development and comes in handy during tummy time.
11. Hand-to-Hand Discs
The hand-to-hand discs exist to improve your child's motor skills and promote cross-body coordination.
12. Play Guide
The Play Guide is a resource for parents to help guide their children during playtime. It provides information about various ways to play using the toys, expert tips to make playtime more intentional, development milestones your child will explore at 3-4 months, and ideas for at-home activities for your little one.
Subscription Costs
The Lovevery Charmer Play Kit will set you back $80, translating to about $8 per toy. You also get a 10% discount if you pay for the kit upfront, resulting in cost savings. Once you sign up for the subscription, you can expect the toys at your door every two months, as with other play kits for children below one year.
While the costs may seem a little on the higher side, you get value for money compared to buying dupes of individual toys. For example, the kit comes with teethers. It will cost you at least $15 if you purchase a standalone teether from stores like Amazon.
Is it a Hit or a Miss?
You can't judge the suitability of a product without looking at its pros and cons. By evaluating both the good and the not-so-good sides of the Lovevery Charmer Play Kit, you can gauge whether it is worth investing in or whether you should continue shopping for the perfect play essentials for your little one. But worry not! Below is a list of the pros and cons of the Lovevery Charmer Play Kit so you can make an informed decision.
Final Take
The Lovevery Charmer Play Kit has more advantages than downsides, and your child will likely enjoy having the kit and playing with the toys as they grow! If you are looking for the perfect playthings for your 3-4 month baby, the Lovevery Charmer Play Kit should be among the top options on your list!