Uncrustable Makers Review: The Top 3 Best Sandwich Sealers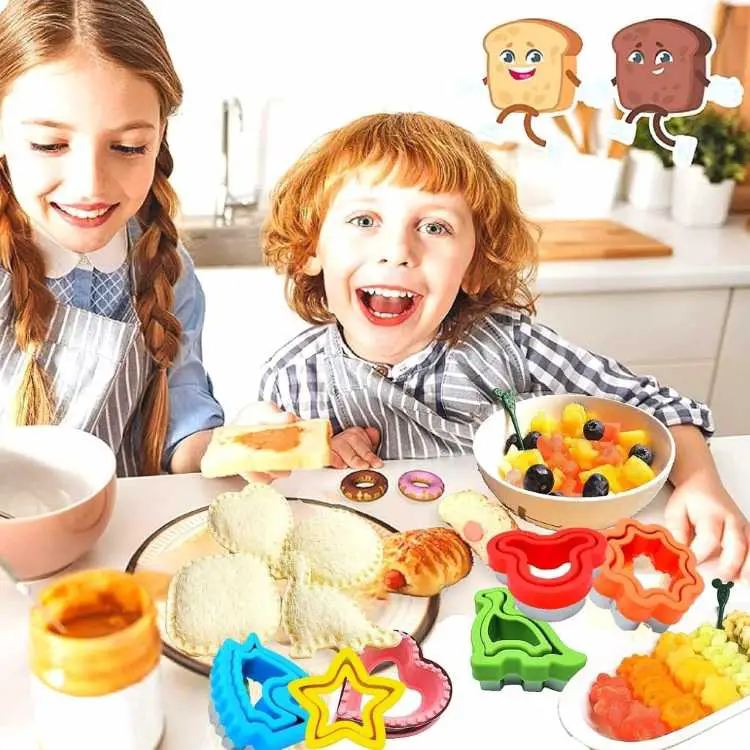 This article may contain links from Amazon and our partners. We may receive a small commission if you make a purchase through a link at no cost to you. Please read our disclosure policy.
Unscrustables are sandwiches by Smuckers made with peanut butter and jelly. They are crustless, circular, and with crimped edges. Uncrustables are a favorite for most kids and are a fun lunch or snack option for your child to enjoy. However, they can be pricey, and you are better off making them at home, provided you have the necessary ingredients (white bread, sugar, peanut butter, and grape jelly).
To do this, you need a sandwich sealer for cutting and sealing your sandwiches. With the many options in the market, choosing the best uncrustable maker that is durable, high quality, and safe for your child can be a hassle. In this article, we help you make an informed decision by providing you with the top 3 best sandwich sealers so you don't have to spend your time and money on low-quality products that won't last.
How to Choose the Best Sandwich Sealer for Your Uncrustables
Before shopping for your uncrustable makers, you should know what to look for. Below are factors to consider when choosing the best sandwich sealer for your child's uncrustables to ensure you get a product that meets your needs and matches your lifestyle.
The durability and maintenance of your uncrustable maker highly depend on its material. Usually, stainless steel sandwich sealers are more durable than plastic ones, making them ideal for regular use. Also, ensure it is free of harmful chemicals and toxins like lead, mercury, BPA, phthalates, and PVC that may harm your health and your baby.
Safety is important when handling kitchen equipment. Consider sandwich sealers with a locking mechanism to secure the blades and avoid cuts. Also, sealers with grips or non-slip bases prevent accidents while in use.
Hygiene is everything when preparing food. Choose a sandwich sealer that is easy to clean without excessive soaking or scrubbing. Here, the materials and design of your sandwich sealer play a key role. Those with removable parts are great as they allow thorough cleaning so food pieces don't get stuck in between. Dishwasher-safe uncrustable makers are even better as they are more convenient.
If you love exploring in the kitchen, you will want a sandwich cutter and sealer that is versatile, and can serve various purposes. Opt for uncrustable makers that can create different designs and shapes, and with features that make them applicable in other food prep tasks. For example, you can use some sealers for cutting cookies or crimping pastries, making biscuits, and even omelets.
Like any other purchase, price is a significant factor when buying untrustable makers. Fortunately, there are a variety of sandwich sealers to fit whatever budget you have. Whether you want a simple, manual sealer or an electric one, the model you get will depend on how much you are willing to spend. Remember to compare the features you are getting with the price to ensure you get your money's worth.
3 Best Sandwich Sealers
Now that you know what to look for when buying a sandwich sealer, here are the top 3 best uncrustable makers you should consider.
1. HiYZ 5-piece Sandwich Sealer
HiYZ Sandwich Cutter and Sealer isan uncrustable maker that allows you to create sandwiches of varying sizes. You can make uncrustables in circle shapes with its two sealers and three cutters. This sandwich sealer consists of high-quality, non-toxic plastic. As such, you can safely use it for your food without worrying about health concerns.
2. HINZER 32-Piece Sandwich Sealer
The HINZER 32-PCS Sandwich Cutter and Sealer Set is an excellent tool if your family has picky eaters. It is an all-in-one piece of equipment with six sandwich cutters, four cookie cutters, ten vegetable and fruit cutters, ten animal forks, and a honey stick. You also get a cleaning brush, making it more convenient. All parts are made of stainless steel and high-quality plastic,free of toxic chemicals.
You can make your uncrustables in various designs, including dinosaur, square, heart, and stars. The sandwich and cookie cutters also come in handy when making pastries, omelets, pancakes, tacos, cookies, apple pies, and biscuits. Given its versatility, you can use this sandwich cutter and sealer for your lunches and snacks at home, bake sales and picnics.
3. YUMKT 5-Piece Sandwich Cutter Sealer Cookie Bread Pancake Maker
When it comes to making your child's meals fun, the YUMKT sandwich cutter and sealer is the perfect tool. This unscrustables maker comes with five sandwich cutters and sealers that guarantee the perfect square sandwiches in seconds. Its size also means you leave out minimal bread, preventing food wastage.
It is also easy to clean and is dishwasher friendly. You also get a one-year after-sale service after buying to deal with any issues you may have using your sandwich cutter and sealer.
How To Use Unscrustable Sealers
Once you buy your preferred sandwich cutter and sealer, it is time to put it into action. Fortunately, using a sandwich sealer is simple.
For the unscrustables, you need two slices of bread. Put one slice on the sandwich sealers' cutting board surface and place your fillings on top. Cover the fillings with the second slice to make your sandwich. Once everything is in place, press down the sandwich cutter's handle while exerting even pressure by holding both sides of the cutter. You will have your perfectly cut and sealed sandwiches in one swift motion.
After you finish making uncrustables, you can use the crusts for other things instead of throwing them away. For example, you can turn them into breadcrumbs to use in your dishes, use the crusts for croutons, or when making bread puddings. This way, nothing goes to waste!
Conclusion
With the above uncrustable makers, you can create perfectcrustless sandwiches that look like they have been cut and sealed by a pro! Since most of these sandwich sealers are easy to use, you can include your child in the activity and equip them with kitchen skills.