How to Sell Feet Pics Online While Pregnant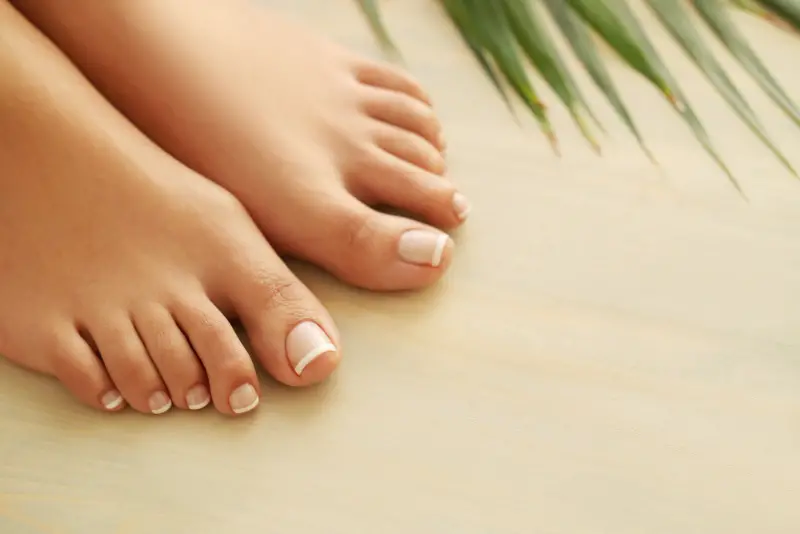 This article may contain links from Amazon and our partners. We may receive a small commission if you make a purchase through a link at no cost to you. Please read our disclosure policy.
Whether you are looking for an extra income-generating activity or doing it for fun, selling feet pictures is one of the numerous ways you can make money online while pregnant. While it may seem like a weird business idea for moms, you'll be surprised to know there exists a demand for feet pictures, both for personal and commercial use.
Buyers of feet photos include bloggers and publishers, artists, designers, businesses dealing with feet products, as well as people who have a liking for feet. In this post, you'll learn how to sell feet pics, where to sell feet, and tips for quick, safe, and successful sales.
Is It Legal to Sell Pictures of Feet?
Before you embark on selling feet pictures, you may be wondering whether it is a legal venture.  In most countries, including the U.S.A, the U.K, New Zealand, and Australia, it is legal to sell pictures of feet. However, some countries or religions may have local laws, customs, and cultures that disapprove the trade.
You should, therefore, do your research regarding local and national laws as well as religious and cultural customs before starting the business to avoid unpleasant repercussions. It is advisable to sell pictures of feet when you are 18 or older and only sell images that you own.
How Much Should You Sell Your Feet Pics?
While you are in total control of how much you can charge for feet pictures, various factors determine your rates. These include picture quality, your experience, demand, as well as the platform you choose. Also, the amount a client is willing to pay can inform your price rates as every buyer has unique needs and financial abilities.
Note that good quality pictures, high demand for your images, and extensive experience on your part justify higher rates. To make the best out of selling feet pictures, have a price range to accommodate different clients.
Depending on the platform, you can begin with a price of $5 for a photo and increase it with time. You can also take a cue from other sellers and price your images accordingly.
Where to Sell Feet Pictures in America
If you are a beginner in the business, it can be a hassle knowing where to sell feet pictures. Fortunately, the internet is awash with numerous platforms where you can find clients for your feet pictures. Below are avenues you can use to sell feet pictures online and make money while pregnant.
1. Stock Photo Sites
Stock photo sites supply images to businesses and individuals who need them either for personal or commercial purposes. As such, they are always in demand for a wide variety of pictures, including feet pictures.
Popular stock photo sites that you can sell feet pictures to include Shutterstock, Envato, and Shotzr. The sites pay you whenever someone downloads your image and are ideal for beginners. Other excellent options include Crestock, Alamy, Getty Images, and Fotolia.
To begin selling feet pictures on stock photo sites, follow their website guidelines for creating seller accounts and upload your feet images. Since stock photo sites may contain numerous feet pictures making the competition high, you can take your photos with various socks designs, angles, and poses. You should also ensure that your feet pictures are valuable and relevant for use in lucrative fields like health, travel, or fashion.
2. Websites Dedicated to Feet Pictures
Unlike other sites that deal with numerous niches, websites dedicated to feet pictures give you access to a relevant audience, increasing your earning chances. Since there are various websites for feet pictures, below are a few you should consider.
FunwithFeet is arguably the leading and legit feet pic selling platform in the world. With hundreds of sellers and thousands of buyers, you can make some dollars by becoming part of their foot fetish community.
To become a seller or buyer, you need to sign up and fill in the necessary details including your display name, email address, gender, country, age, and your profile photo. Sellers are also required to pay a small fee of $9.99 for 3 months or $14.99 for 6 months. This fee is used to maintain and improve the platform.
If you want to join FunwithFeet, use the button below:
Sell Feet Pics NowJoin the leading and legit feet pic selling platform today!
You can also get a discount by using our promo code: momsvoice
Feet Finder:
Feet Finder is one of the best websites connecting buyers and sellers of feet pictures. To use the platform, first, create an account and wait for verification. Once verified, you can upload your feet pictures and wait for buyers to make their purchase requests.
Related: Feetfinder Reviews: Is Feetfinder Legit or a Scam?
If you are comfortable with the offer, you accept the request and provide previews of your photos or videos. Your buyer will then pay for the images, and you can complete your sale. These days, the site doesn't have a free account. Once you get accepted, you need to pay $3.99/mo or $14.99/yr before starting to sell your feet content. And they also take 20% of your commission.
Feetify:
Feetify is like social media for buyers and sellers of feet images. Although signing up for the site is free, it also has a premium plan for upgrades, so you can charge more for feet images. Feetify has a chat feature for connecting to your clients.
As such, customers may make specific requests on how you should take the pictures or videos, allowing you to charge premium prices. Unlike Feet Finder, Feetify doesn't keep any percentage of your earnings.
Instafeet:
Instafeet accounts are private, and you decide the subscription fee for those who want to view your feet pictures. Most people begin with a $5 to $10 subscription fee, although you can increase the charges as demand grows. Instafeet keeps 10% of your earnings while you get the rest.
Besides the above websites, you should also consider Foap and Dollarfeet. Foap is an android app that allows you to sell images, while Dollar Feet is a website that is always looking for feet models. While you can sell feet pictures on Dollar Feet, videos work better for the website.
3. Online Marketplaces
Online marketplaces like Etsy, eBay, and Zazzle are great options if you are looking for where to sell feet pictures. Although eBay deals with vintage items and collector's products, you can also sell pictures of feet.
To prevent potential buyers from getting free access to your images on eBay, only post low-resolution preview pictures and watermark them. Etsy deals with hand-crafted products and materials, but you can still post feet pictures on the platform and make money.
If you are creative, you can engrave feet pictures on products like pillows, t-shirts, and even mugs and post them for sale on online marketplaces. For example, you can sell customized items with feet pictures on Zazzle. Lastly, you can consider using Craigslist for marketing feet pictures online.
4. Create Your Own Blog
You can create a blog and sell feet pictures if you want total control and convenience. However, selling photos from your own blog may take a while to show results. It is, therefore, ideal for long-term purposes.
The good thing about blogging is that you can earn income from other avenues besides selling feet pictures. These include earnings from guest posts and affiliate marketing, as well as ads that search engines like Google place on your website.
When creating your blog, ensure you incorporate content relevant to feet, and optimize it for the best results. Topics around feet including, foot care, footwear, and other products like jewelry, are ideal options for your blog.
The content will boost traffic to your website and increase your chances of making sales. Also, you can integrate features that allow your website visitors to purchase your feet pictures without leaving your blog.
5. Social Media
Almost everyone with a smartphone has a social media account, making it the perfect place to market and sell pictures of feet. Instagram, Facebook, Twitter, and OnlyFans are especially ideal for income generation due to the high number of users.
You can create accounts specifically for feet pictures and market them in your online social circles. By constantly posting beautiful photos on your Instagram, Facebook, and Twitter, for example, you will get more people interested in them and make sales.
Unlike other social media platforms, OnlyFans is a subscription-based platform that enables content creators to monetize pictures and videos. Create an account and charge a subscription fee that visitors to your profile have to pay to access your feet pictures.
Do remember that OnlyFans keeps 20% of your commission. For better success in social media, join communities that deal with selling feet pictures and those with feet lovers for networking and marketing.
Tips for Selling Your Feet Pictures Quickly and Successfully
The first step in selling feet pictures is ensuring that your feet look their best to attract buyers. You can do this by taking good care of them with proper hygiene, pedicure, and wearing appropriate footwear to protect them. Below are a few tips on how to sell feet pics quickly and successfully.
(i) Create High-Quality Pictures
High-quality pictures are crucial for impressing and attracting clients. You don't have to invest in a professional camera or photographer to achieve this, although you should consider doing so if you plan to become a professional feet model.
With proper lighting, background, and a good smartphone, you can take high-quality feet pictures and earn money. You can also use photo editing apps to make them more appealing to potential clients.
(ii) Promote Your Content
Like every other business, promoting your content allows you to get the word out to potential clients and increase sales. Take advantage of platforms like social media to market your content and gain new clients. The more relevant people know about what you are selling, the faster and more you can sell.
(iii) Use Secure Platforms
Avoid scammers by only using secure payment platforms for your transactions, such as PayPal and Skrill. You should also designate an email for your business to avoid mix-ups and facilitate communication with your clients. Lastly, always watermark your pictures to prevent others from acquiring and using them without your permission.
Safeguard your privacy when selling feet pictures online by divulging as little personal details as possible. Also, avoid meeting clients alone in private. If you must, go with someone and meet in a public place.
With the above information, good photography skills, and networking, you can successfully sell pictures of feet online while pregnant and earn yourself extra income.
Do you want to learn more ways to make money while staying at home? Here are helpful articles:
Sources: The Sun, Air Hostess Made Thousands Flogging Photos Feet Blokes Gifts, July 2020, and Quora, Can you legally sell pictures of your feet? Feb 2020.