Laundry Sauce Review: What to Know Before Buying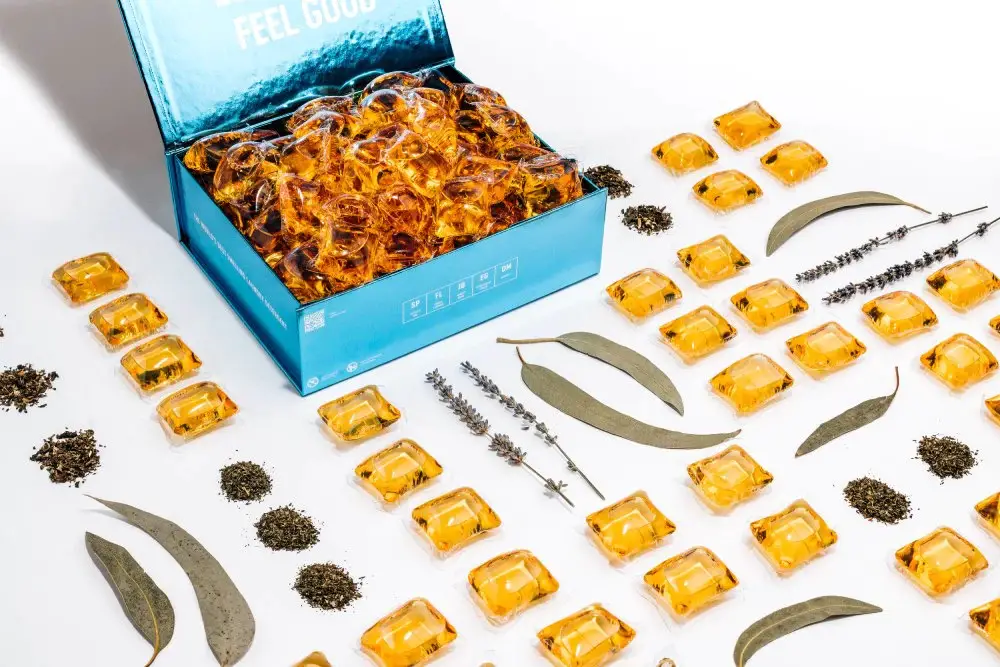 This article may contain links from Amazon and our partners. We may receive a small commission if you make a purchase through a link at no cost to you. Please read our disclosure policy.
Doing laundry is a never-ending chore, but the satisfaction that comes with having clean, fresh, and nice-smelling clothes is worth the trouble. It is even better when your washing supplies keep your clothes smelling heavenly after cleaning. Among the many detergents in the market, Laundry Sauce stands out with its lush scents that will leave your clothes smelling luxurious. However, they do not come cheap.
Before choosing Laundry Sauce for your laundry needs, find out if it is worth the hype so you don't waste your money. In this Laundry Sauce review, you will learn all you need to know about this self-proclaimed "world's best-smelling laundry detergent."
About Laundry Sauce
Founded by Sabine, a Principal Perfumer and Scent Artist, Laundry Sauce is a company that makes high-end detergents (laundry pods and dryer sheets). It prides itself on bold fragrances, the main selling point of its washing supplies.
Laundry Sauce detergent and dryer sheets are available in four scents. The laundry pods come in large 22ml sizes, and you can make one-time purchases from their website or sign up for their subscription plan. The subscription service will deliver your supplies periodically, depending on the time frame you choose.
Laundry Sauce Scents
The Laundry Sauce brand has four fragrances: Australian Sandalwood, Siberian Pine, Egyptian Rose, and Indonesian Patchouli. Every scent comes in a different-colored box, so you don't mix them up, especially when using the pods and dryer sheets.
1. Australian Sandalwood
According to the box, the Australian Sandalwood is "a dark blend of exotic woods." The fragrance is a product of crisp bergamot, eucalyptus, cedar wood Alaska, amber, and wood leather. The Australian Sandalwood pods come in a black box and give more of a" manly" vibe.
2. Siberian Pine
Siberian Pine is a more subtle scent that draws inspiration from the north Tundra. It includes juniper, ginger, Siberian pine, oak moss, and French lavender. It is more of a gender-neutral scent as it is not overpowering and comes in a white box.
3. Egyptian Rose
The Egyptian Rose combines Egyptian geranium, briar rose, Haitian vetiver, vanilla bourbon, and honeyed hawthorn. It has a strong rose fragrance that leans more on the feminine side and comes in a rose gold box.
4. Indonesian Patchouli
This is a recently released scent. The Indonesian Patchouli blends Indonesian patchouli, eucalyptus, bergamot, wild water mint, and Haitian Vetiver. It is packaged in a blue box.
Laundry Sauce Packaging
The packaging for Laundry Sauce products is thoughtful and convenient. Every scent comes in a uniquely-colored box, which makes it easier to differentiate them when you buy multiple packages. The Australian Sandalwood comes in a black box, the Siberian Pine in white, the Egyptian Rose in rose gold, and the Indonesian Patchouli in a blue box.
The pods consist of water-soluble and biodegradable encasements made from polyvinyl alcohol. They also add to your convenience as the pods eliminate the need for measuring spoons and prevent dripping or spilling.
Compatibility with Washing Machines
The good thing about Laundry Sauce pods and dryer sheets is that you can use them with any washing machine. Whether you have a front-loading high-efficiency machine or a low-volume one, your Laundry Sauce supplies will work just fine. Just pop the pods into the back of the wash drum for a front loader.
In the case of a top loader, first, fill it with water before dropping the pods in and filling it with your laundry. Remember not to use the detergent compartment. Given the size of the pods, you will only need one per load unless you have an extra large laundry load or want your clothes to have a strong fragrance.
Dye-Free & Sustainable Formula
Despite Laundry Sauce being scented, the ingredients are sourced from local communities and are all-natural. They are vegan, non-toxic, and contain no parabens, phthalates, additives, or GMOs. They are also cruelty-free, and the formulations are designed to minimize allergies or skin irritations. Laundry Sauce offers full refunds in case of irritations or unpleasant reactions.
Dryer Sheets
If you use high heat to dry your clothes, you may notice the pod scent gets lighter after drying. You can prevent this by using low or medium for drying to maintain the scent strength.
For those who use fabric softener when cleaning, a dryer sheet will give your clothes added fragrance. Always use the same scent for your dryer sheets as the laundry pods so you don't mix up the fragrances.
Cost of Laundry Sauce Detergents
You can expect to pay $69 for one pack containing 69 pods. However, you can enjoy cost savings by signing up for a subscription, which allows you to buy one box at $58.65. The subscription plan offers a wide range of options, and you can choose to get your supplies delivered every 2, 3, 4, 5, or 6 months.
Since orders are delivered after business days, you can hasten your deliveries to 2-3 days by paying $9.99 or 1-2 days for $15.99. Free shipping is available for all orders above $100.
Cost of Laundry Sauce Dryer Sheets
The dryer sheets come in the same number per pack (69) and scent as the pods. They are available at $25 per box, although signing up for a subscription gives you a lower price of $21.25. The delivery model is similar to that of laundry pods.
Where to Buy
Buying Laundry Sauce products is a hassle-free process. Just head to their official website and click the "Shop Now" button, or the "Shop All" tab. clicking these will take you to a page where you can choose your preferred scents and select whether it is a one-time purchase or a subscription. Lastly, add to the cart and check out.
Shipping
Laundry Sauce does not make international shipping. You can expect your supplies to arrive within seven days. Standard shipping takes between 5 and 7 business days, while Ridiculously Fast shipping takes 3 to 5 business days. With the Teleported Basically option, you will get your delivery in 1-2 business days. Laundry Sauce will send you an email notification once your products are shipped.
Laundry Sauce Pros and Cons
A Laundry Sauce review will be incomplete without exploring the pros and cons. This way, you know what to expect and gauge whether it is worth your time and money.
Conclusion
While originally meant for men, you can use Laundry Sauce products for the whole family. The scent variety and uniqueness will give your clean clothes a refreshing fragrance that makes Laundry Sauce worth your money!