Show and Tell Ideas for All Letters of Alphabet (1500+ Ideas)
By:
Karen Marie
Updated: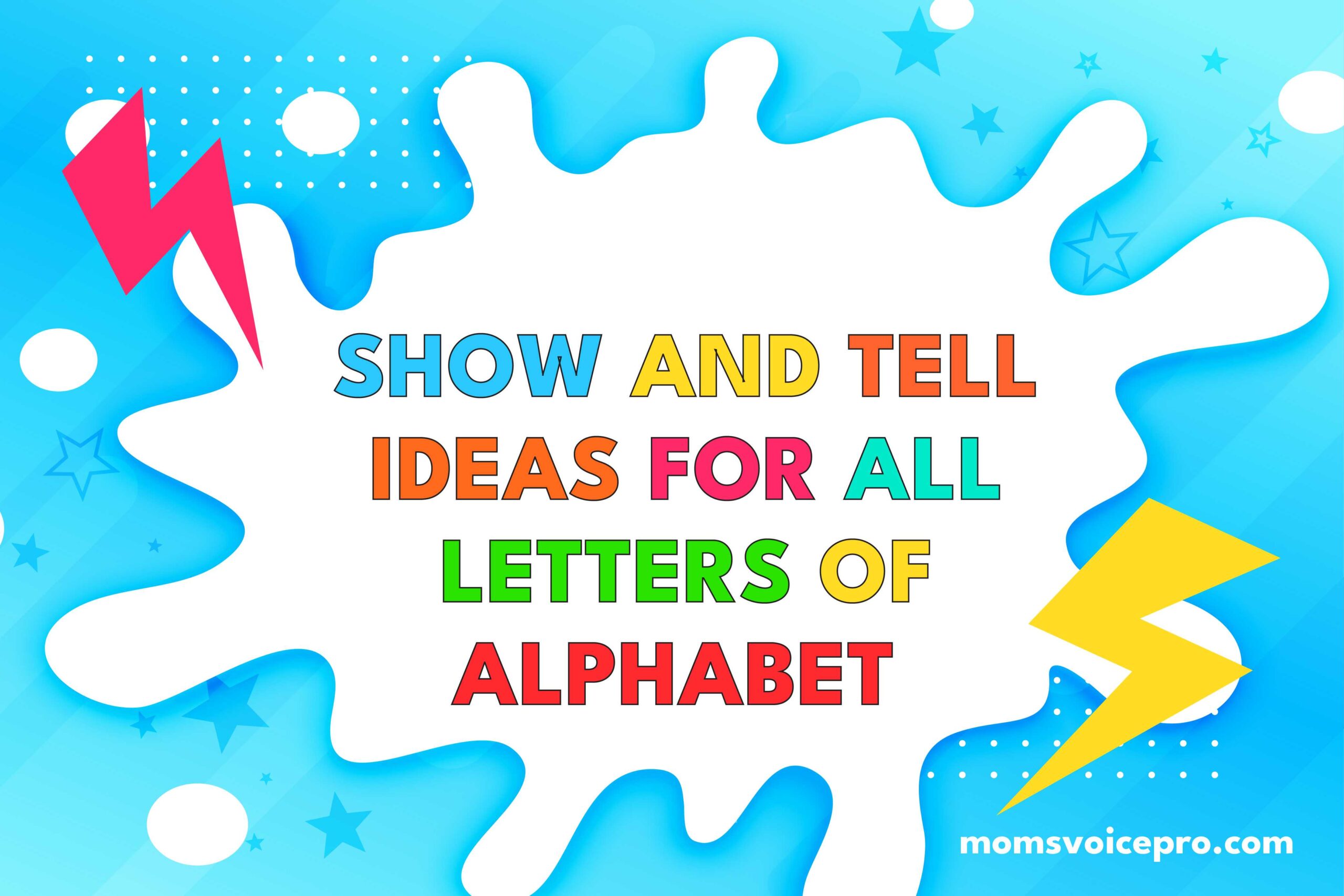 As a preschool teacher, show and tell is my favorite part of teaching kids. But I know many of you find show and tell very daunting, especially because of the preparations that come with it.
If your kid has been given a specific topic and you'd like to help them prepare for the presentation, here are tips to help you get started:
What interests you and try to expand it?

Try creating mind maps and write down your points.

Take deep breath and calm your mind.
Every student is different. Some may be comfortable speaking about their show and tell while others may need support. That said, it's always a good idea to encourage your child to practice in front of family or friends.
What is Tell and Show?
Show and tell are preschool sessions where kids are asked to bring something in class and present it to their classmates.
If you have been a preschool teacher for some years now, I'm sure you've noticed that some kids get up to show an object to the class and either they have nothing to say about it or they have everything to say about it. That means they have done good prior preparations or their parents didn't have enough time to help them prepare for the show and tell session.
At the beginning of the year, I inform the parents about the sound of each week so they have enough time to find the ideal object to bring in. I also display the sound of the week on the classroom door for every parent to see what it is at pick up or drop off.
Oftentimes, students come to class with objects their parents have given them and they have no idea about them. As a teacher, I have a sound of the week, and every week children bring something to do with that sound.
Every Friday, I also make sure different students have an opportunity to teach show and tell. I design groups of children before they start their show and tell. If you are a preschool teacher, the most important thing is to have the 3-THINGS RULE. That means children should be able to say 3 things about the object they brought in.
How to Find Show and Tell Objects
If you have no idea about the things to bring in, think about your kid's favorite toy, food, stuffed animal, or movie character. If this still doesn't work for you, I have made your work easier by compiling thousands of show and tell ideas for all letters of the alphabet. Let's get started:
Show and Tell Letter A Ideas
Aardvark

Abacus

Accordion

Ace

Acorn

Adidas clothes

Airheads

Airplane

Alabama

Aladdin

Aladdin

Alaska

Alice in Wonderland

Alien

Allie Whoops

Alligator toy

Alpaca

Alphabet

Aluminum foil

Ambulance

Anchor

Anchor

Angel

Angry Birds

Animal

Anna

Ant

Ant Man

Anteater

Antelope

Antlers

Antonio

Apple

Apple juice

Apple sauce

Apricot

Apron

Aquaman

Ariel

Arizona

Arkansas

Arm

Army man

Arrow

Art supplies

Arthur

Artichoke

Artwork

Astronaut

Atlas

Aurora

Automobile

Avalanche!

Avengers

Avocado

Award

Ax
Show and Tell Letter B Ideas
Baby doll

Backpack

Badge

Badger

Bag

Bahamas

Ball

Balloon

Bambi

Banana

Bandage

Banjo

Barbie

Barbie doll

Barn

Barnacle

Baseball

Basket

Basketball

Bat

Batman

Battleship

BB-8

Bean

Beanie

Bear

Beast

Beaver

Beetle

Beets

Bell

Belle

Belt

Bert

Bib

Bible

Bingo

Bird

Biscuits

Blackberries

Blanket

Blaze

Block

Blue

Boat

Bob

Book

Boots

Bot

Bottle

Bowl

Box

Bracelet

Branch

Broccoli

Brownies

Brush

Bubble Guppies

Bubble Wand

Bug

Bugs Bunny

Bulldozer

Bunny

Burger

Butterfly

Button

Buzz Lightyear
Show and Tell Letter C Ideas
Caillou

Cake

Calculator

California

Camel

Camera

Camilo

Camp

Can

Candle

Candy

Cannon

Cantaloupe

Cape

Captain America

Captain Hook

Captain Marvel

Captain Underpants

Car

Card

Cardinal

Carnotaurus

Carrot

Castle

Cat

Catboy

Caterpillar

Catkid

Cece

Celery

Cellphone

Cent

Cereal

Chameleon

Charlie

Chase

Checkers

Cheese

Cheetah

Chef

Cherry

Chesire Cat

Chess

Chewing gum

Chick Fil A

Chicken

Chilli

Chilly

Chimpanzee

Chip

Chips Ahoy

Chocolate

Chutes and Ladders

Cinderella

Cindy Lou Who

Circle

Circus

Clarabelle Cow

Clementine

Cleo

Clifford the Big Red Dog

Clock

Cloth

Clover

Clown

Coat

Cobra

Coca-Cola

Cocomelon

Coconut

Cody

Coffee

Coin

Colorado

Coloring book

Comb

Computer

Conch

Connect 4

Connecticut

Cookie

Cookie Monster

Cookies

Coop

Coral

Corn

Count

Cow

Cowbell

Cowboy/cowgirl

Coyote

Crab

Crackers

Crayon

Cricket

Crocodile

Crow

Crown

Cucumber

Cup

Cupcake

Cymbal

Show and Tell Letter D Ideas

D.W. from Arthur

Dad

Daffodil

Daffy Duck

Daisy

Daisy Duck

Dale

Dallas

Dalmatian

Dandelion

Danger Mouse

Daniel Tiger

Danish

Dante

Darth Vadar

Dash

Dates

Deer

Delaware

Dennis the Menace

Denver

Dessert

Destiny

Dewey Duck

Diamond

Diaper

Dice

Didi Pickles

Diego

Digger

Dime

Dinah

Dinosaur

Dinosaur Train

Disc

Disgust

Dish

Disney

Doc Hudson

Doc McStuffins

Doctor

Doctor Kit

Dog

Dogman Books

Doll

Dollar

Dolores

Dolphin

Dominican Republic

Domino

Don't Break the Ice

Don't Wake Daddy board game

Donald Duck

Donkey

Donut

Doorknob

Dora the Explorer

Dory

Dotzee

Doughnut

Dove

Drac

Dragon

Dragonfly

Drill

Drum

Drumstick

Duck

Dug

Dumbo

Dumdums

dumpling

Dumptruck

Duplo Legos

Duplos

DVD
Show and Tell Letter E Ideas
Eagle

Ear

Ear Muffs

Earring

Earth

Earthworm

Easter egg

Eclair

Ecuador

Edamame

Edna Mode

Eel

Eevee

Eeyore

Egg

Egg roll

Eggo

Eggplant

Elastagirl

Elena of Avalor

Elephant

Elf

Elk

Elmer Fudd

Elmo

Eloise

Elsa

Ember

Emerald

Emile

Emily Elizabeth

Emu

Engine

England

England

English muffins

Envelope

Eraser

Erector set

Ernie

Esmerelda

Etch-a-Sketch

Eureka

Europe

Everest

Ewok

Excavator toy

Exploding Kittens game

Eye

Eye Found It board game

Eye patch

Eyeball

Eyeglasses
Show and Tell Letter F Ideas
Dr. Seuss's Fox in Socks

Fairy

Falafel

Falcon

Family (picture)

Fan

Fancy Nancy

Fanta

Farkle

Farm

farm animals

Farmer

Father (picture)

Fawn

Feather

Ferb from Phinneas and Ferb

Fergie the White Rabbit

Ferry boat

Fiddle

Fidget spinner

Fig

Fig Newton

Figaro from Mickey Mouse Clubhouse

Finger puppet

Fiona from Shrek

Firefighter

Firefighter

Firefly

Firetruck

Fish

Fish sticks

Fishing game

Five from a number puzzle

Fix It Felix from Wreck It Ralph

Flag

Flamingo

Flashlight

Flip flop

Florida from map, postcard, etc.

Flounder from The Little Mermaid

Flour

Flowers

Fly

Flyin' Feathers board game

Flynn Rider from Tangled

Foam finger

Folder

Foot from Mr. Potato Head

Football

Football card

Football jersey

Fork

Forky from Toy Story 4

Fortune cookie

Fountain

Four from a number puzzle

Fox

Fozzie from the Muppets

France

Franklin the Turttle

Fred Flintstone

Friend (picture)

Friendship bracelet

Fries

Frisbee

Frog

Frosted Flakes

Frozen DVD or toys

Fruit

Fruit Loops

Fruity Pebbles

Fry pie

Fuji apples

Fur

Lord Faquaad
Show and Tell Letter G Ideas
G.I. Joe

Gale from Elemental

Gallon jug

Gambit from X-Men

Game

Garbage

Garbage truck

Garbanzo beans

Gardening gloves

Garfield

Garlic

Gaston from Beauty and the Beast

Gate from toy farm set

Gator

Gator Golf

Gatorade

Gazelle

Gear

Gecko

Gekko from PJ Masks

Genie from Aladdin

Geo from Team Umizoomi

George from Curious George

George Washington (on $1 bill)

Georgia

Georgia Bulldogs

Geranium

Gerbil

Germany

Ghirardelli chocolates

Ghost

Gift

Gift bag

Ginger

Gingerbread cookies

Giraffe

Girl doll

Glasses

Globe

Gloves

Glow stick

Glow worm

Goat

Gobble Monster

Godzilla

Go-Go Squeez applesauce pouch

Gold coin

Goldfish

Goldfish crackers

Golf ball

Golf tee

Gong

Gonzo from the Muppets Babies

Goofy

Googly Eyes board game

Goose

Gorilla

Grandparents (picture)

Grape juice

Grapes

Grasshopper

Greedy Granny

Green beans

Green Lantern

Green pepper

Green tea

Greyhound

Greyhound

Grizzly bear

Grover from Sesame Street

Guess Who? game

Guide book

Guitar

Gum

Gumball

Gumby

Gummy bears/worms

Guppy

Gypsum
Show and Tell Letter H Ideas
H (letter block)

Hades

Hair

Hair bow

Hairbrush

Hallie from Doc McStuffins

Halloween (decor, shirt, costume, etc.)

Halo

Ham

Hamburger

Hamm from Toy Story

Hammer (toy tool set)

Hamster

Han Solo from Star Wars

Hand from Mr. Potato Head

Handbag

Handcuff

Handkerchief

Hang glider

Hannah Montana

Happy Pigs board game

Hard hat

Hare

Harmonica

Harp

Harry Potter

Harry Potter books

Hat

Hatchet

Hatchimals

Hattie from Alice's Wonderland Bakery

Hawaii

Hawk

Hawk

Hay

Hazelnut

Head

Headband

Heart (shape or organ)

Hedgehog

hedgehog

Hei Hei from Moana

Helicopter

Helium balloon

Hellmann's Mayo

Hello Kitty

Helmet

Herb

Hercules

Hermione Granger from Harry Potter

hermit crab

Hero

Heron

Hershey's Chocolate

Hexagon (shape puzzle)

Hey, that's my fish! board game

Hide'N Cheek board game

Highlighter

Hippo

Hippopotamus

Hippy (costume, wig, clothing item)

Hissy from Puppy Dog Pals

Hobby horse

Hockey puck

Hockey stick or puck

Home (picture)

Homer Simpson

Honduras

Honest Kids juice pouches

Honey

Honey badge

Honey bun

Honey dew

Honor

Hopper ball

Horn

Hornet

Horoscope

Horse

Hose

Hospital

hospital gown or bracelet (toy doctor kit)

Hot air balloon

Hot cakes (pancakes)

Hot dog

Hot Wheels car

House (picture)

Hula hoop

Hulk

Humming bird

Hundred (100 of any item)

Hungary

Hungry Hungry Hippos

Hurricanes (University of Miami gear)

Husky

Husky dog

Hyena
Show and Tell Letter I Ideas
I Spy Game

Iago from Aladdin

Ian from Onward

Ice

Ice Age

Ice cream

Ice cream cone

Ice cream scoop

Ice cube

Ice from Don't Break the Ice game

Ice pack

Ice skate

Icicle

Icing

ID card

Idaho (map or t-shirt)

Idaho potato

Igloo

iguana

iguana

Iguanodon (toy)

Illinois (map, t-shirt, or postcard)

Illustration

Imagination Patterns

Imagine Ink Pads

Imaginext toys

Impala

Inch (ruler)

Inchworm

Inchworms game

Incredible Hulk

Incredibles toys from the movie The Incredibles

Index card

Indiana (map, t-shirt, or postcard)

Indy from Bluey

infant (baby doll)

Ink pen

Inline skates

Inner Tube

Insect

Insect collecting kit

Inspector Gadget

Instrument

Invitation

Io blocks

Iowa (map, t-shirt, or postcard)

iPad or iPhone

Iris

Iron

Iron Man

Irving from Chuggington

Isabela from Encanto

Isabella from Phinneas and Ferb

Ivory soap

Ivory soap

Ivy leaf
Show and Tell Letter J Ideas
Jack from Bluey

Jack Russel terrier

Jack Skellington from Nightmare Before Christmas

Jacket

Jackfruit

Jack-in-the-box

Jack-Jack from The Incredibles

Jack-o-lantern

Jackrabbit

Jacks

Jackson Storm from Cars 3

Jacksonville Jaguars (jersey, football, or card)

Jade

Jade Jewelry

Jafar from Aladdin

Jaguar

Jake from Jake and the Neverland Pirates

Jalopy (old, broken down toy car)

Jam

Jamaica (map or Atlas)

Jamba Juice

Jambalaya

jambalaya mix

Jane from Tarzan

January (calendar page)

Japan (map, flag or atlas)

Jar full of a collectible (or anything)

Jarritos soda bottle

Jasmine from Aladdin

Jeans

Jeep (toy car

Jello

Jelly

jelly beans

jelly roll

jellyfish

Jellyroll

Jerky

Jersey of a favorite team

Jessie from Toy Story

Jesus from a Nativity set

Jet (toy)

Jewelry

Jewels

jicama

JIF peanut butter

Jigsaw puzzle

Jimminy Cricket

Jingle bells

Joe and Josh from Blues Clues

Journal

Joy from Inside Out

Jug

Juice

Juicy Juice pouches

Julieta from Encanto

July (calendar page)

Jumanji (movie or board game)

Jump rope

Jumping Jacks

June (calendar page)

Jungle animal

Junie B. Jones book

Jupiter

Jurassic Park movie or toy

Justice League action figures

New York Jets football (jersey or card)
Show and Tell Letter K Ideas
K.C. from T.O.T.S.

K'Nex

Ka-Blab board game

Kaboom board game

Kai from Young Jedi

Kale

Kale chips

Kaleidoscope

Kanga from Winnie the Pooh

Kangaroo

Kansas (map, postcard, or t-shirt)

Karaoke machine

Karate belt

Kart wheel

Katya from Super Monsters

Kawzii from Octonauts

Kazoo

Keepsake

Keia from Puppy Dog Pals

Ken doll

Ken from Toy Story

Kentucky (map, postcard, or t-shirt)

Kermit from Muppets

Kernel of popcorn

Kerplunk

Ketchup (play food set)

Kettle (toy tea set)

Kevin from Up

Key

Key lime/key lime pie

Keyboard

Keychain

Killer Croc from Batman

Killer whale

Kilt

Kim Possible

Kimchi

Kimono

Kind Bars

Kindi kids

Kindle (tablet)

Kindle Fire

Kinetic sand

king (toy or a playing card)

King Candy from Wreck-It-Ralph

King crab

King Louie from Jungle Book

King piece from a chess set

King Richard from Robin Hood

King Roland from Sophia the First

King Triton from the Little Mermaid

Kingfisher

Kirby from Chricken Little

Kiss (toy lips)

kisses from Hershey's

Kit Kat

Kit Kat bar

Kite

Kitten

Kitten Caboodle board game

Kitty keyboard

Kiwi

Klask board game

Kleenex

Knight

Knot

Knufflebunny book

Koala

Kohlrabi

Kookaburra

Koolaid

Koozie

Krispy Kreme

Krispy Kreme doughnuts

Kristoff from Frozen

Kronc from the Emperor's New Groove

Krystal's

Kuzco from the Emperor's New Groove

Kwazii from Octonauts

Kylo Ren from Star Wars
Show and Tell Letter L Ideas
Eeks

Label

Labor

Labrador retreiver

Lace

Lacing cards

Lack

Ladder

Ladle

Lady from Lady and the Tramp

Ladybug

Lalaloopsy

Lamb

Lambchop

Lambie from Doc McStuffins

Lamp

Lantern

Large

Larry from Veggie Tales

Laser

Late

Lawn mower

Lay

Layer

Leaf

Leap Frog toys

Leap Pad

Leap Year

Learning

Least

Leaves

Leaving

Lebanon (map, postcard, or flag)

Leeks

Legal

Legit

Lego bricks

LEGOs

Legs from Mr. Potato Head

Lemming

Lemon

Lemonade

Lemur

Lenses

Leo (Zodiac Sign)

Leopard

Leprechaun

Letter (mail)

Letter blocks

Letter puzzle

Letters from a letter magnet set

Level (tool set)

Licorice

Lid

Life

Lifeguard

Light

Light years

Lightning McQueen

Lilen

Lilly

Lilo from Lilo and Stitch

Lily

Lime

Limeade

Limit

Lincoln Logs

Line

Linguini from Ratatouille

Links

Linny from Wonderpets

Lion

Lion King from Disney Movie

Lip gloss

Lips from Mr. Potato Head

Lipstick

Lipstick

List

Lite Brite

Litter

Little Einsteins DVD or toys

Little Mermaid

Little People

Littlefoot from The Land Before Time

Liver

Lizard

Llama books

Lobo from Super Monsters

Lobster

Local

Lock

Log

Logic

LOL (Laughing Out Loud)

LOL dolls

LOL Surprise Dolls

Lollie from Puppy Dog Pals

Lollipop

London (map, t-shirt, Atlas or flag)

Loose

Lorry (toy)

Lose

Lotso Bear from Toy Story

Louisiana (map, flag, postcard, t-shirt)

Love

Low

Loyalty

Luca from Luca

Lucky

Lucky from Bluey

Lucy and Linus from Peanuts

Lug nut

Luigi from Mario Bros

Luisa from Encanto

Luke and Leia from Star Wars

Lumens

Lumiere from Beauty and the Beast

Lunch

Lunchbox

Lux

Luxury

Lynx

Lys from Young Jedi
Show and Tell Letter M Ideas
M&Ms

Macadamia nuts

Macaroni penguin

Macaw

Machiavelli from Luca

Mack from Cars

Magazine

Magna Tiles

Magnet

Magnifying glass

Magnolia blossoms

Mail

Mailbox and Magenta from Blues Clues

Maine (map, postcard, t-shirt)

Maleficent

Man (plastic toy, picture)

Manatee

Mandarin oranges

Mango

Map

Maple syrup

Marble

Marie from Aristocats

Marker

Marmalade

Marmot

Marshall from Paw Patrol

Marshmallows

Maryland (map, postcard, t-shirt)

Mask

Massachusetts (map, postcard, t-shirt)

Mat

Mater from Cars

Maui from Moana

Maximus from Tangled

Medal

Meercat

Megara from Hercules

Melon

Merida from Brave

Mermaid

Michigan (map, postcard, t-shirt)

Mickey Mouse

Micro Machines

Microphone

Miguel from Dino Ranch

Mike Wazowski from Monsters Inc.

Mikku from Mira the Royal Detective

Milk

Milky Way

Millie form Team Umizoomi

Min from Dino Ranch

Ming Ming from Wonder Pets

Miniature

Mini-figure (Lego people)

Minions from Despicable Me

Minnesota (map, postcard, t-shirt)

Minnie Mouse

Mint

Mira The Royal Detective

Mirabel from Encanto

Mirror

Miso

Miss Piggy from Muppets

Mississippi (map, postcard, t-shirt)

Missouri (map, postcard, t-shirt)

Mittens

Moana

Molasses

Mom (picture)

Mom from a Little People set or toy family

Money

Monkey

Monopoly Jr.

Monster

Monster truck

Monsters Inc. DVD

Montana (map, postcard, t-shirt)

Moon

Moose

Mop

Mosquito

Moth

Motorcycle

Mountain

Mouse

Mouse and the Motorcycle DVD

Mousetrap board game

Mouth from Mr. Potato Head

Movie

Mozzarella

Mr. Potato Head

Mr. Renkins from Curious George

Mrs. Potato Head

Mtambo from Chuggington

Mud

Mufasa from The Lion King or Lion Guard

Muffin

Muffin from Bluey

Muffin pan or paper muffin cups

Muffins

Mug

Mulan

Mule

Mummy (picture)

Mushrooms

Muskrat

Mustache
Show and Tell Letter N Ideas
Naan bread

Nachos

Nail cutter

Nail polish

Nairobi (map, postcard, t-shirt)

Nala from the Lion King

Name

Name tags

Nana (picture)

Nantucket (map, postcard, t-shirt)

Naphthalene balls

Napkin

Nappy

Narwhal

Nativity (nativity set)

Navel orange

Nebraska (t-shirt or map)

Necklace

Necktie

Nectar

Nectarine

Nemo

Nemo from Finding Nemo

Nerds candy

Nerf Gun

Nest

Nestle Crunch

Net

Netball

Nevada (map, postcard, t-shirt)

Nevada (t-shirt or map)

New Hampshire (map, postcard, t-shirt)

New Hampshire (t-shirt or map)

New Jersey (t-shirt or map)

New Mexico (t-shirt or map)

New Orleans (map, postcard, t-shirt)

New York

New York (t-shirt or map)

New Zealand (map, postcard, t-shirt, flag)

Newcastle (map, postcard, t-shirt)

Newspaper

Newt

Niagara Falls (map, postcard, t-shirt)

Nickel

Night gown

Night Ninja from PJ Masks

Nightingale

Nightingale bird

Nightlight

Nike shoe

Nine (number puzzle)

Ninja

Ninja Turtles

Noodle (food set)

North Carolina (t-shirt or map)

North Dakota (t-shirt or map)

Norway (map, postcard, t-shirt, flag)

Nose from Mr. Potato Head

Nose ring

Note from a loved one

Notebook

Novel

Nozzle

Nubs from Young Jedi

Nuggets (chicken or others)

Number (puzzles)

Nurse (picture)

Nutcracker

Nutella

Nutmeg

Nuts

Nutter Butters
Show and Tell Letter O Ideas
O'Malley from the Aristocats

Oak

Oaken from Frozen

Oar

Oatmeal

Oats

Obi-Wan Kenobi from Star Wars

Oboe

Obsidian

Ocean

Ocean animals

Ocean Raiders board game

Ocelot

Octagon (shape toys)

Octagons (shape puzzle)

October (calendar page)

Octogon

Octonauts

Octopus

Odd Bods

Oddly Obvious board game

Officer (police officer toy)

Oh (Home)

Ohio (map or team gear)

Ohio (map, flag)

Ohm from Eureka

Oil

Oil paints

Oklahoma (map or shirt)

Oklahoma (map or team gear)

Okra

Olaf from Frozen

Old

Old Maid card game

Old Puffer Pete from Chuggington

Olive

Olive green

Olive oil

Oliver from Oliver & Company

Olives

Olivia the Pig book series

Olwin from Chuggington

Onion

Onion rings

Onward (toys, DVD)

Operation board game

Opossum

Optimus Prime

Orange

Orange juice

Orangutan

Orb

Orca

Orchid

Oregon (map or team gear)

Oregon (map or team gear)

Oreos

Origami

Origami

Ornament

Orville from The Rescuers

Oscar the Grouch from Sesame Street

Ostrich

Osvaldo from Encanto

Othello board game

Otis from Cars 2

Otto Mann from The Simpsons

Outer space

Oval (shape puzzle)

Ovaltine

Oven

Oven mitt

Oven mitts

Overalls

Owl

Owl from Winnie the Pooh

Owlet from PJ Masks

Ox

Oyster

Oyster shell
Show and Tell Letter P Ideas
Package

Padme Amidala from Star Wars

Pain and Panic from Hercules

Paint

Paint brush

Pajamas

Pan

Pancake

Panda

Panther

Paper

Paper clips

Parrot

Parrot fish

Pascal from Tangled

Pasta

Paw Patrol

Peach

Pebble

Peg

Pelican

Pen

Pencil

Penguin

Pennsylvania (map, team gear.)

Penny

Penny from Bolt

Peppa Pig

Pepper (red, yellow or green pepper, cooking set)

Pepper from Eureka

Peppermint

Pepperoni

Percy from Thomas the Tank Engine

Peso from Octonauts

Pete the Cat

Peter Pan

Piccolo

Pickles

Picture

Pie

Pig

Pig and Pug books

Pigeon

Piggy bank

Piglet from Winnie the Pooh

Pillow Pet

Pineapple

Pink

Pinkalicious

Pinocchio

Pipecleaner

Pirate

Pirate ship

Pistol

Pizza

PJ Masks

Plate

Platypus

Play Doh

Plinko

Plums

Pluto from Mickey Mouse Clubhouse

Pocahontas

Polar bear

Police

Police car

Pom Poms

Pomegranate

Poodle

Pop the Pig

Popcorn

porcupine

Porcupine