10 Great Business Ideas for Stay at Home Moms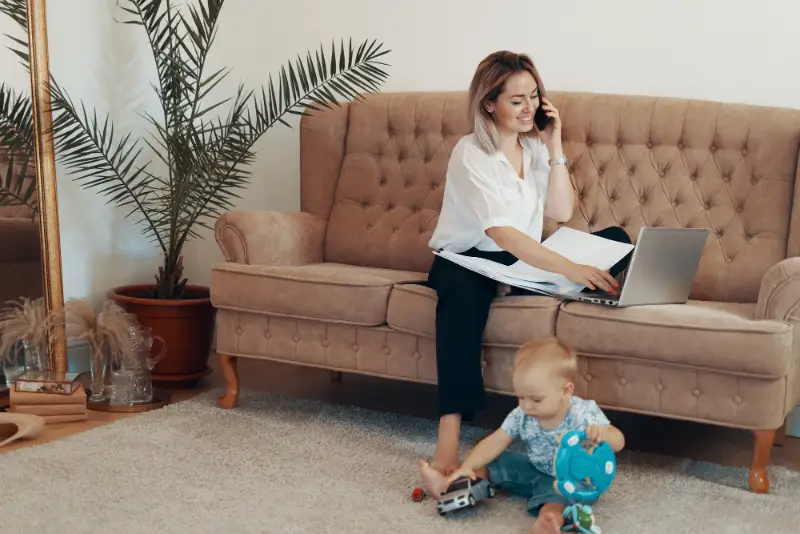 This article may contain links from Amazon and our partners. We may receive a small commission if you make a purchase through a link at no cost to you. Please read our disclosure policy.
Families with two working parents have become a norm today. Some moms, however, have bucked the trend, choosing to stay at home with their children.
Being a stay-at-home mom can be rewarding, but the finances are often difficult for the growing family. If you love to spend time with your kids but need some extra money, starting your own business could just be the thing.
Business Ideas That Every Moms Should Try
In this post, we have compiled the best business ideas for moms who are looking for ways to treasure their time with kids and at the same time make some extra money. Here we go!
1. Home Consignment Shop
If you aren't a first-time mom, you know how fast children grow, and you probably have piles of outgrown tops, pants, shoes, and other clothing items hanging around your home. If those old clothing items are just taking up closet space, why not make some extra coins by reselling them to your fellow parents?
Parents with younger kids will be happy to snap up those clothes at cut-rate prices, and you can use the money to purchase what your kids needs now. If all goes well, you might even want to open your own consignment shop, gathering up clothing items from your fellow moms and giving them a cut of the profits.
2. College Financial Consultant
If your son or daughter will be heading off for college soon, you are probably neck-deep in financial aid application, college application, and information on how to apply for various grants and scholarships.
Once your own college finance journey is complete, why not set up a business to help other moms and dads to navigate these tricky waters?
There's a lot of information out there about paying for college, from tips on how to find the best scholarships to information on financial aid and low-interest loans, but there's no substitute for direct experience.
Parents are more likely to trust, and work with, moms and dads who have already been down the same path.
3. Herb Farming
Given the popularity of the farm-to-table movement and the growing number of diners looking for organic alternatives to prefab meals, herb farming is all the range these days.
Growing fresh herbs for your own use is one thing, but you can ramp up your efforts and supply fresh herbs to your friends and neighbors as well.
Herb growing is a great hobby for stay-at-home moms and their kids as well as an excellent business opportunity. The kids can learn some hands-on botany and biology lessons gardening with them.
4. Video Producing and Editing
Another great business idea that can earn you a lot of money as a stay-at-home mom is becoming a video producer or editor. After all, YouTube is now the second most popular website on the internet and high-quality video content is more in demand than ever
Many businesses and organizations need high-quality videos made for them. Even some YouTubers with personal accounts will pay good money for premium video editing. If you can offer these services, you could generate a solid income.
You can offer your services through freelancing sites like UpWork and Freelancer. You could also pitch to businesses directly or make a professional website promoting your services. You could even make a YouTube portfolio to attract clients.
5. Freelance Writer
If you're a skilled writer, then you can use your talents to start making money right from your laptop. As long as you can provide high-quality writing and adapt your style to fit a variety of audiences, you can get paid surprisingly well for your skills.
Freelance writers can make good money by building a client base of businesses that need writing. You can find clients through freelancing services, contact businesses directly, or even make your own blog as a portfolio or selling point.
You'd be surprised at how much you can make in writing. With a little experience, you could be making 10 cents a word. Copywriters in high demand from clients can ask for significantly more. The more high-quality writing you put out, the more clients you'll gain and the more you can charge.
6. Consultant or Tutor
Imparting knowledge upon others is another excellent way to make money as a stay-at-home mom. If you have specialist knowledge in a certain area, people might pay you for your expertise. Many moms work from home as freelance consultants in a range of fields.
For example, lawyers often make money on the side by offering paid legal advice online. Accountants can also become financial consultants. Even if you simply know about a niche subject like Bitcoin, you could become a cryptocurrency advisor.
The same applies to tutoring people online to help them with their education. You can find websites for this or offer your services on social media. If you can collect some positive testimonials and show people your time and knowledge are worth paying for, it's a highly viable business plan.
7. Event Planner
Event planning is another idea you can offer online and carry out mostly from home. If you have solid organizational skills and love helping people bring their dream events to life, this could be the perfect home business opportunity for you.
Maybe you're great at bringing people together for parties. Maybe you know everything about where to get cheap wedding supplies. If you can bring an amazing event together, people will be more than happy to pay you for your efforts.
Usually, event planning can't be done entirely from home as you might have to meet with clients and scope out even venues. Nonetheless, it's a fun and lucrative business idea that can be carried out mostly via email or telephone, and you can make good money if people recommend you.
8. Pet Sitter
Do you love animals? If you're a pet lover, this could be a business for you, and you can start for a little or no money. Taking care of pets while their owners are away from home can be a great, and fun, way to earn extra money.
To get started, you need to make sure people know that you offer these services. You can begin by putting some words on your social media networks, telling your followers that you offer pet sitting services.
If you want to promote your services beyond social media, you can sign up on websites like Rover, Dog Vacay, or even Care. These websites provide the quickest way to find potential clients who are looking for pet sitters.
For pet sitters who want to make this side hustle a real business, they may consider getting certified by Pet Sitters International. However, if you are just starting, it will be a good idea to try first and if things goes well, then you can get certified.
9. Social Media Marketing
Social media marketing is one of the most effective ways to build brand recognition and visibility. However, many entrepreneurs are too busy handling the day-to-day operations of their company to handle multiple social media channels. As a stay-at-home mom, this is where you can step in.
If you have a proven history of creating engaging social media content and building a following on multiple platforms, businesses and individuals will pay you good money to handle their social media for them.
10. Sell Feet Pics Online
This business idea is not popular in the entrepreneur world, which makes it an easier way for stay-at-home moms to make some money while taking care of their kids. The good news is that you don't need money to start selling your feet pictures.
In American, there are millions of people looking for feet pics online, which means you'll likely make good money if you take high-quality pictures and use the right selling platform.
You can start selling feet pics on social media networks like Facebook, Twitter, Pinterest, Instagram, or Snapchat. You could also sell your feet images on photo stock websites such as Shutterstock, Pexel, Freepik, or even Canva.
The lowest price for selling feet pics is $5. However, you can make even more than $100 per image depending on the buyer and the quality of the photo.
Other Ways to Make Money as a Stay-at-Home Mom
There are thousands of business ideas for moms which couldn't be discussed in this post. However, we have listed them below:
Web development and designing
Virtual Assistant
Blogging
Childcare
Resume writing
Grant writing
Toy making
Affiliate marketing
Translator
Online proofreader
Data entry
Teaching English online
Online typing jobs
Do you want to learn more ways to make money while staying at home? Here are helpful articles:
Final Thoughts about Business Ideas for Moms
If you want to make extra money for your growing family, starting a business could be a smart thing to do. You don't have to spend a fortune to get started because there are plenty of ideas on the web to make your journey easier. And these ideas require absolute zero dollars to implement.
Sources: Rasmussen University, Best Jobs for Moms: Balancing Family and Full-Time Work, Sept 2018, and Leverage Edu, Home Business Ideas, Sept 2020.