Moms Selling Photos Online: How to Sell Pictures of Yourself Online for Money
This article may contain links from Amazon and our partners. We may receive a small commission if you make a purchase through a link at no cost to you. Please read our disclosure policy.
If you want to spend quality time with your kids but need some extra money, starting a side hustle could be just the thing. And one of the popular side hustle you can start as a mom is selling pictures of yourself online for money.
The reason why you can quickly excel in this business is that you don't need to buy a camera for taking photos. Instead, you can use your mobile phone camera and a selfie stick to take photos of yourself. You can take pictures while cooking, cleaning the house, washing baby clothes, feeding the kids, or even gardening.
How to Make Money Selling Pictures of Yourself Online
Believe it or not! You can make a decent income by just taking photos of yourself and posting them on different sites. Photos are being sold anywhere between $5 to $99 on sites like Instafeet, Zazzle, Discord, and Tinder. However, if you want everything to go smooth, here are a few things to put into consideration:
(i) Invest in a High-Quality Camera
Buyers want higher resolution photos. You cannot have high-quality shots if you don't have a good camera or a quality smartphone. If you want to take photos using a camera, consider the ones with multiple lenses such as Nikon D7000, Canon EOS 6D, etc.
Nowadays, mobile phone cameras are superb. And there are plentiful smartphones in the stores which can capture high-quality images. An example of a good smartphone you can use is the Samsung Galaxy S series or iPhone Pro 12/13 pro.
(ii) Edit Your Photos
If you want to get the best photo possible, you'll need to have editing software. Photographers who edit their images before posting them are 2x likely to sell. Some of the photo-editing software you can use include Adobe Lightroom, Adobe Photoshop, Phototouch, and more.
Editing is a skill that needs to be learned which means not everybody can do it. Before using editing software, it makes sense to watch YouTube tutorials or enroll in photo editing classes. This way, you'll have an easy time when using them.
(iii) Your Audience Matters
Who is your target audience? Think about the customers who are going to purchase your photos. Why are they buying the pictures? Are they bloggers or companies? Knowing your prospects is a good starting point because you'll take pictures based on their needs. Some of the pictures a stay-at-home mom can capture should be based on the following themes:
Gardening
Laundry
Food
Birthday parties
Pregnancy
Baby clothes
Toys
House cleaning
Reading books
Playing
Homeschooling
Swimming
Riding
Family walk
Family park
Vacation
Mother's Day
Breastfeeding
Dinner
Gaming
(iv) Choose the Right Photos
Selling pictures of yourself online for money is something that needs to be done professionally if you want to succeed. Be careful with the images you are about to upload. Even if you have a huge gallery full of pictures, it doesn't mean you'll upload all of them without confirming their quality.
(v) Put Social Media Forward
Popular social media networks such as Facebook, Instagram, and Pinterest are good places to market your photography. With social media fun pages, you can upload pictures, and share them with your followers, which in turn increases your success rate.
If you take pictures while using products of a specific company such as utensils, washing machines, and detergents, you can share them via your social media pages and tag those brands. And by doing so, you are likely to get a partnership with them in the future.
(vi) Consistency is the Key
Just like any other online business, you need to be consistent to succeed. Make it a habit of taking pictures of yourself and uploading them on daily basis. Taking shots every day is a great way to improve your skills, which will later change this side hustle to a full-time job.
To be able to take more and more images, you need to try the following:
Use new locations
Tilt your camera to different angles
Use different clothes
Change hairstyle
What does it by many pictures? You'll need to take a minimum of 100 pics every day and edit them.
20 Websites to Sell Pictures of Yourself Online for Money
You don't have to be a professional photographer to start selling pictures of yourself online. The only requirement is a good camera and the passion to do the job. There are thousands of websites where you can sign up and start selling your pics. However, read and understand their terms regarding the usage of your photos.
Do you have photos of yourself on your smartphone or camera memory card? You can start making money with those pics by just uploading them to the following sites:
Shutterstock
Adobe stock
TourPhotos
iStockPhoto
PicFair
Alamy
Getty Images
500px
Scoopshot
Stylinity
Photoshelter
SmugMug
Big stock
Snapwire
ClickASnap
Crestock
Instaprints
Foap
1. FunwithFeet
FunwithFeet is a fast-growing platform that allows feet lovers to make money selling their feet pics. If you are a mom looking to make extra coins while spending time with your kids, you can take feet photos and try to sell them at FunwithFeet.
With FunwithFeet, it is simple to register and offer ready-available buyers across the world. To join this platform, you need to register and provide the necessary details like email address, display name, location, age, and profile photo. Use the button below to join FunwithFeet platform.
Sell Feet Pics NowJoin the leading and legit feet pic selling platform today!
You can get a discount by using our promo code: momsvoice
2. Shutterstock
Shutterstock is the most popular website for selling photos, videos, and vectors. Over the past 16 years, they have paid more than $1 billion to their contributors. And the best thing about this company is that they accept contributors from all corners of the world.
The process of becoming a Shutterstock contributor is free. You need to visit the website to create an account. Once you upload the photos, you'll start to get a commission from every download, which means the more downloads your photos have the more money you make.
Shutterstock gives commissions to contributors based on their level. As a beginner, you'll earn 15% while those contributors who are at level 6 will earn up to 40% commission for each download.
3. Adobe Stock
Moms who want to make quick cash can consider becoming contributors to Adobe Stock. Their process is super easy, especially if you have an Adobe ID. Once you set up your account, you can start uploading your pictures.
The advantage of Adobe stock over other photography websites is that it makes it easy for their contributors to upload images. As a contributor, you'll get a 30% commission for photos, illustrations, and vectors. This commission is paid out to you via PayPal, Skrill, or Payoneer.
4. TourPhotos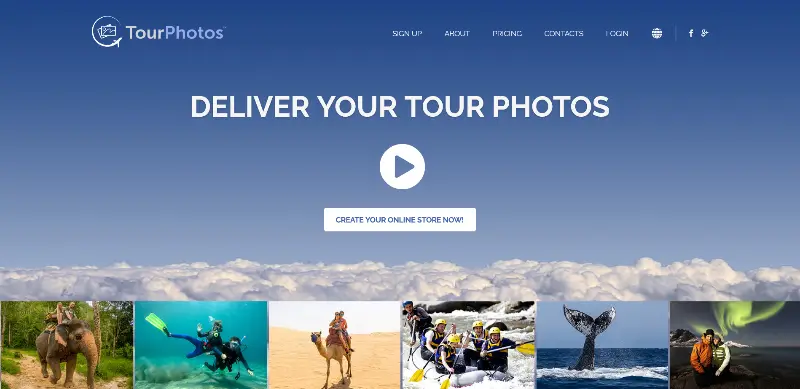 If you love traveling, chances are you have thousands of photos in your computer folders. Do you know it is possible to make some money using those pictures you took while on your trip to Dubai, Africa, or Italy?
Thanks to TourPhotos! They are offering a platform for travel photographers or someone with photos of different destinations to sell them online. To start selling your images on TourPhotos, you'll need to create an account with them and get approval.
Once you are accepted, you can start uploading your images and setting up the price of each photo. TourPhotos only takes 19% commission for every download your photo gets.
5. iStock Photo
iStock Photo is another great website where you can sell pictures of yourself for money. And because it's managed by Getty Images—one of the biggest marketplaces for stock images—you can only be accepted as a contributor via submitting your application to Getty Images App.
The best thing about iStock is that it allows its contributors to sell the photos to other marketplaces as well. Their commission rates are flexible, which means your earnings are dependent on the number of downloads your content gets.
6. Picfair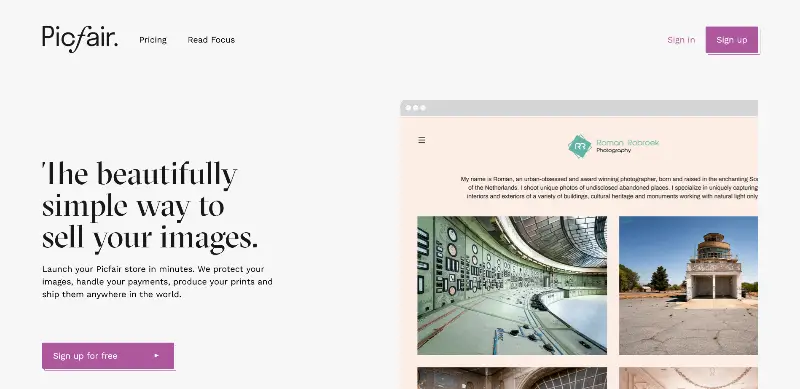 Picfair is another popular website for selling photos of yourself online. To start selling images on this platform, you need to create an account by signing up using your email address, Facebook, or Twitter login. And yes, it's free to join them!
Once you've completed account verification, you can begin uploading and setting the license price of each photo. The commission rate for Picfair is 20% —added to the buyer's total price—meaning your photo is sold at 120%.
Picfair is the only platform that allows contributors to make 100% profit. The freedom to set the price of each photo makes it easy for photographers to earn a decent income.
7. Alamy
While Alamy doesn't have many buyers like Shutterstock and Adobe Stock, it's a great platform you can sell pictures of yourself and make a lot of profit. The platform offers an easy process for creating a contributor account.
Once you get accepted by them, you start uploading photos and selling. They have flexible commission rates, meaning you can make a lot of money if you sell more photos. Here's how Alamy pays:
50% commission for sales exceeding $25,000 per year
40% for annual sales less than $25,000 but more than $250
20% for annual sales less than $250
What are you waiting for? Sign up with Alamy and start enjoying these huge annual commissions.
8. Getty Images
Getty Images was founded in 1995. It is the most popular name in the stock photo industry. Since it has been in operation for many years, Getty Images has attracted thousands of great photographers around the world.
If you want to become their contributor, you need to apply and their editors will either accept or reject your application. To submit your application, you need to download Getty Images App for Android or iPhone and upload a minimum of 3 images. They take 30 days to review your application.
And because Getty Images is the parent site for iStock, the editors may publish your pictures either in Getty Images or iStockphoto. Once your photos are published on Getty Images, you have no right to sell them to other marketplaces.
You'll receive a 20% commission for the photos you sell through Getty Images.
9. 500px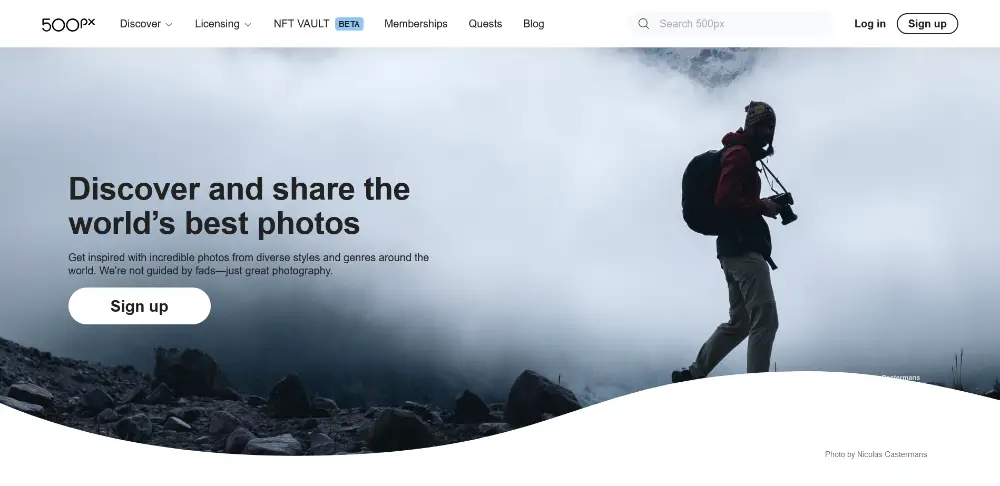 With over 13 million members, 500px is a great platform for selling pictures of yourself online for money. This site allows contributors to create a portfolio of images. To start selling your content at 500px, you need to create either a free or premium account.
For a beginner, it makes sense to start with the free version. The downside of the free version is that you'll be limited to uploading 7 photos per week. With this website, you can either license your content exclusively or non-exclusively.
The commission for content with an exclusive license is 60% while that for non-exclusive is 30%. There's no other marketplace that offers a higher commission than 500px. Some contributors earn up to $150 per image.
Pro Tip: you can attract more buyers by adding keyword tags to your content.
10. Scoopshot
Scoopshot is the best website to sell selfies online. This website doesn't work like other photography platforms where contributors upload images with the hope that someone will like them and make a purchase.
With Scoopshot, buyers submit requests asking photographers for the images they need. Contributors then take the shots and upload them. If the buyer like your content, they will purchase it.
One disadvantage of this platform is that the payment isn't protected. This is because the buyer sends the money directly to your account once they purchase your content.
11. Stylinity
Stylinity is a mobile app that allows people to make money by uploading selfies. This platform is suitable for fashion lovers. You need to buy clothes in one of their stores and take a picture while wearing the outfit.
Once you take the photo, you need to upload it and place all the affiliate links to the photo. When someone clicks those links and purchases the outfit, you get a commission in the form of points that are redeemable for cash.
12. PhotoShelter
While PhotoShelter is not a free platform, it's worth to consider if you want to earn money by selling your pictures. The platforms allow a free two weeks trial, then after the end of this period, you can choose a paid subscription. The lowest you can start with is $10 per month.
With this platform, you can have access to some great tools which will enable you to create an online store for your photography. When you sell content at PhotoShelter, you'll be charged a transaction fee based on your contributor account type.
If you have a start account, your transaction fee for each sale will be 30% while basic subscribers will pay 10%. Those with standard and pro contributor accounts pay a transaction fee of 9% and 8% respectively.
13. Instaproofs
This platform is a new name on the internet that allows photographers to make money online by selling their work. To get started, you need to create a free or paid account. The amount you can pay for the premium account is $9 to $34 per month.
If you are operating a free version account, Instaproofs will charge you a 12% commission for every purchase. The advantage of this website is that it offers tools to create a gallery and set the price of every photo you are selling.
14. SmugMug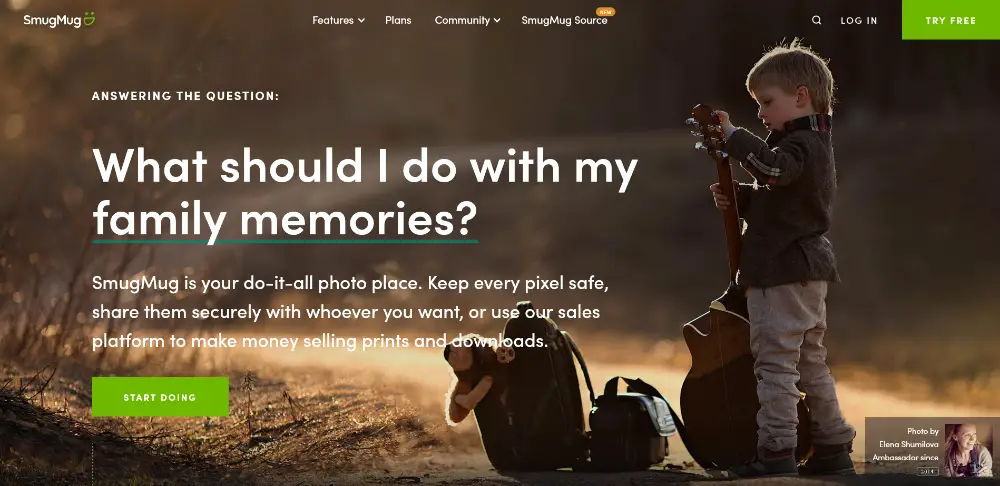 SmugMug is another amazing platform to sell pictures of yourself for money. This website not only provides tools for selling your photos but also allows photographers set prices for each image they have uploaded.
It's not free to have an account with SmugMug but they give first-time users a free 14-day trial. Once the free days are over, you need to pay for either power, portfolio, or pro plans. The cheapest plan goes for $13 per month.
15. Bigstock
Bigstock is a popular marketplace for stock images. It was founded in 2004 and hosts over 118 million royalty-free images and illustrations. If you want to make money selling your photos, this website offers a good opportunity for photographers to earn some dollars.
You can join this platform for free. To get started, create a member account by filling out the sign-up form on their website and uploading some of your work. Their editorial team will review your submission and get back to you.
If you get accepted to Bigstock, you are required to complete a tutorial before you start uploading your content for buyers to purchase. For the first 199 downloads, you'll earn $0.25 per download. Once you make $30, you can cash out your money via PayPal or Skrill.
16.  Snapwire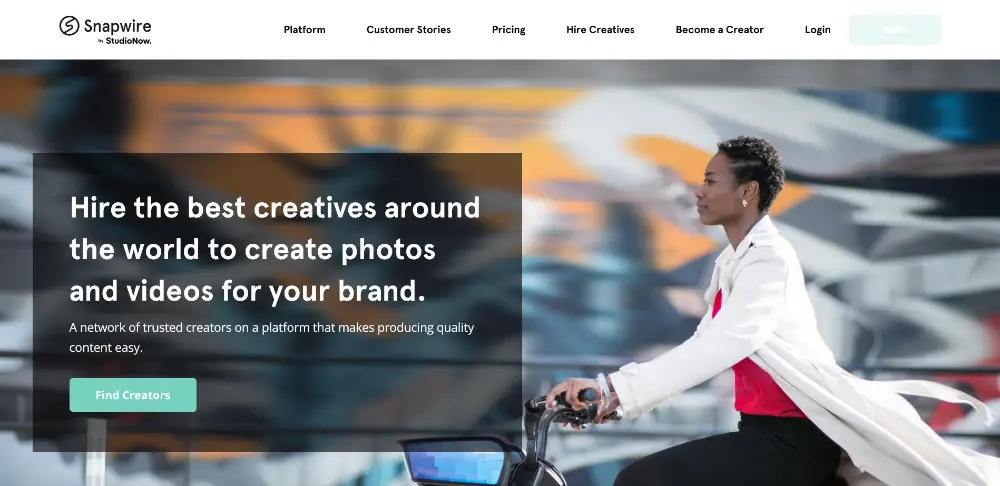 Snapwire is the best place where photographers and brands meet. As a contributor, you can access clients' requests or you can create your portfolio to display and sell your content to buyers.
This platform allows contributors to earn money in two different ways. You can set up a portfolio and sell photos directly to the buyers. The other way is to earn money through contests. With the contest, the client requests the type of photo they want and the deadline to submit the work.
Once photographers submit the pictures, the client will review them and announce the winner. On average, winners of the Snapwire contest can earn $50 for a contest. To become a member, you need to download the android or iPhone app on your smartphone.
Once the installation is complete, you'll be required to provide registration details such as email address, your name, phone number, etc. You can complete the registration using your Facebook login details.
17. ClickASnap
ClickASnap is a new platform that allows amateurs or professional photographers to earn money. With this platform, you can make money in the following ways:
Views
Contests
Selling your photos
Sales funnels
To get started, you need to register by filling out the sign-up form. Once you complete the registration process, you can start uploading your photos. However, if you want to start selling photos inside this platform, you must upgrade your account to seller or pro.
Upgrading your account enable you to set the pricing of your craft. Once someone buys your work, the system automatically sends the photo to their printer. They print the product and ship it to the customer anywhere around the world.
The monthly subscription for the seller account is £3.20 while for the pro account is £4.80. While the cost of running a pro account is higher, they charge a low commission (4%) when a client buys your work. The pro account also comes with plenty of goodies including unlimited cloud storage, Pinterest integration, an automated marketing system, and much more!
18. Crestock
If you want to make passive income by selling pictures of yourself online, you should consider becoming a Crestock contributor. It's simple and free to join this stock photo site. What you need to do is to fill in the contributor sign-up form and your account will be activated instantly.
Once your account is activated, you could start uploading the images. Their editorial team will review your submission and upload them to Crestock's portfolio where buyers can see them and purchase them.
If you want to avoid rejection of your work by the Crestock team, ensure you add keyword tags and descriptions for each photo you have submitted. This SEO practice will also enable the buyers to find your photos faster.
19. Instaprints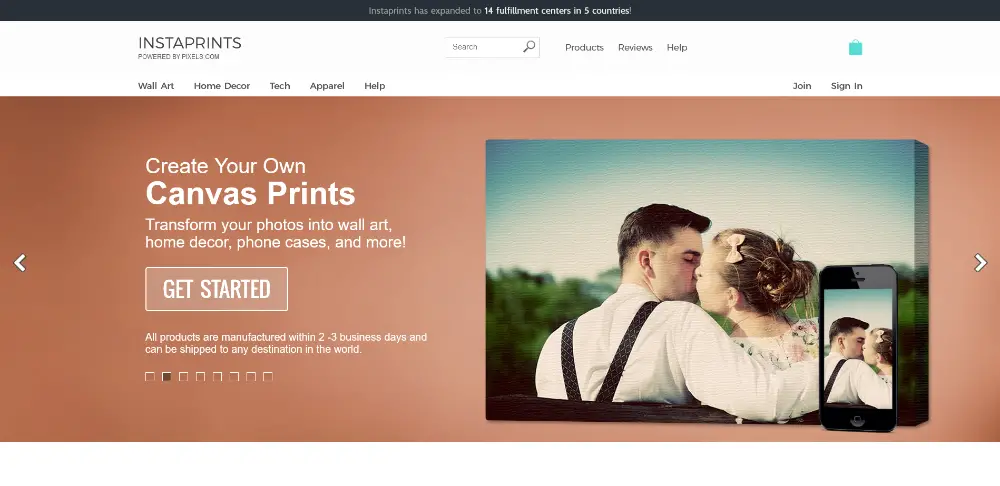 With millions of buyers from all corners of the world, Instaprints is the best platform for people who want to make money by selling prints, wall art, home décor, apparel, and other products. To start selling your work at Instaprints, the first step is to create an account with them.
Once you get accepted, you can import your Instagram photos into your Instaprints portfolio. You need to choose the size of the print and the pricing plan. You can charge $20 for 10" by 10", $30 for 15" by 15" or even $50 for 25" by 25".
When a customer purchases your product, Instaprints takes care of everything including printing, framing, and shipping the item to the client anywhere in the world. And yes, you'll earn all your money as per the price you set.
20. Instafeet
Do you know you can make money just by selling your feet pics online? More people around the world are now making a full-time income by taking photos of their feet and selling them for money.
Instafeet is one of the popular sites for selling feet pictures. To sell your feet pictures inside this platform, you must register with them and get approved by one of their agents. Do remember that they don't just accept every applicant.
Once you get accepted, you can start uploading your feet pics. It makes sense to start with 5 images first and set a price for the subscription. Note that you make money through the subscribers, meaning the more followers you have the more money you get. To get more subscribers, keep your prices low—the standard price is $10 per month.
Instafeet charges a commission of 10% for the products you have sold through their platform. As a creator, you get your payment twice per month, meaning the 1st and 15th day of every month. The money is deposited into your PayPal account instantly.
21. Foap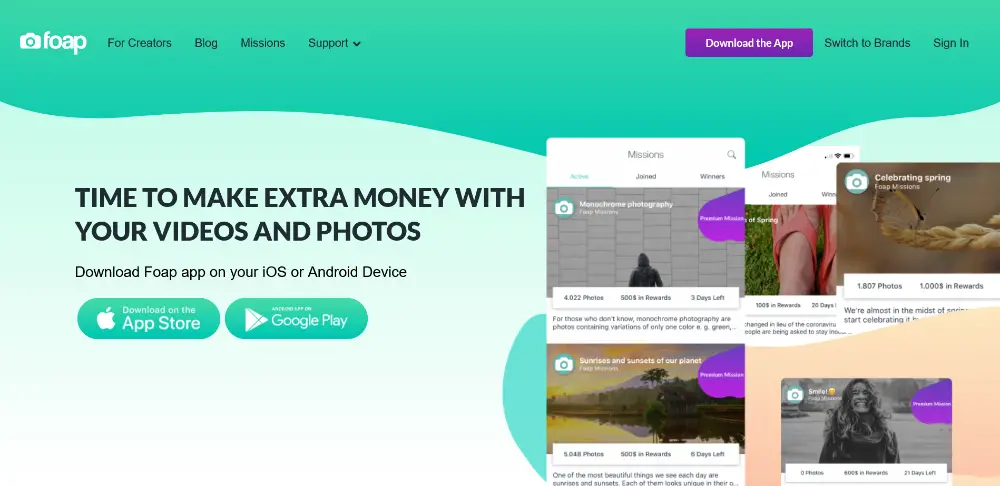 Foap is the best app for selling pictures of yourself online for money. You can download this android or iPhone Foap app for free to get started. Once you install the app on your smartphone, you are supposed to create a user account through Facebook logins or email.
Your account will be instantly activated when you finish your registration process. Then you can start uploading your pictures. The pricing for each photo at Foap is $10. However, you'll get 50% of the total price of your product, that's $5.
The best thing about this platform is that you can sell the same photo as many times as you want. And they pay their contributors once per month via PayPal—ensure you cash out on the 15th of every month.
Selling Pictures of Yourself Online for Money: FAQs
(i) How much can you make selling pictures of yourself online?
On average, you can make over $3k per month. However, some factors determine the amount of money you'll make selling your photos online such as the number of downloads, the platform you are using to sell your work, and the number of pictures you take daily.
(ii) Is selling my pics a legal business?
Of course, yes! Selling your pictures online is legal as long as they are not nudes. But every platform has its terms and condition so make sure you read them. If you want to sell photos you take with your friends, every person that appeared in the pic must sign a release.
(iii) What is the best pic selling platform?
There are plentiful options where you can sell your pictures online. However, the type of platform is dependent on some factors such as personal taste, type of image, geographical location, and photographic skills. There are platforms for beginner photographers while the big boys on the web like Getty Images are suitable for professional photographers.
Do you want to learn other ways to make money as a mom? Check out the following guides:
Selling Your Photos Online: Conclusion
There are many platforms where you can sell pictures of yourself online for money. And the above-listed websites are just the tip of the iceberg. If you want to start to sell your pictures on these platforms, it makes sense to read their terms of use before creating an account.
Moms staying at home can start selling photos while tending their babies. If you have a camera or smartphone with a good camera, you can start taking pictures and uploading them to the platform you feel it's ideal for you.
Just like any other business, selling photos for money is not as easy as it sounds. You need specific skills to excel—marketing, photography, editing, etc. You also need to take and upload pictures on daily basis.