How to Make 5K Fast as a Stay-at-Home Mom: 16 Job Ideas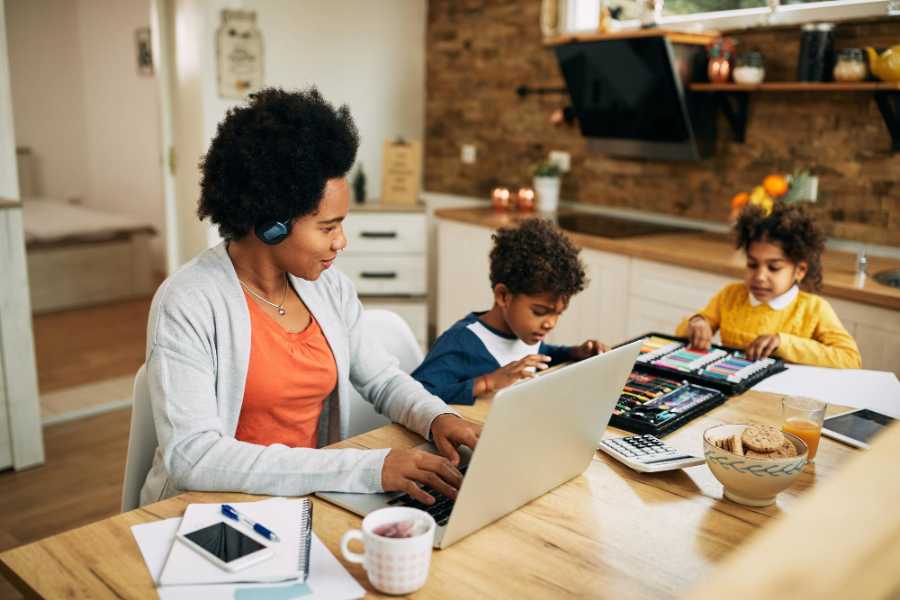 Being a stay-at-home mom is incredibly rewarding. Instead of being tied up in an office with plenty of equipment, you get to see and monitor your child's growth and development. When staying with your kids at home, you'll enjoy special moments like seeing their first smile, first words, first steps, and much more.
However, all these rewards do not pay bills and you may end up struggling to make end meets, especially if your spouse isn't making six figures. If you are a stay-at-home mom, and still want to enjoy every day with your little ones, there are plenty of great hustles that you can do to make 5k faster.
One of the advantages of these jobs is that you don't need to have a wide range of experience to start making money. But before we discuss how you can make 5k fast as a stay-at-home mom, let's first highlight a few benefits of a work-at-home mom.
The Benefits of Being a Work-at-Home Mother
More women prefer to work from home than in traditional settings. The driving force for being a telecommuter is to be near their children, while for other moms, working from home is their way of life. No matter the reasoning behind it, the truth is that more women are choosing to work from home than ever.
While there are downsides to working from home, the positives tend to overweigh the negatives. Here are some of the advantages of being a telecommuter:
Flexible Working Hours
Remote jobs come with a lot of flexible working hours. When working at home, you have time to cook for your kids, clean the house and run other family errands while making money. They can create their own working schedule.
You can decide to complete assignments when kids are at school or may choose to work before they wake up. Moms working from home also can also take off from work to enjoy their favorite sport, visit their friends or go for a health check-up.
Saving Money
Saving money is the aim of the game for anyone planning to become a millionaire, and working from home moms are no exception. When working from home, you don't need to pay for childcare or babysitting—you'll always be there to tend to them.
What about commuter costs? If you own a car, you'll save on gas, wear and tear and repairs. The financial benefits of working from home doesn't end there. You don't have to buy lunch and spend your money on dress pants all the time—and that's a huge save.
Make More Money Fast
You can make a lot of money fast while working from home. There are plenty of remote companies hiring stay-at-home moms and they pay a good salary. From $20/hour to $100/hour, you can make more than 5k fast by just completing simple tasks.
If you want to make more money and still stay near your kids, you can either offer services or sell products to online customers. Moms can choose to become virtual assistants, remote graphic designers, online tutors, freelance writers, sell their DIY or digital products, and the list is endless.
Less Stressful
Traditional work setting is well-known for accelerating stress. If you are employed as a full-time worker in an office, you'll have lots of things to handle, including work deadlines, hitting the sales target, and responding to moody clients.
However, you don't have to experience all this crap when you can make money at home. It's also exciting and relaxing to spend time with your family. No stress to pay for babysitting, buying dresses, lunch, and pay for gas.
Ideas for Making 5K Fast as a Stay-at-Home Mom
There are two primary ways you can make 5k fast when working from home. You can either offer services or sell products.
Selling Products
What products can you sell when staying at home? Thanks to advanced technology, selling digital products is easier than ever as long as you know how to manufacture the products. Here are some products moms can sell while taking care of their little ones.
1. Sell Crochets for Babies
Do you have knitting skills? More moms are making money by selling their handmade things. If you can make baby beanies, baby clothes, or even small blankets there are customers out there looking for these products.
If you enjoy crocheting for fun, you might realize you have plenty of threadwork on your wardrobe just after a few days of weaving. When you find yourself in such a situation, don't think you've been wasting family resources as you can quickly convert these products to 5k fast.
How can you convert your handmade things into cash? Take pictures of some of these items and post them on your social media accounts like Facebook, Instagram, and Pinterest. These three popular platforms offer a great market for threadwork.
You can also set up an Etsy shop to sell a few pieces. However, Etsy needs a little bit of dedication before your customers make the first purchase. To sell your work as quickly as possible, you need to do the following:
Take high-quality pics
Share your posts
Create great captions
Include prices and location
Share your address or contacts
Be professional
Set a reasonable price
The amount of money moms can make by selling crochets depends on the cost of materials, time spends on weaving and the market price for similar products. It's up to you to decide the price for your work based on these factors. For example, you can sell baby beanies for $30-$100.
2. Write an eBook(s)
Moms have tons of information they can share with the world. If you are those moms with great writing skills, you can become an author. Creating eBooks is an alternative method to earn 5k fast without spending family resources.
To get started, you need a computer, internet, and some research skills. Always begin with an outline of your eBook, then write the content and proofread your work. When the first draft is complete, get an ISBN—an important number that most publishers require to sell your eBook.
If you are planning to sell your content on Amazon only, then you don't need to get an ISBN. What follows after the ISBN is designing your eBook. The design should include a cover page, TOC, content pages, and author bio.
There are many topics you can write about. As a mom, you can share your experience on:
Parenting
Family diet
Single parenthood
Family budgeting
Work and careers
How much is an eBook? Where can I sell my eBook? These are just a few questions moms can ask themselves once they have finished creating their eBooks. But one thing for sure is that there are plenty of platforms where you can sell your eBook at a rate of $10 per copy. Besides Amazon Kindle Direct Publish, moms can sell their eBooks in:
Tradebits
Nook press
Smashwords
Payloadz
E-junkie
Payhip
Lulu
Scribd
Gumroad
Clickbank
Selz
Booktango
Bookbaby
Shopify
Blurb
These are just a few examples. There are more and more websites where you can sell your eBooks. You can also make a full-time income by just selling the eBooks through your website, especially if your blog has tons of traffic.
3. Create Online Course
Are you a graduate teacher? Or are you just a mom that enjoys writing and researching? Online courses are in demand across the world. In fact, many learning institutions are constantly looking for online courses that are designed in a simple and easier way to implement.
Being a stay-at-home mom offers a great opportunity to create an online course. With platforms like Teachable, the process for online course creation is even easy. Teachable offers many tools that can help you create your course faster. Other websites where you can sell your courses include:
Thinkific
Podia
Your blog
How much should you sell your online course? There's no specific price tag for online courses. It is up to you to decide the value of your course depending on factors like the subject matter, the number of pages, the data provided, and the cost of production.
For example, you can create an article writing course and sell it for $99. To sell your online course faster, you need to do the following:
Promote your course on social media
Offer discounts
Publish all the reviews
Be open to negotiations
Start with a free course
Keep the content up to date
While selling an online course isn't something everyone can do, it's worth to start taking this route. Moms out there are minting millions by just selling online courses.
Selling Services
Some moms have special skills while others are experts. With many opportunities popping up every day, you can use your skills as a source of income. For example, if you have a background in education, you can start teaching kids online while those who graduated from medical school can start working from home as telenursing.
Are you a stay-at-home mom looking for ideas to work from home? You can find tons of information in this section. Let's get started.
4. Virtual Assisting Jobs for Moms
To succeed in the virtual assisting world, you need to be a super organizer and an expert manager. While virtual assistant is a popular option that moms use to generate income without doing much work, it comes with some responsibilities. Some of their duties are like answering emails, assisting clients to schedule meetings, creating presentations, and other administrative roles.
Salaries for these remote administrative assistants are based on experience and the skills they offer. In the United States, the average salary for a VA is $39 041 per year, according to Glassdoor. This means most of them are paid between $13 and $20 per hour.
5. Become an Online Tutor
If you want to make 5k fast, consider tutoring kids online. Students in other countries are looking for native English teachers to help them learn the basics of the English language. One of the advantages of this job is the time difference, which means you can teach your class when your kids are sleeping.
While teaching English online is the most popular in America, it's not the only tutoring job available. To excel as an online tutor, you need to have a background in education. Online tutors make an average salary of 39, 452 per year in the United States, which is equivalent to an average of $24 per hour.
6. Freelance Blog Post Writing
The number of websites on the internet is growing at an incomprehensible rate, and every web page needs content. Therefore, opportunities for writers are on the rise, too. Moms who did well in English in school can take advantage of that fact.
The great thing about being a freelance blog writer is that the better you can write, the more you'll earn. If you love writing articles or blog posts, you can even apply to content mills, which do the work of finding potential buyers for their writers in exchange for a percentage of usually very reasonable-priced article sale.
If you don't want to take that content mill route, you can create a portfolio where you demonstrate your writing abilities to your prospects. With good examples of published work on your websites or other people's websites, you can quickly get hired and start earning.
7. Transcription Jobs for Moms
Moms that prefer a job that doesn't require as much active thought as writing can consider becoming transcriptionists instead. Generally, the only required qualifications are proficiency in your native language and the ability to type up error-free transcriptions of audio recordings.
Doing transcription work is an easy way to make 5k fast and it can be done in segments whenever you have a little bit of spare time. Also, it is nice to be able to add "transcription" to your list of skills on your resume.
8. Become a Web Designer
Blogging has become a way of life in modern times. There are hundreds of blogs launched every day which means web designers are in demand. Moms with HTML coding skills can earn extra cash by offering web designing services to bloggers and small businesses.
Besides coding skills, you also need to learn the backend setup of a website, different content management systems, and SEO. While some moms may feel this is a complicated task, being a web designer can help you earn more than you can imagine.
9. Resume Writing Jobs for Moms at Home
Job seekers are always looking for ways to polish their resumes. And if they are fresh graduates, they may not have the experience to craft a resume that stands out from the crowd. As a stay-at-home mom, you can dive into this opportunity and start making hundred dollars.
You could charge up to $199 per resume depending on the quality of your work, the level of the job seeker (experienced or entry-level), and other personal factors. As a mom, you can kick off this career by helping your older children who have completed college to revamp their resumes or you can help friends and relatives.
Once you notice they have succeeded, you can ask them to write reviews and give you some referrals. When you help more job seekers with their resumes, you are likely to increase your rates.
10. Become a Recipe Developer or Creator
Moms love cooking. They prepare meals for their kids and make sure it contains all the essential nutrients for healthy growth and development. If you are those moms with exceptional culinary skills and love the art of food preparation, then you should consider creating and selling recipes.
There are tons of magazines out there looking for recipe creators. What you need to do is to master your recipe, prepare the food and take quality pictures. Whether it's American, Italian, or even African cuisines, you can earn a lot of money by just cooking delicious stuff.
As a recipe developer, you'll have the responsibilities of creating special recipes for diners with dietary concerns and developing new recipes for food establishments or for food blogs. The average salary for this job is $66, 966 per year, which is approximately $30 per hour.
11. Remote Customer Representative
Many companies prefer to hire moms as remote customer reps because of their ability to deal with clients in a friendly manner. Moms that want to make an average of $19.63 per hour should consider this job.
Before diving into this lucrative option, you should know its downside. And one of the difficult things about being a remote customer rep is that you'll meet customers who are tough to handle. However, this should not discourage you from seeking this opportunity.
12. Proofreading Jobs for Moms
Proofreading is one of the quickest methods moms can use to make hundreds of dollars faster. If you could spot grammatical errors when reading magazines, articles, or newspapers, then you should consider becoming a proofreader.
All you need to get started is a computer, internet, and a keen eye. Your job as a proofreader will be to:
Fix grammatical and formatting errors
Edit typos in books, magazines, resumes, websites, course materials, and more.
Give the final approval for work to be published
Since the demand for written content is on an upward trend, more businesses, organizations, and bloggers are constantly looking for trained and experienced proofreaders. This means there are plenty of opportunities up for grabs. With this job, you can earn an average salary of $24.95 per hour in the United States.
13. Start a Money Generating Blog
A blog is a great source of income for many people around the world. Moms who want to achieve financial freedom while still watching their kids grow should consider launching a money-making blog.
During the infancy stage of your blog, you might be required to spend a lot of time generating traffic, creating content, link building, and promoting your content on social media networks. At this level, the blog might not generate a lot of income.
The good thing about blogging is that the income increases with time. Moms who started blogging 3 years ago are now making five figures or even more per month. In fact, most of them will reach six figures on the 5th birthday of their blog.
If you are new to blogging, you might wonder how people make money using blogs. Here's a list of ways to make money with a blog:
Display ads: This method is the greatest of all time when it comes to your blog income generation. When your blog starts to get tons of traffic like 3k hits per day, then you can join advertising networks such as Ezoic, Mediavine, AdThrive, etc. With these Ad networks, you can earn anywhere between $2000 and $4000 per month—and this is just for display ads only.
Affiliate marketing: You'll get paid for promoting other people's products on your website. This is one of the common strategies more people use, especially when their blog doesn't have much traffic. Affiliate marketing involves creating content and linking some of the phrases/sentences using an affiliate URL. You'll then get a commission when your readers click through the links and purchase the products or services.
Selling products or services: You can a passive income by just selling digital products and services. For example, you can create a digital product like an eBook, course, guides, or printables and post it for sale.
Sponsorships: You could start getting sponsored deals when your blog grows and become stable. Brands will pay you to create posts about them and their products. And if you want brands to recognize your blog, you must grow your social media networks fan base. You'll likely get these sponsored deals when your social media pages are verified.
14. Pet Sitting Jobs for Moms at Home
If you love animals, pet sitting is an opportunity for moms looking for ways to make an extra income. Taking care of pets involves giving them water, food, medicine or even playing with them. By just doing these small tasks, you could make an average of $15. 97 per hour in the United States.
At the moment, thousands of people in the United States are looking for someone to watch their furry friends, which means there are tons of opportunities for pet lovers. To get started, you can find pet sitting jobs on popular websites like Rover, Pet Backer, Great Aupair, and more.
15. Create Graphics While Staying at Home
Moms with computer skills can help businesses boost their visual marketing. As a graphic designer, you'll use Photoshop, Adobe, or Canva to design logos, fliers, business cards, posters, packaging materials, etc.
While there are plenty of opportunities for remote graphic designers, you don't have to rely on people to hire your services. Instead, you can create your graphics and sell them on sites like Zazzle, Redbubble, Fiverr, Big cartel, and more.
How much do graphic designers make? On average, graphic designers can be paid $21.81 per hour. However, when you build a solid portfolio and get tons of positive reviews, you could increase your hourly charges up to $70.
16. Manage Social Media Accounts for Businesses
As a social media manager, you will be to help business promote their products on popular social media networks like Facebook, Pinterest, Instagram, and Twitter. Using free or paid tools, you'll create captions, post ads, share content, respond to comments, monitor social analytics, etc.
Social media management jobs are plentiful if you know where to look for them. NoDesk is a popular website where you can easily find remote social media management jobs. One advantage of this job is that you work around your schedule. Plus, the salary is enough to sustain you and your family.
The Bottom Line: Jobs for Moms at Home
If you don't like the traditional work setting, working from home is an option that's worth jumping in. There are tons of remote jobs available on the web which are legit. You can apply them and make 5k fast while taking care of your family.
To excel as a remote worker, you need to be able to manage your time, have the necessary tools, and attention to detail. Online jobs also have some downsides. One of the disadvantages of these remote jobs is falling into the hands of a scammer. Therefore, before accepting the offer, make sure you thoroughly scan the employer to see if they manifest any red flags.
Do you want to learn other ways to make money at home? Here are helpful guides:
Sources: Indeed, Graphic Designer Salary in the United States, Census Bureau, Pet Owners Spending More on Time-Saving, Specialty Pet Care Services, Feb 2020 and Glassdoor, How Much Does a Freelance Virtual Assistant Make? BLS, Occupational Employment and Wages: 25-3041 Tutors, May 2021.