7 Companies That Pay $25 Sign-Up Bonus to New Users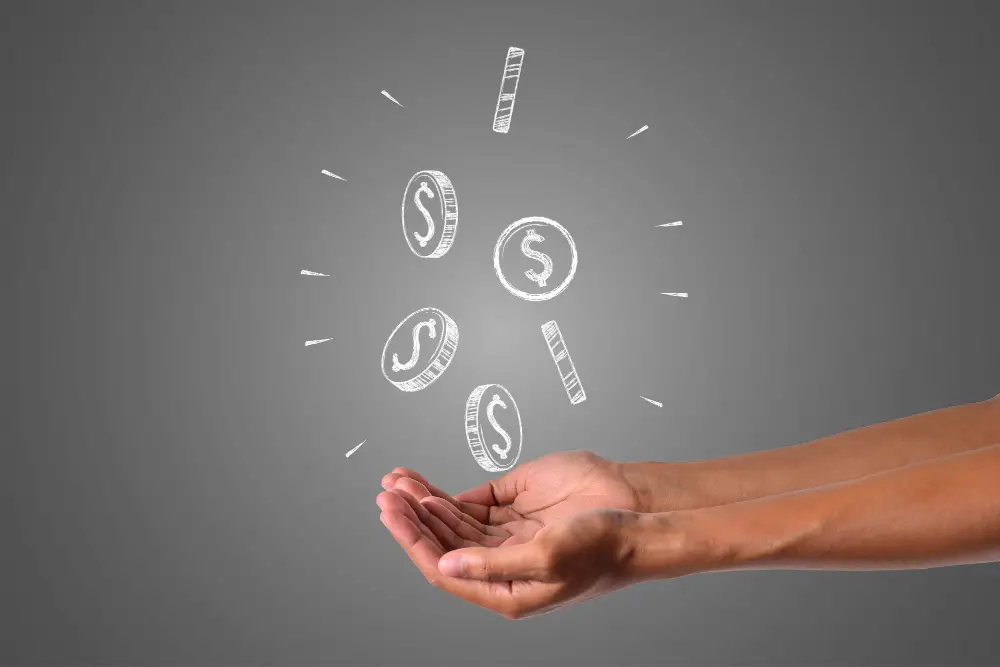 This article may contain links from Amazon and our partners. We may receive a small commission if you make a purchase through a link at no cost to you. Please read our disclosure policy.
Not all companies offer referral bonuses, but the ones that do can be quite appealing. However many companies offer a sign-up bonus for new users, but not all of them are worth your time.
If you want a part-time job, check out these seven companies that pay a $25 sign-up bonus to new users. With the holidays coming up, it could be the perfect time to give your friends and family a little extra money. Check them out and see if one is right for you!
Legit Sites That Pay $25 Sign-Up Bonus
1. Acorns with Swagbucks
Acorns is one of the most popular investing apps, with hundreds of thousands of positive reviews on the App Store. Currently, Acorns offers new users a $5 sign-up bonus for linking a bank account.
Without a doubt, the $5 sign-up bonus is Acorns' best feature. But another great thing it offers is an automatic investment in spare change. If you spend $4.25 at Starbucks, Acorns sets aside 75 cents to invest on your behalf.
(Your spare change is deposited once it reaches $5.) But don't head over to Acorns just yet. First, sign up for the popular rewards site Swagbucks. Once signed up, search for Acorns in the search bar. You'll find an offer for $50 when you sign up through the Swagbucks affiliate link.
If Acorns isn't for you, make sure to cancel your account, as there is a monthly $1 fee. However, if you continue using Acorns and referring friends, you can quickly offset that $1 monthly fee.
As long as you stay disciplined with your investing and don't spend more than you can afford to lose, Acorns can be a great way to get started in the world of investing. And with the $50 sign-up bonus from Swagbucks, it's practically a no-brainer.
2. Rakuten
Rakuten (formerly Ebates) in 1998 is one of the leading shopping extensions and is a great way to take advantage of the $25 sign-up bonus in 2022. You must be a new Rakuten user and must spend at least $30 in purchases within 90 days of opening the account to get the $30 bonus. Here's how you can claim your $25 sign-up bonus:
Spend at least $25 online to earn the $10 sign-up bonus for referred users. By following these simple steps, you can take advantage of Rakuten's $25 sign-up bonus and start earning cash back on your online purchases.
3. Coinbase
Coinbase is a popular cryptocurrency exchange that offers a sign-up bonus of $25 in free crypto. However, users in many areas can earn more than $25 in free Bitcoin when they create an account.
They also offer a unique feature called "Coinbase Earn," which allows users to earn cryptocurrency by watching educational videos about different cryptocurrencies.
Currently, Coinbase is offering new users in many areas $5 to $10 in free Bitcoin when they sign up and verify their identity. To sign up and get started, simply create an account on Coinbase and verify your identity. Once you're signed up, navigate to the "Learn and Earn" section to start earning free crypto.
4. M1 Finance
M1 Finance is an online-only investing platform that lets you borrow and spend money with an M1 card. You can enjoy commission-free trading, making the most of your money without paying an arm and a leg in exchange. New M1 Finance users can get up to $500 in free money for opening and funding an account within the first two weeks.
Plus, you'll get a $30 bonus when you deposit at least $1,000 into your account. Whether you're a beginner investor or a seasoned pro, M1 Finance has everything you need to make the most of your money. If you're looking for a new way to manage your finances, M1 Finance is worth checking out.
5. Payoneer
Payoneer is a global payment platform that helps businesses and professionals receive and send money online. They offer a $25 sign-up bonus for new users who sign up through a referral link. The $25 bonus will be deposited into your account after you receive your first $100 in payments.
Payoneer is a great way to receive and send payments from companies worldwide. Their platform is safe and secure, and they offer low fees on transactions. With Payoneer, you can get paid in your local currency, which means you won't have to worry about exchange rates.
You can also take advantage of their $25 sign-up bonus without much effort. All you need to do is sign up through a referral link, and you'll get your free $25.
6. Oxygen
In the mobile-banking world, Oxygen is one of the newest players. That's why they're providing incentives to attract new members. Mobile banking has a referral program that pays new users a $25 sign-up bonus and the person who referred you $25 as well. You get several perks with Oxygen. For example,
Depending on the promotional period, this amount can go as high as $50 per person. To get approved, you must be a new Oxygen subscriber and have a minimum of $500 in the bank within the first 60 days of establishing an account. If you're looking for a mobile-banking option with some great perks, be sure to check out Oxygen.
7. Unifimoney
In today's digital age, there are a plethora of apps available to help manage your money. While this can be a great asset, it can also be overwhelming to keep track of multiple apps with different sign-up bonuses and features.
If you're looking for a way to earn some free Bitcoin, sign up for Unifimoney. With this all-in-one money management app, you can get up to $5,000 in free Bitcoin just for opening and funding an account. That's a pretty sweet sign-up bonus.
What is Unifimoney all about? It's a one-stop shop that lets you:
If you're looking for an app that does it all when it comes to your money, Unifimoney is worth trying out. Plus, with its integrated investment features, you can grow your wealth over time. In terms of getting your $25 sign-up bonus or much more, it all depends on how much you fund your account. Here's the current list of Unifimoney sign-up bonuses:
| | | | |
| --- | --- | --- | --- |
| Tier | Initial Deposit | Bitcoin Reward Level | Period |
| 1 | $1000 | $25 | 30 days |
| 2 | $10,000 | $100 | 30 days |
| 3 | $20,000 | $250 | 90 days |
| 4 | $50,000 | $500 | 90 days |
| 5 | $100,000 | $1,000 | 90 days |
| 6 | $250,000 | $2,500 | 90 days |
| 7 | $500,000 | $5,000 | 90 days |
If you're looking to maximize your earnings, deposit as much money as you can into your account when you sign up. Easy peasy!
Get a $25 Sign Up Bonus Today!
The next time you're looking for a new app to try, consider signing up with one of the seven companies above. All of them are offering a $25 sign-up bonus to new users. That's enough to buy dinner or a few rounds of drinks. Whether you need an app for banking, shopping, entertainment, or productivity.
As you may have guessed, most of these companies offer sign-up bonuses in the form of cash or gift cards. Swagbucks is one notable exception—they give you a $25 bonus just for signing up and completing your profile.
So, if you're looking for ways to make some extra money fast this month, consider signing up for at least one of these seven websites. Who knows? You might have an extra $25 (or more) in your pocket.