What Do Grandparents Give for a Baptism Gifts?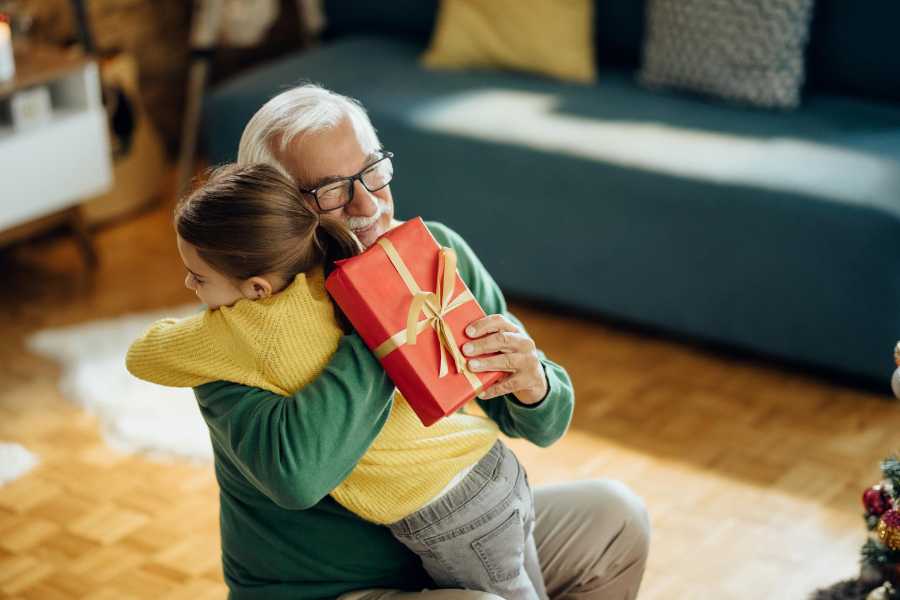 Just like other developmental milestones in a child's life, baptism or christening ceremonies are a significant part of your grandchild's life. Parents can christen their children either for religious purposes or as a tradition, even if they are not religious. Regardless, this step in your grandchild's life is always worth celebrating, and what better way to show support and joy than through gifts!
10 Unique Baptism Gifts from Grandparents
Baptism gifts for your grandchild show that you support their entry into faith and their spiritual journey. They are also a great way to preserve the day's memories. It is not uncommon for the christening gifts from grandparents to be religious. However, that should not limit your choice of what to get your granddaughter or grandson for their baptismal celebrations. Here are ten baptism gift ideas that you can choose for your grandchild to mark the big day!
1. Money
While it may seem unoriginal or less thoughtful, money as a baptism gift for your grandson or grandchild is a traditional christening gift idea. The amount you offer will entirely depend on your financial abilities. However, it is advisable to give between $100 and $150 as a grandparent, although you can give more if possible.
The money can be in cash or a check inside a card. Besides offering a cash gift, you can decide to handle the costs of the baptismal celebration party. If you want to secure your grandchild's future, consider setting up a college fund or a savings account.
2. Books
Books are priceless baptism gifts from grandparents that are valuable to the child's development. They not only expand the child's knowledge but also go a long way in improving your grandchild's literacy abilities. Being a religious affair, you can opt for children's bible storybooks or a prayer book with daily prayers for your grandchild to recite.
Alternatively, you can get a personalized children's book like "A Promise to You" filled with promises and messages that show how much your grandchild means to you. The personalized book can guide your grandchild as they grow and navigate through the various phases of life.
3. Keepsake Box
It is no doubt that your grandchild will have mementos and personal items that they would wish to keep for sentimental value. Make it your duty to provide them with a place to keep their valuables by gifting them with a keepsake box. They can also store other baptismal gifts in the keepsake box.
Get a durable keepsake box of high quality, like silver or wood, for your grandchild as a christening gift. You can personalize the box with the day's theme by incorporating a cross on top and the name of your grandchild or daughter. You can put a note or a card inside the keepsake box to accompany the gift or a picture of your grandchild.
4. A Bible and Cross
There is no better way to show support for your grandchild's entry into faith than with a Bible and a cross as your baptismal gift. Although the regular Bible will serve your grandchild throughout adulthood, you can also look for a children's Bible that is easy to read and understand.
Usually, children's bibles come with illustrations and are made to fit the kid's age and comprehension. For the cross, a silver or wooden cross is an ideal show of support for your grandchild's faith. To make it more thoughtful, inscribe the cross with the child's name and keep it in your grandchild's bedroom.
5. Stuffed Animal
A stuffed animal, preferably a lamb, can be the perfect way to gift your grandchild if you are looking for a cute gift. Find a musical lamb that can sing or play music when you press on the stomach to make it more fun. The lamb can soothe and calm your grandchild when distressed or need to sleep. It can also come in handy when they want to sleep.
Although a lamb is more appropriate as a baptismal gift due to its religious symbolism, you can get any other stuffed animal of your choice ranging from a bear and bunny to an elephant.
6. Jewelry
One of the most popular gifts you can get your grandchild is jewelry. One of the options is an adjustable bracelet that your grandchild can wear for ages, even as they grow. You can find a customizable metal bracelet and inscribe the baby's name, a bible verse, or a sweet message as a daily reminder of the celebration.
Besides a bracelet, a necklace with a heart pendant or cross is also an ideal christening gift that your grandson or granddaughter will appreciate and keep for years. Lastly, a pair of cross stud earrings can pass as the perfect gift for granddaughters if your grandchild has a piercing.
7. Piggy Bank
The earlier you introduce a child to financial responsibility, the better they can handle and manage their money when they grow. Piggy banks are unique baptism gifts for grandsons and granddaughters as they act as their first savings accounts.
To make it relevant, you can cultivate a savings culture by gifting your grandchild a piggy bank in the shape of Noah's Ark. You can also get one with an angel print on it or the grandchild's name, complete with the baptism date.
8. Religious Artwork
If you like art, religious artwork should be among the baptism gifts for your grandchild. A piece of artwork is both unique and long-lasting. You can find a ready-made piece or make it according to your specifications. It can be a painting, drawing, or calligraphy artwork with messages for your grandchild.
Ensure that the material you choose for the artwork is durable and resistant to the elements. You can hang the artwork in the child's room to preserve the memories and add to the room's visual appeal.
9. Baptism Blanket
A soft baptism blanket is a practical and thoughtful gift for a grandson or granddaughter as it is not gender-specific. Show your granddaughter or grandson they are surrounded by love with a soft plush baptism blanket that delivers the best cuddles. You can add custom details to the blanket to give it a personal touch. You can also hand-make one if you have the time, skill, and resources.
10. Babysitter
Your grandchild's parents may not bear or hold the baby all the time due to responsibilities or even fatigue. Getting a stroller as a baptismal gift reduces the need to carry the child, which eases their work and helps them rest. Babies also love to be inside the stroller and watch whatever happens in their surroundings.
Baptism Gifts for Grandchildren: Conclusion
When choosing baptism gifts for a granddaughter or grandson, go for elegance, religious reference to reflect the day's significance, and durability for it to last as long as possible. Your grandchild can even pass the gift down to the coming generations. The good thing is that most of the above baptism gifts from grandparents are unisex and can work for your granddaughter or grandson.