7 Best Bassinets for Every New Parent of Twins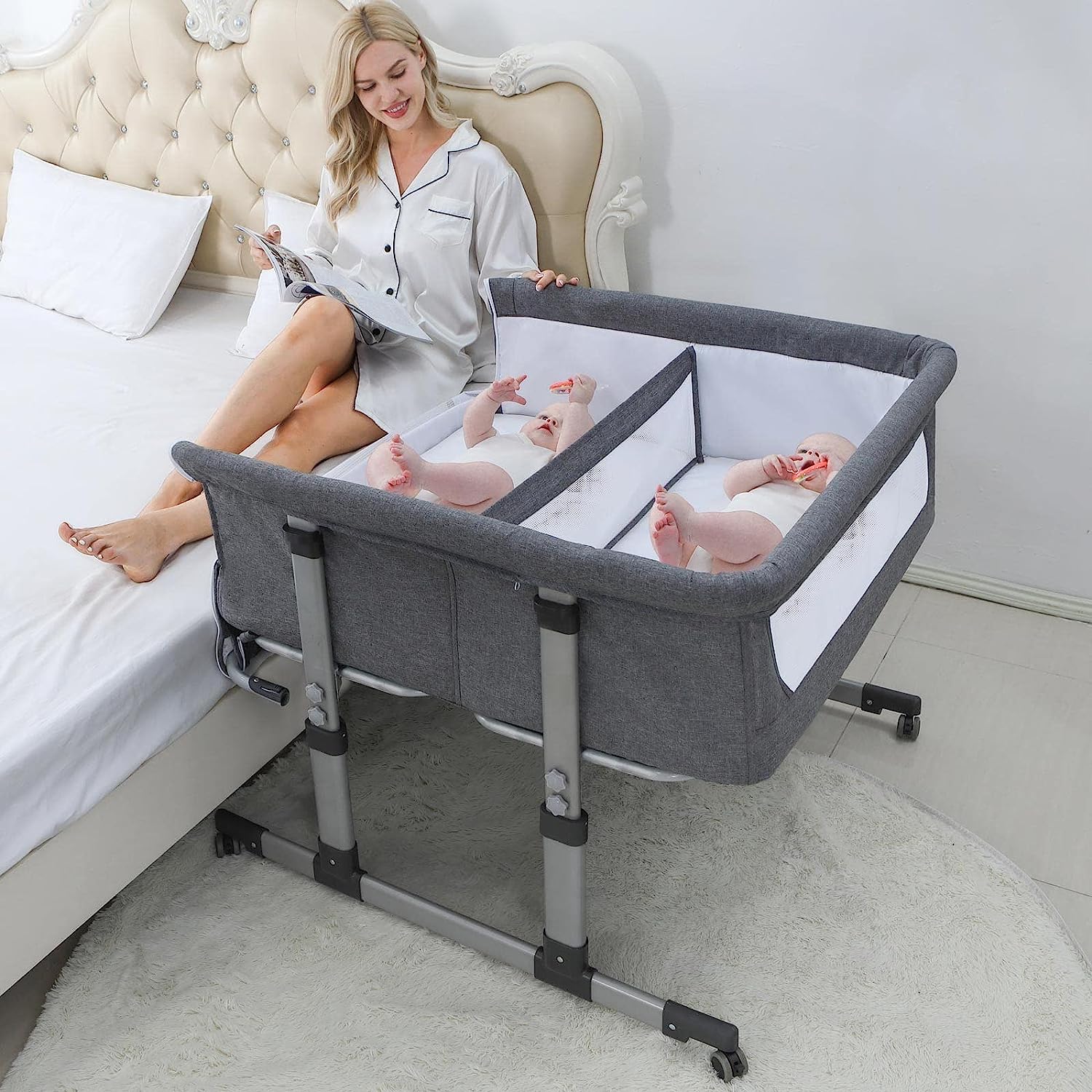 Having twins can be an exciting and challenging experience. One of the most important tasks that new twin mothers face is getting an appropriate and comfortable sleeping arrangement for their little ones. If you just had twins, investing in bassinets for twins is a convenient and cost-effective way to guarantee your little ones peaceful sleep. They are a practical option that can comfortably accommodate your twins until they are old enough to move to their cribs.
However, finding the best one that suits your needs and those of your babies can be a daunting task. In this article, we explore the best bassinets for twins so you can make an informed decision.
What Is A Twin Bassinet and Do You Really Need It?
Bassinets are small and compact sleeping gear for newborns that you place near your bed for easy access to the baby during feeding time, and when they need comfort. They are smaller than cribs and are ideal for little ones between 3 and 6 months.
Twin bassinets are like normal bassinets, but they have two compartments with a separator between them to accommodate twin kids at the same time. This way, each child has their own sleeping space.
While getting a twin bassinet is not mandatory, doing so comes with benefits. First, your twins get to sleep together safely, and you can check on them easily at the same time. By sleeping together, they build a strong bond and connection. It is also more cost-effective and saves on space compared to getting two separate bassinets. This comes in handy if you are on a budget or have limited space.
A bassinet for twins allows you to simultaneously care and watch over your little ones. It also allows both kids to sleep next to you. Since you can't place twins in one bassinet because of the risk of Sudden Infant Death Syndrome, a twin bassinet comes in handy as each baby gets a separate compartment. However, it may not be ideal if your twins do not have the same routine
The Best Bassinets for Twins
Here are the best bassinets for twins you should consider if you are shopping for one.
Bassinet for Twins: Conclusion
When choosing a bassinet for your twins, keep in mind the age limit, and your kids' weight. On average, most bassinets can accommodate 30 pounds, although some may hold heavier weights. You should also consider the age limit so you have a clear understanding of how long it can serve your little ones before you move them to a crib.
Other factors include safety features, versatility, and whether they provide value for money. The above options can help you pick the best bassinets for your kids and assure them of a safe and comfortable sleep without compromising your own convenience.