Kids Casting Reviews: Is Kids Casting Legit or a Scam?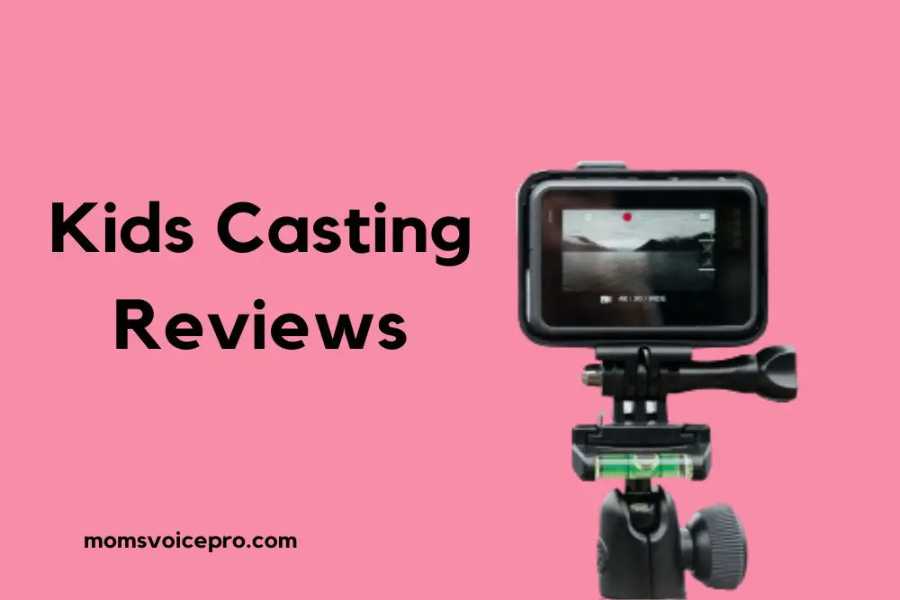 Kids Casting is a platform designed to connect talented children with casting companies. It deals with kids from 7 days old to 17 years old. If you want your child to enter into a career in acting, modeling, and music, Kids Casting seems to be a perfect place.
People across the country have been talking about Kids Casting since it was launched. However, Kids Casting seems to have an excellent reputation. They have incredible reviews on Trustpilot, bbb.org, and on their website as well, but some people still don't believe their services.
Is Kids Casting legit? That's a good question! Based on their positive reviews and few complaints, this platform is legit. Let's take a closer look at Kids Casting — how it works, benefits, reviews, and complaints.
What Is Kids Casting?
Kids Casting is a platform that connects children with casting companies. Parents who want their kids to get into acting and modeling careers could easily use this website to help their children live up to their dream.
Based on the information published on their website, Kids Casting is not a talent agency, talent scout, or employer. But they clarify that their platform is designed to provide an avenue for casting companies to post auditions, casting calls, and acting jobs for kids from 1 week old to 17 years old. In short, Kids Casting act as a middle-man between kids who are interested to get into the acting and modeling world.
Kids Casting Company Information
| | |
| --- | --- |
| Website | https://kidscasting.com/ |
| Location | Delaware, North Carolina, USA |
| Phone | 1 (800) 981-1902 |
| Email | support@kidscasting.com, concierge@kidscasting.com |
| Social Media | Facebook: @KidsCastingCalls, Twitter: @Kids_Casting, YouTube: KidsCasting, Instagram: kidscasting.official |
| Ownership | Igor Reiant |
| Founder | Unknown |
| Industry | Job searching network |
| Trust Score | Excellent |
How Does Kids Casting Work?
The registration process is simple. You only need to create a profile and digital resume for your child. During the registration, parents must enter their child's name, zip code, and email address. Once your account is activated, you need to update your child's profile by including details like your child's skills, interests, bio, and hobbies.
You may also upload a few photos of your child. If you are satisfied with the profile, the next step is to submit it for approval. However, at this crucial step, you must select a subscription plan before submitting. A few years ago, there was a free plan, but they changed all the plans to premium.
If you want your child to get casting jobs as quickly as possible, you should focus on improving their profile rating. You can score better by uploading pictures, posting your success stories, and creating a personalized URL link for your kid's account. Talent directors prefer kids with higher rating profiles, meaning your child is likely to get a good deal if their profile rating is higher.
The Benefits of Kids Casting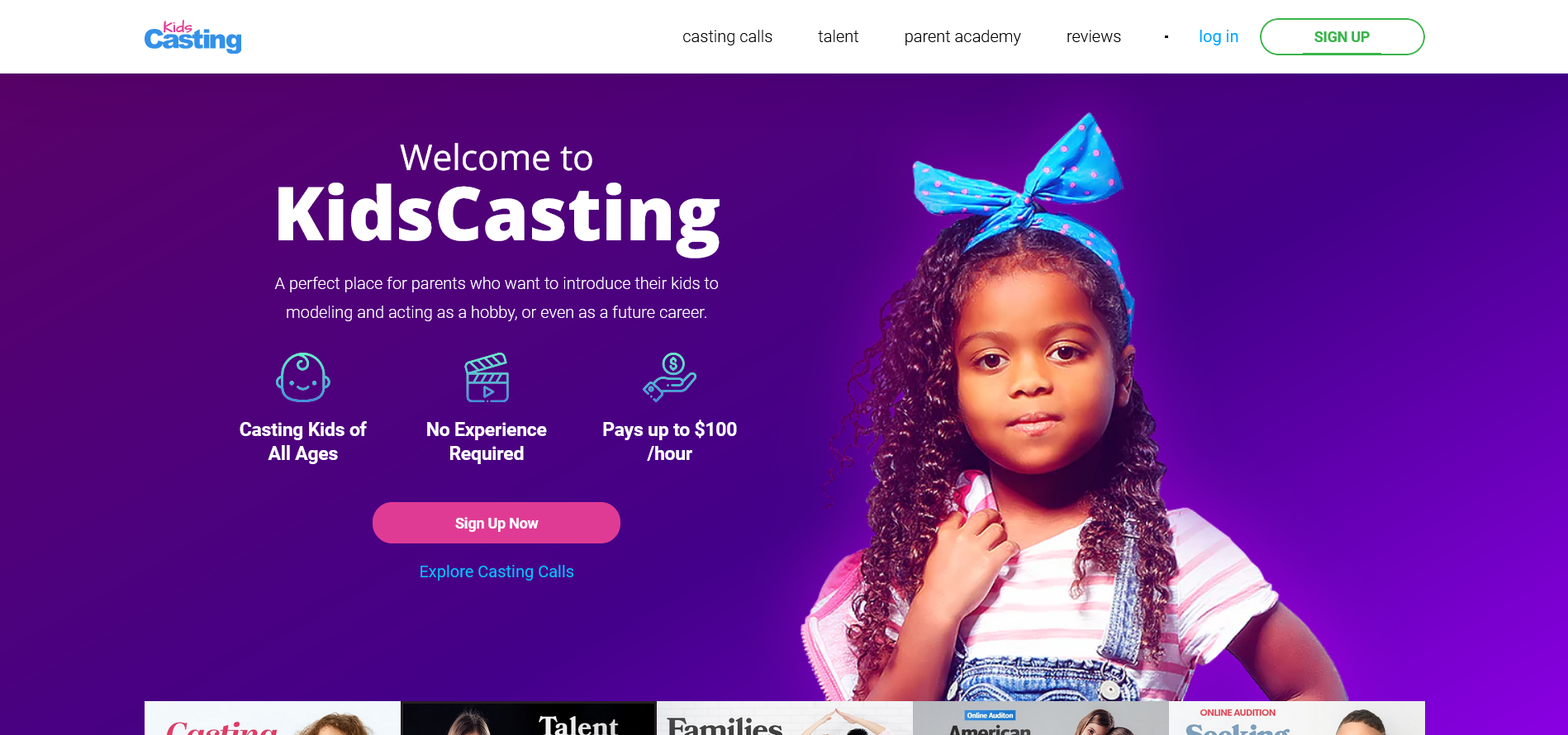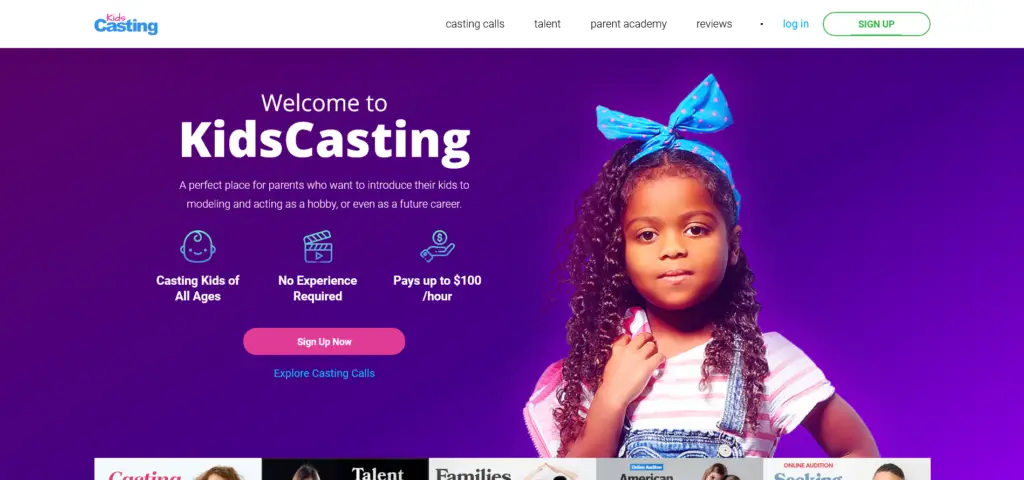 Once your child gets approved at Kids Casting, they will likely find tons of wonderful opportunities. And it's their first step to becoming a professional actor, model, or musician. Here are Kids Casting benefits:
Professional advice: This platform allows you to interact with directors of higher ranks. You can ask them questions, ideas, and tips about how you could help your kid to achieve their modeling and acting goals.
Family Bonding: You'll always travel with your child when they are going for auditions and casting calls. Being with your kids during this moment is a great way to connect with them, show love, and support them.
Money benefits: Kids Casting is designed to help kids land high-paying acting and modeling jobs. But it's not a guarantee that your child will get these jobs. The good news is that their website has tons of testimonials showing the success stories of numerous children who have been using Kids Casting.
Kids Casting Subscription Plan
Kids Casting don't share its pricing plan on its website, making it difficult for parents to know how much they should have in their wallets before kick-starting the registration process. After doing our research, we found that Kids Casting has two monthly and annual subscription plans. While they had a free plan before, these days seems they don't offer a free option anymore.
A comment by Vicki C 3 years ago shows that the cheapest plan was $10.

2 years ago, KimK claims that he paid $99 for a year and his child got tons of opportunities. See the screenshot below.

On 21st, May 2021 another member named Rene T posted a comment claiming she paid a monthly fee of $16.99, and later Kids Casting changed her subscription to annually at a price of $199. See the screenshot below.

According to the data collected, it was revealed that the cost of owning an account with Kids Casting is between $10 to $200. However, this cost may not be 100% correct as a few reliable sources have documented this matter.
Interestingly, some people claim that after paying for their plan, they decided to cancel it and it took them a couple of days before getting a refund.
Kid Casting Reviews vs. Complaints
Is Kids Casting a scam? It is hard to determine if this platform is legit or a scam. Based on positive reviews on Trustpilot and BBB.org, Kids Casting is a legit platform. But there are a few complaints about their services and pricing plan.
To find out if Kids Casting is legit or a scam, the MVP team investigated other people's websites who have published content about this company. Interestingly, we have found mixed reactions about the legitimacy of Kids Casting. Interestingly, we have come across these comments:
3 years ago, Margaret commented that Kids Casting is a Scam. She further revealed that she paid and didn't get anything. What she found after signing in is plenty of fake auditions for children. See the screenshot below.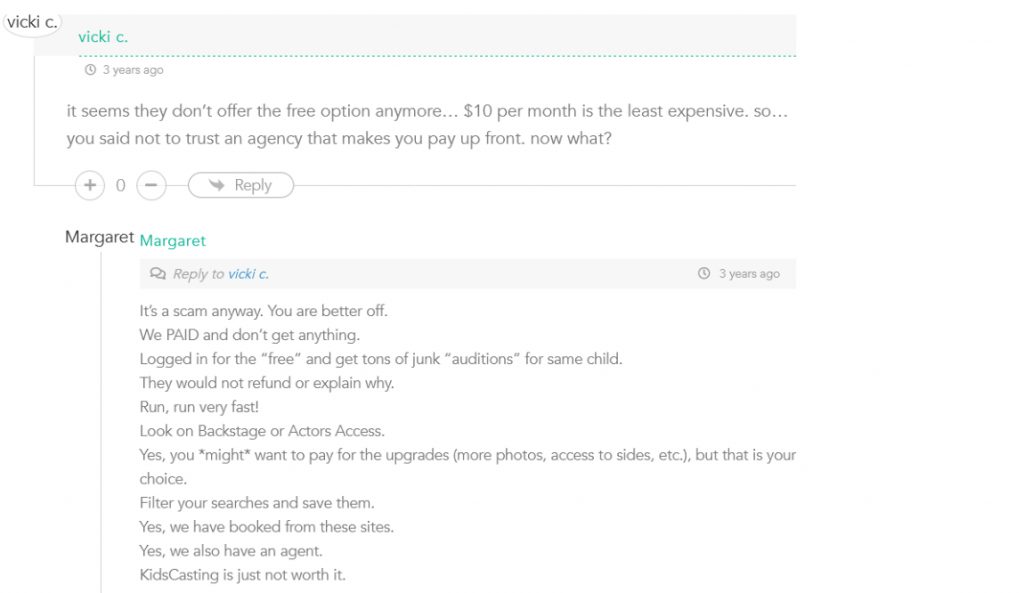 A year ago, Rene T who seems furious about Kids Casting claimed that after paying for a monthly subscription, they went ahead and changed it to annual, forcing her to pay $199. She applied for two casting calls using the email (halescasting at Gmail do com) she was given but the application didn't go through. Instead, the emails came back as undeliverable.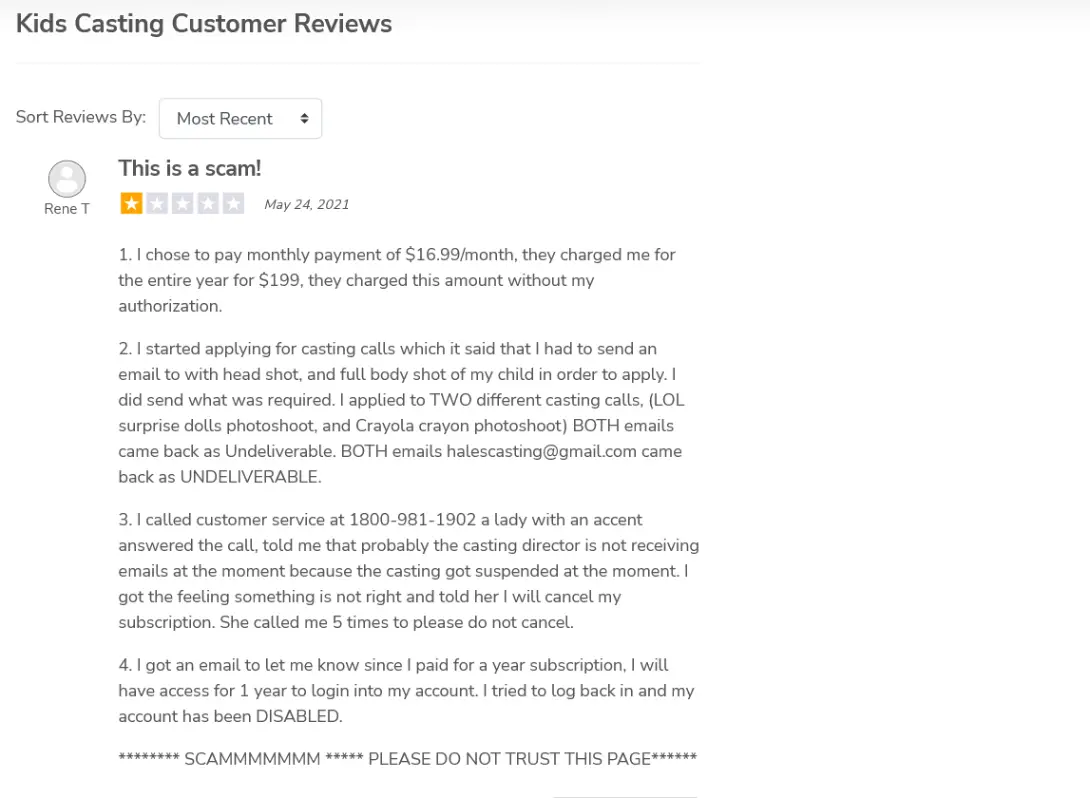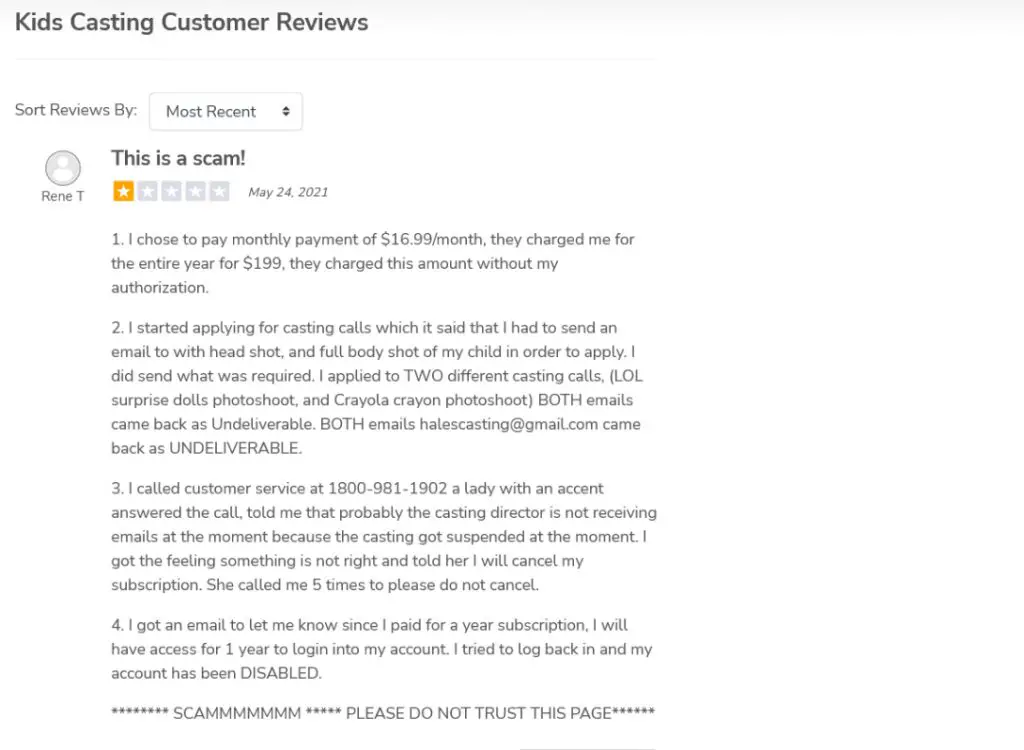 9 months ago, another member by the name of Pkjvty Opkjhg posted a comment claiming that Kids Casting is a scam. According to him, this website took his money, and he got fake casting calls. See the screenshot below.
Interestingly, KimK claimed that Kid Casting is legit. In fact, she revealed that after paying a yearly subscription of $99, her child got lots of opportunities. According to KimK, building a solid resume for your kid is the perfect way to land great deals.
If you have positive comments or complaints about Kids Casting, please share with us via hello@momsvoicepro.com. We'll share them with our readers who are interested to use Kids Casting services.
Is Kids Casting Legit or a Scam
Based on the positive reviews in Trustpilot and bbb.org, Kids Casting is legit. There are just a few complaints, however, the benefits of this platform outweigh its downsides. The only issue with Kids Casting is that they don't share more information about their services. They don't reveal their subscription plan and other details of their business.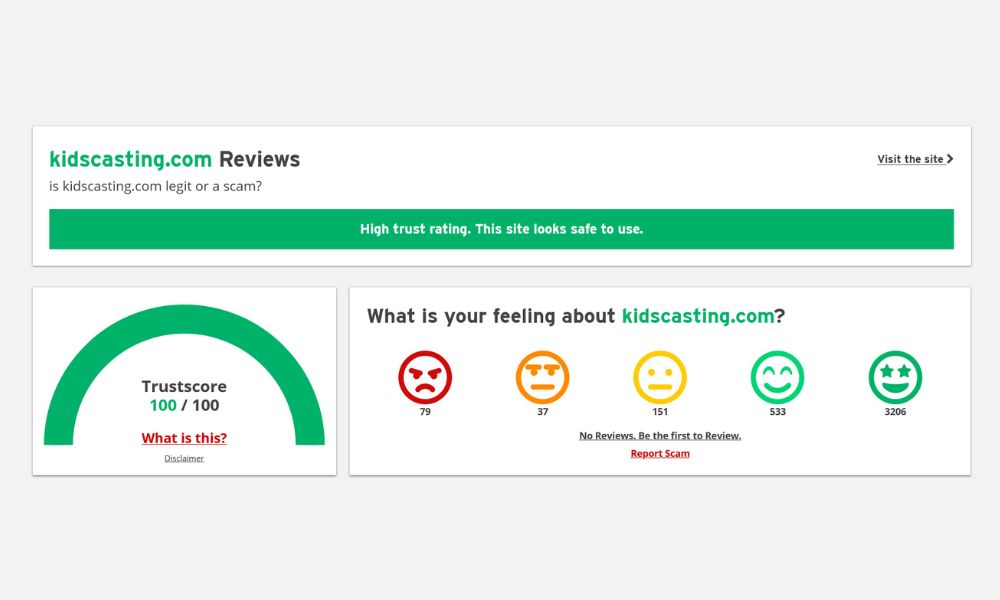 But when you read comments from other blogs that have created a post about Kids Casting, you'll notice that people claim they are a scam. Some people have claimed that Kids Casting offers fake auditions and casting calls, while others revealed that getting a refund is difficult once you cancel the subscription. In short, what people are saying in the comment section of other websites—besides Trustpilot and bbb. org—is raising eyebrows.
Kids Casting is not an agency. They are not employers. All they do is act as a link between talented kids and casting directors. To get the connection, you need to pay some bucks and update your profile to increase your chances of getting hired. People who don't understand this process might think this platform offers "fake" services.
MVP Opinion About Kids Casting
Kids Casting is 100% legit. We have read their privacy policy and terms of use. We believe in positive reviews published on Trustpilot and bbb.org than the comments on other people's websites. Besides having a great reputation, Kids Casting has published a blog post on their website to teach people how to avoid scams, meaning they are legit.
Kids Casting is a home of many opportunities but it doesn't mean you must get hired once you sign up. Like other job listing websites, you can get disappointed, especially if your kid doesn't get hired.
The platform is committed to providing a safe and secure environment for young talent. They manually review all the job ads before posting them, meaning they are taking safety seriously. If you apply for a casting call or audition, it's guaranteed that you won't get scammed.
Kids Casting Reviews: Conclusion
Kids Casting is the best platform for people interested in launching their kid's acting and modeling careers. It offers plenty of opportunities, resources, and tools to help talented children live up to their dream.
Without doubt, Kids Casting is legit. Many parents have written tons of positive reviews about their services. If you want to learn more about Kids Casting, you can get in touch with parents who are already using their services. You can even call their support and ask questions before registering your kid.
One advantage of Kids Casting is its long list of opportunities. And they keep updating it daily. If you don't want to keep browsing their website to look for new auditions and casting calls, you can simply subscribe to their email daily newsletter and get them directly into your inbox.
Please share your complaints, comments, or feedback about Kids Casting with us via hello@momsvoicepro.com?