5 Best Pregnancy Water Bottles for Your Hydration Needs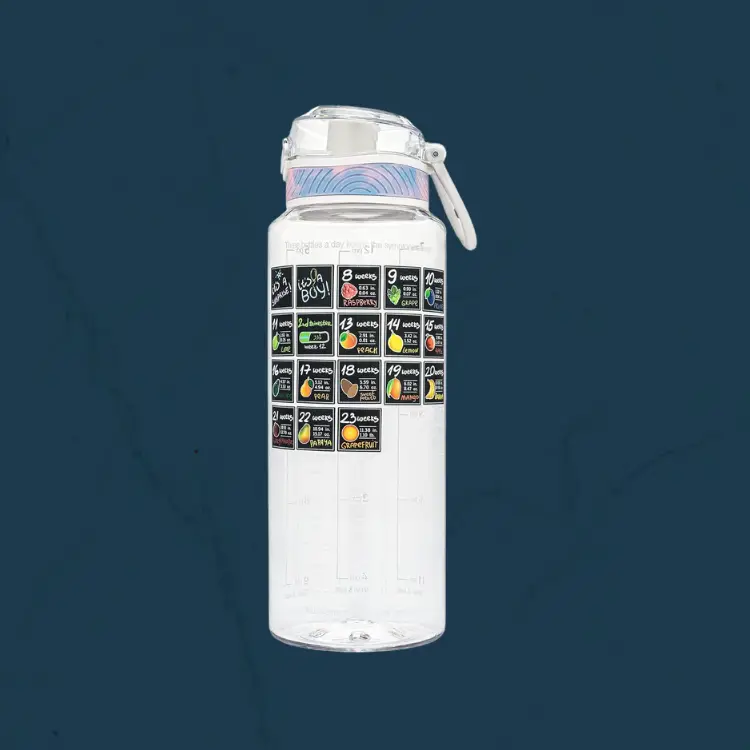 During pregnancy, your water needs increase as your body requires enough fluids for your baby's proper development. Not only is water necessary for the formation of amniotic fluid, but it also ensures nutrients pass to your baby and prevents issues like fatigue and UTIs that are common during pregnancy.
One of the best ways to ensure you meet your hydration levels during pregnancy is with the help of a pregnancy water bottle. Find out more about why you need a pregnancy water bottle, what features to look for when shopping for one, and the best pregnancy water bottles for you.
Why You Need a Pregnancy Water Bottle
While it may seem like an unnecessary item, a pregnancy water bottle comes with benefits that ensure you have a healthy pregnancy. Below are a few reasons to invest in a pregnancy water bottle
What to Look For When Shopping for a Pregnancy Water Bottle
When shopping for a pregnancy water bottle, consider the following factors.
Material
Go for safe and durable materials that won't introduce toxins to your body and put your health at risk. Materials such as BPA-free plastics, glass, and stainless steel are ideal. While BPA in plastics is known to be harmful, other chemicals in plastic bottles may be dangerous during pregnancy. Therefore, always choose eco-friendly materials and stay away from those with numbers 3, 6, or 7 at the bottom. Also, if you are clumsy during pregnancy, go for stainless steel since glass may break easily.
Size and Shape
The best pregnancy water bottle should have a capacity of at least 16 ounces for adequate hydration. Note that the smaller the bottle, the more times you have to refill it. Similarly, bottles with wide mouths are easier to clean, and you can fill them with ice or fruit to improve your water's flavor.
Design and Style
Your pregnancy water bottle should have an easy-to-use design. Choose a bottle with a non-slip grip for days you feel clumsy or when your hands swell. Additionally, a bottle with a spout or straw makes it easy to drink your water. You may also prefer a bottle with a filter to ensure you drink clean water.
Portability
A water bottle that fits into your cup holder or bag is ideal as you can carry it easily. Also, choose a lightweight water bottle so you don't add extra weight to your bag whenever you are out with your water.
Remember to check if your water bottle is dishwasher-safe for easy cleaning and leak-proof to prevent unwanted spills.
Our Tops 3 Picks for the Best Pregnancy Water Bottles
Best Pregnancy Water Bottles for First-Time Moms
With the many pregnancy water bottles in the market, here are some of the best options for your pregnancy hydration needs.
Pregnancy Water Bottles: Conclusion
If you find it difficult to drink water during pregnancy, the above water pregnancy water bottles can help you up your water intake. Remember, every water bottle is unique, with varying features at different price points. Therefore, always consider your needs and preferences before settling for a specific one.